Hello and welcome to the newest installment of Teen Girl Squad! Let's go get ready to look SO GOOD. Word!
---
We begin, very much like we did in the last episode, in Ezra's classroom. Except this time Spencer is asleep, lying on the diary. Barefoot and in pajamas, even. She looks terrified as Ezra walks in, and for a moment, I think he's being genuinely worried about her.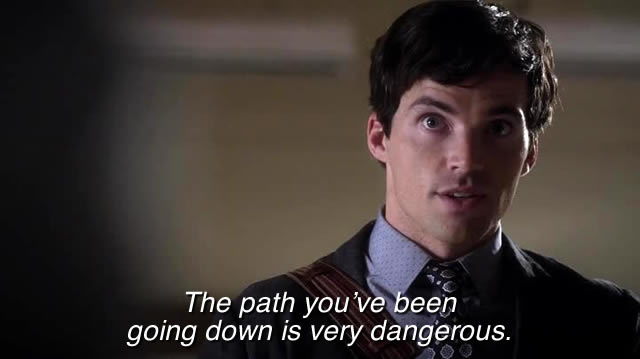 He's being really cryptic but also caring. I mean, clearly she's strung out on something.
He gives the Ezra creepy face, his signature contemplative look, as she runs from the room.
---
Spencer's in the bathroom, putting on clothes that I would have rocked in seventh grade. Emily and Hanna walk in, looking exceptionally good in matching metallic clothing and stand and stare at Spencer in her gym clothes. Apparently Spencer called Emily at 4am. Spencer wants to tell Aria about Ezra right NOW. They argue about how dangerous the timing is.
---
Ezra corners Aria in the hallway and tells her about Spencer's drug use, including some past drug use.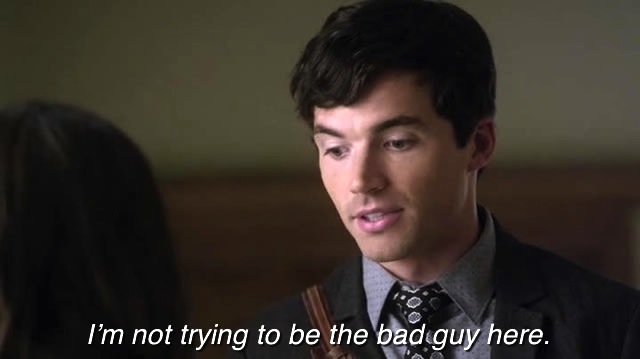 He gives her Spencer's school file, which I am so sure is against about nine hundred policies that I can't even. She's had this issue in the past? At this point, we're not sure if that's something real or something A planted.
---
Toby is at school with lunch and a haircut Jon Bon Jovi used to have/might still have. He's extra sappy in this episode, and I'm wondering why. More thoughts on that at the end! He asks her if she's upset that he signed the legal agreement, and she says she's not. I'm not convinced.
Toby offers to have a date night: "We need some time together" he says.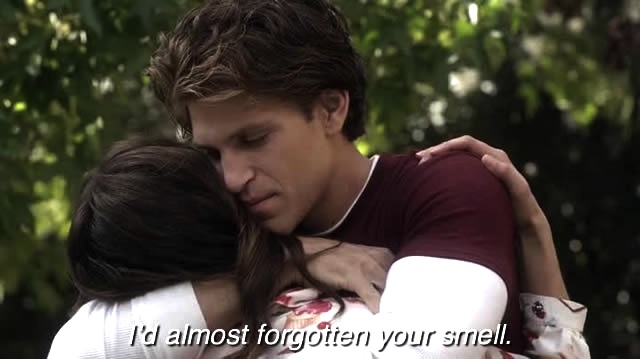 It's obvious that his girlfriend hasn't showered in a long time/isn't sleeping/is really looking bananas these days, but he says, "I'd almost forgotten your smell" and not "What the fuck is actually going on here, your hair is usually impeccable." Worst boyfriend ever.
---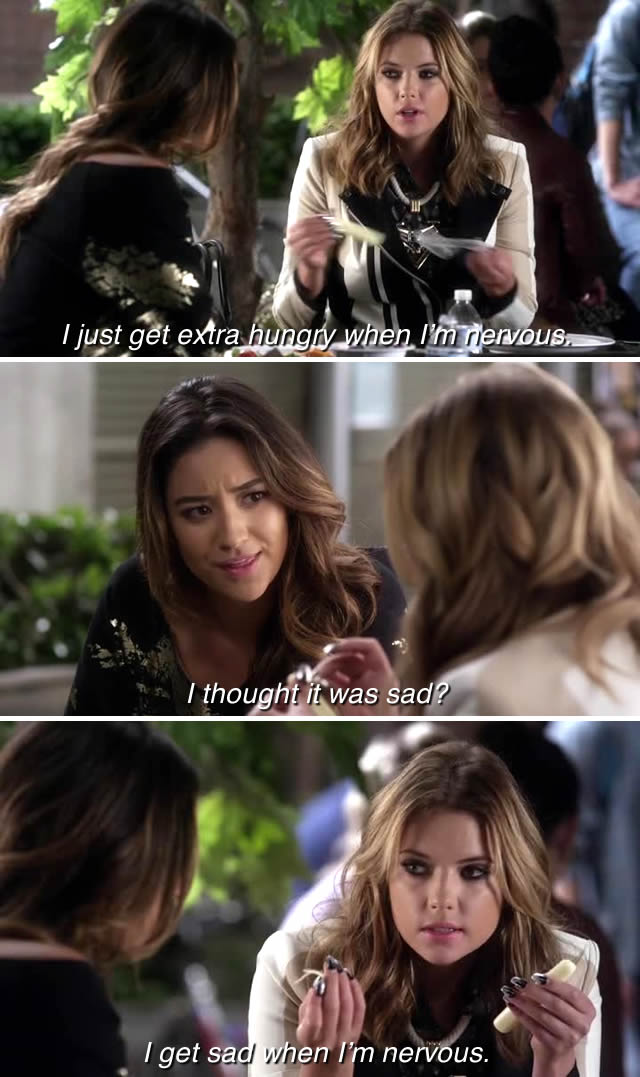 Emily and Hanna have been avoiding Aria all day, which is legit and what a high school girl would definitely do if they were trying to not show her they know she's with Ezra again.
Aria tells them about Spencer's drug problem and they make a plan for a DUN DUN DUN intervention!
---
Spencer's intervention was really intense. I really felt for her in this scene, which means Troian's acting must have been spot on because I have no patience for this shit usually. Spence keeps trying to turn the tables on Aria, but Emily, Aria, and Hanna stick to their guns about making Spencer get help/stop her drug use. Hanna is her typical blunt self in this episode, which I love.
At one point Spencer references the 1940s flashback she had in the last episode, which kind of broke my heart, you know? This whole thing was really upsetting for Spencer fans 'round the world. Spence ends up panicking and tells Aria that Ezra is A, though I'm thinking that might not be the best/most believable way to do that, you know?
Spencer's credibility is completely gone at this point. Wren's prescription pad falls out of her bag, though she insists that she didn't put it there.
I believe her, we saw A with those prescription pads a few episodes ago.
Pages: 1 2 3See entire article on one page