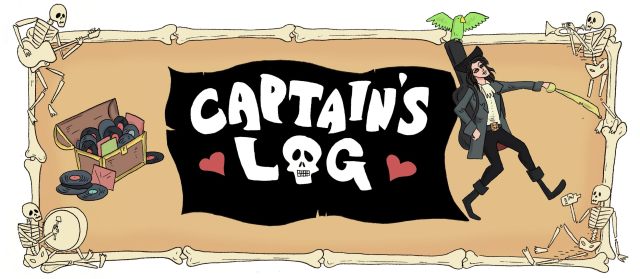 Has it really been a month since we gathered under the stars to sing along to all the raddest new tracks in all the land?  To make up for lost time, this Captain's Log is extra long and stocked full of the best new music I could scrape together.  First though, you guys, can we talk about my new banner by the brilliant Rory Midhani?  It's a little less Ahab, a little more Captain Hook than I've been accustomed to, but it's perfect and I'm really excited about it.  The Captain's Log exists as a means for me to share everything brand new that's been haunting my headphones, and I hope you enjoy my latest collection.
Cibo Matto f/ Reggie Watts – "MFN"
Yuka Honda and Miho Hatori haven't released a new album in about 15 years, which is a pity as their totally insane, electronic-tinged odes to various food items were one of the best things to happen in the 90s or really ever (see: "Know Your Chicken," "Beef Jerky," and "Birthday Cake").  This new concept album Hotel Valentine is less food-based, opting instead to tell the love story of two ghosts who haunt a hotel.  Also: hi Miho, I would like to know where you bought your eyeball outfit please and thank you.
Angel Haze f/ Sia – "Battle Cry"
Are we ever going to stop being insanely excited about Angel Haze?  The answer is no, we are not ever, so I hope you're on board.  In this intense and kinda graphic new video off her fantastic record Dirty Gold, Haze touches upon overcoming the demons of her past, including growing up in a cult and dealing with issues of self-harm.  Trigger warning – the video references cutting and suicide attempts.
Against Me! – "Fuckmylife666"
A couple of weeks ago, I went to a club in Brooklyn to see Against Me! play.  Singer Laura Jane Grace was practically glowing, and the energy between the band members was electric – everybody was just ecstatic to be there, and the crowd responded with resounding enthusiasm.  Their new record Transgender Dysphoria Blues is probably the most dynamic, deeply personal punk record dealing with issues of gender ever made, and the show was one of the best I've seen them play.  This lyric video for lead single "Fuckmylife666" will help you sing along
Brody Dalle – "Meet the Foetus / Oh The Joy"
I've always wanted big things for Brody Dalle – her huge, gravelly, howling voice was too amazing to forget, even after several years of radio silence.  The Distillers were an almost perfect punk band, and their last record Coral Fang has more than stood the test of time.  After the Distillers split up, Brody seemed poised to make an almost immediate return to glory with her project Spinnerette, but the excitement was short-lived; Spinnerette faded away almost as quickly as they'd appeared.  All these years later, Brody is back at it with a solo project, and this first taste is perhaps a little sweeter than anything she's done before.  The guitars are still moody and churning, although on this track "Meet The Foetus" they sound a bit more like a neglected Yeah Yeah Yeahs track than anything the Distillers ever did.  It's not til the rollicking punk drums of "Oh The Joy" kick in that Brody sounds like her old self again.  It's great to have her back.
Warpaint – "Love Is To Die"
For whatever reason, it's taken a long time for me to warm up to Warpaint, and I'm not sure why – but all of a sudden I'm majorly on board.  Their new self-titled album is full of gauzy, ambient shoegaze pop, which the band have said they developed during soundchecks on their last tour.  This live video wonderfully showcases their natural charisma.
Lowell – "Cloud 69"
Vice once described Lowell as sounding "like Grimes having a dance-off with Lykke Li inside a disco ball after one too many Capri Suns," which sounds unlikely but may actually be true.  This track reminds me of Grimes' "Oblivion" because of all the the call-and-response rhythms and jagged synths densely layered over one another, but it's a lot of fun on its own.  Curious to see what else she's got up her sleeves – her debut album I Killed Sarah V will be out via Arts & Crafts on February 25.
https://soundcloud.com/artsandcrafts/lowell-cloud-69/
Heaven – "New Amsterdam"
Heaven are a shoegaze band from Brooklyn who This track from Heaven's debut album Telepathic Love  is relatively somber, but this new video isn't really – just a couple of girls dolled up in their American Horror Story: Coven finest, strolling down the train tracks and playing instruments they found on the street.  WATCH AS THEY BATTLE TO THE DEATH; ONLY ONE CAN BECOME THE NEXT SUPREME!!! Just kidding, but the song is really pretty.
Kelis – "Jerk Ribs"
Noted weirdo and milkshake enthusiast Kelis is back with a new album called Food, which is released on April 22 via Ninja Tune and obviously relevant to all of my interests.  Although her publicist's statement announces that lead single "Jerk Ribs" is named such after her favourite dish to make, the gorgeous, soulful love song's lyrics have astonishingly little to do with making ribs at all.  Other track names include "Cobbler," "Fish Fry," "Biscuits n' Gravy" and "Breakfast," so I remain hopeful.  If you like this, check out the Mount Kimbie remix.
CHVRCHES – "Bela Lugosi's Dead"
A couple of months ago when I heard that CHVRCHES would be covering the Bauhaus classic and goth club standard "Bela Lugosi's Dead" on the soundtrack to the upcoming movie Vampire Academy, I immediately knew exactly how that cover would sound.  For a song as ubiquitous as this one, there's no point in covering it if you can't make it your own, and that's exactly what CHVRCHES have done here.  That Lauren Mayberry can still sound so sweet while wailing Peter Murphy's signature "undead, undead, undead" refrain is a testament to how solid CHVRCHES have become as a band in the last year.  They're great at what they do, and this track is undeniably theirs.
Header by Rory Midhani