ART:
Crystal Gwyn has done a photoshoot for L Magazine which ultimately fulfills 55% of your waking dreams. It's called "Girls Will Be Boys," and features 8 lesbian & bisexual women (including Nicole Pacent of Anyone But Me and Amy, an actress who guested in ABM as well as Hunter Valentine's Kiyomi). You can read about Crystal's gender outlaw lifestyle in "It's Not That I Want to be a Real Boy."
ANYONE BUT ME:
Speaking of Nicole Pacent; here's a new episode of Anyone But Me, Season Two, Episode Five: "One Step Forward, One Step Back."
ELLEN PAGE IS NOT GOING TO BE IN THE LESBIAN WEREWOLF MOVIE:
Jack & Diane, the lesbian werewolf film that has apparently been in the works for some time now. The role that was gonna go to Ellen Page is gonna go to Juno Temple. (@thefilmstage)
ADAM LAMBERT:
Adam Lambert talks to the Australian Herald-Sun. Adam Lambert says there's a misconception that American Idol controls its people as soon as the show ends — he already had ideas about what kind of artist he wanted to be, and he's making them happen. There's a great video you should check out.
"I think empowerment is a great gift to give to people. And it doesn't have to be about just my gay fans, I want my female fans to feel comfortable in their own skin and feel sexy. Hopefully my music promotes that."
CHLOE SEVIGNY:
Chloë Sevigny is interviewed in The Advocate about ten thousand gay & lesbian topics! She has been in a bajillion gay movies, has talked about kissing girls before, and has feelings about all of it. She also discusses her role in If These Walls Could Talk 2.
But even way before that I used to make out with a lot of girls and gay boys when we were on Rohypnol — which I probably shouldn't say. [Laughs] There was a lot of kissing in the club scene — boys, girls, gays, straights, and all the rest.
When I first met with [executive producer] Ellen DeGeneres about it, she was like, "You can't play butch." I said, "Just watch me." I feel like the lesbian community really liked that film and liked me in it, so I think I did them proud.
She's asked if it was weird to be interviewed by Selma Blair a few years back after Sevigny had turned down the part Blair played in Legally Blonde, and she says no, that stuff happens all the time; like Mia Kirshner apparently was fired from Kids, thus enabling Sevigny's casting. Interesting, yah? (@advocate)
JASON MRAZ / ELTON JOHN:

While attending Elton John's annual Oscar viewing party, Jason Mraz told reporters he's hoping to convince John to collaborate with him on an "Ebony and Ivory" of the times, for equality." Last week Mraz, visited San Diego's LGBT Community Center to talk with staff members about volunteering his time in the field. Mraz has been a long time supporter of equal rights, writing about the importance to vote NO on Prop 8 on his web site's blog. (@examiner)
ANDERSON COOPER:
Usually trapped behind a public veil of un-acknowledgment and elephants in rooms, Anderson Cooper's boyfriend Benjamin Maisani made his big debut at Vanity Fair's Oscar party. But miraculously, his name managed to escape the photo agency's captions.  (@gawker)
LADY GAGA:
Gaga is planning a 3-D concert and DVD of the Monster Ball to follow. 3-D glasses are evening being included in the deluxe edition of The Fame Monster. Also, stay tuned tomorrow for the premiere of the Telephone video. (@mtv)
SEAN HAYES / KRISTIN CHENOWETH:
Adorable interview with newly out Sean Hayes and Auto-fave K.Cheno on Broadway now in Promises, Promises.
"I can't see Kristin just hanging out in a gay bar. You wouldn't have any hair left! Everybody would want to get a lock." –Sean Hayes (@timeoutny)
THE TODAY SHOW:
In a truly bizarre and out of character move, Meredith Vieira unleashed some confused gay panic on the Hurt Locker cast, asking them if she had "reason to be worried" after stars Anthony Mackie and Jeremy Renner hugged tightly upon winning Best Picture. The best part is when Al Rocker gets all WTF and interrupts, "Why would you say that?!" (@towleroad)
PLASTICS:
Why do people keep getting plastic surgery when it never ends up looking good? (@gawker)
MARY GAUTHIER:
Is not gay enough to be at your gay music festivals she says hahahaha luckily she doesn't care. (@star-observer)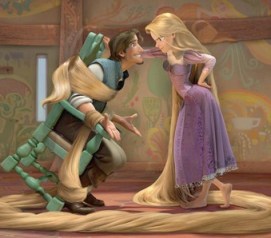 DISNEY: After Disney reportedly believed the title The Princess and the Frog alienated boys, due to the use of the word "Princess," Disney is taking measures to ensure that doesn't happen again. The studio renamed its next animated film with the girl-centric name "Rapunzel" to the less gender-specific "Tangled." (@latimes)
SKINS:
Clips from Episode 407. (@ontd)
MILLIONAIRE MATCHMAKER:
There was a lesbian on Millionaire Matchmaker! Which matters to people, right. (@lezgetreal)