Robin and Carly, attractive newlyweds and perfect humans, are growing up and moving out — from busy busy New York City to easy breezy beautiful Los Angeles, California. They'll be taking all their belongings minus what they were able to foist off on others, their dance superstar dog Arthur, and a lot of pictures. We will be following their emotional and actual literal journey — from packing to moving to settling in to establishing what will surely be the best-decorated apartment since their apartment in New York — as they make the biggest move of their lives and process with a bottle of Maker's. They will be using the hashtag #arthurgoeswest for all trip-related tweets and Instagram photos.
---
The Decision to Move and Finding a House
by robin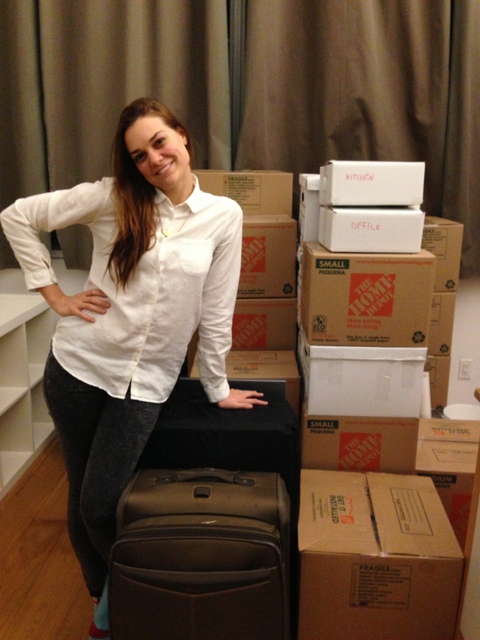 Deciding to move from NYC to LA was a decision that took place over many years. When Carly first brought up to me years ago that she always wanted to move out west, I rolled my eyes at the thought of Los Angeles and recalled the strip mall looking parts of a very flat city we had driven through on my one and only trip to the west coast.
Over the years, Carly and I have taken turns flying out to Los Angeles on business and little by little our friends have migrated out west, renting beautiful little houses with backyards full of lemon trees, spending their weekends at the beach or at a pool party, finding a community of like-minded queers living all around them. And so it went that when I was finally ready to go, Carly wanted to stay, and then we both wanted to stay and we criticized those leaving NYC as not being able to "hack it" and felt proud of how tough we were for sticking around all these years. But finally we landed on the same page and in the painful single digit days of January, Carly and I gleefully began packing our things into boxes and prepare for the biggest move of our lives.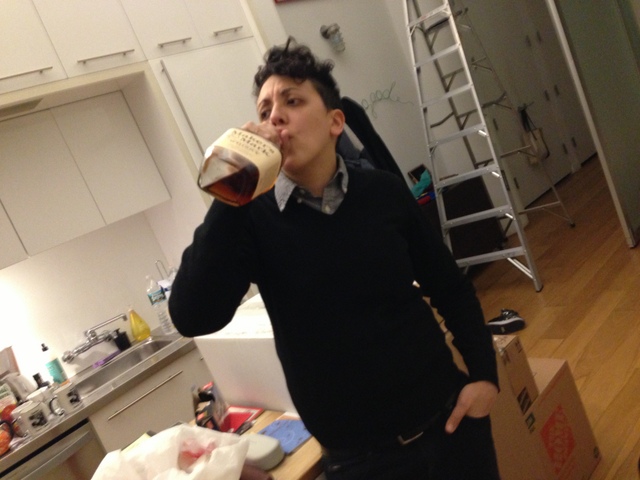 I flew out to Los Angeles a month after our last Autostraddle calendar shoot with the sole purpose of finding us a house. We tried to do this from across the country, on our phones with Alex Vega as our location scout, but quickly figured out that properties in Los Angeles, much like properties in NYC and probably most cities for that matter, are rented in person and that landlords prefer to meet their tenants before the lease is signed.
When you book a flight a week before from NY to LA, its usually twice as much as it should be and you get the worst seat. The worst seat is a middle seat in the back of the airplane. After a long flight, you feel a little grimey like you might need a nap and a shower and since I was on my way to see my first rental right off the plane, I had to settle for perfume and a quick change in the back of my rental car. The first place I saw is the place I ended up renting. A duplex in mid-city, a central neighborhood in LA, with a fruit-tree-lined backyard.
---
The Prep and Pack
by carly
It turns out that preparing for a cross-country move is incredibly difficult. Robin and I have lived together for 3 years and have amassed quite a bit of stuff. Robin's office is located in our apartment so in addition to moving our personal lives, we are moving a small business. While Robin was out in Los Angeles finding us a home, I tried to figure out how the hell we were going to get ourselves out there.
After researching several options, I chose FlatRateMovers who do long distance moves several times a week which keeps their costs lower than traditional moving companies. They also send a team of movers to pack the truck for you and after a combined 16 moves in the last decade, we were more than happy to sit back and let the professionals do the heavy lifting.
When you move, you need to get rid of stuff. All of us have sentimental objects, but aren't your memories more tangible than any object could be? There's a sense of freedom knowing you can let go of things. And that things don't define you and you have the power to determine their meaning. So, you know, don't be a hoarder.
Also, you may have to buy or borrow some boxes. Insert box joke here.
---
Feelings on Family: A Conversation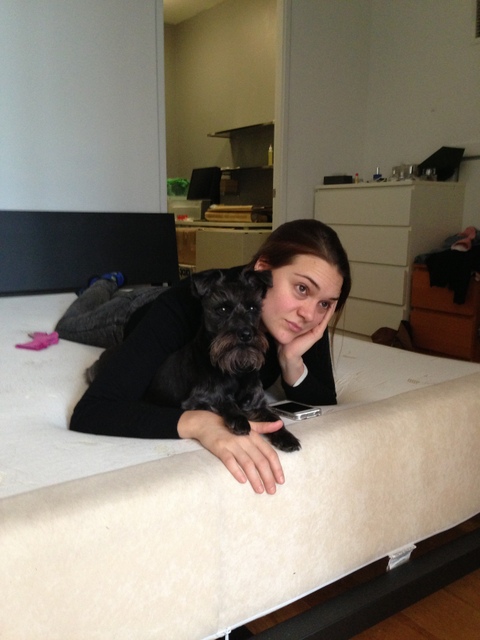 Robin: I haven't been as emotional as I thought I would be actually.
Carly: Oh my god. Its just like our wedding. I was the one bawling at the wedding and I'm the one who is all feelings-y now.
R: Its weird 'cause I cry like ALL the time.
C: Like every day. (pause) You don't cry every day, I'm kidding.
R: No really though. I can be very emotional. When I'm really sad or really happy, I'm crying.
C: Or really angry, or really hungry.
R: True.
(pause)
R: Do you wanna talk about how your parents were just here?
C: No.
C: Ok, I will.
(Pause)
C: It was really stressful. And sad. But I rolled with it and naturally when it was time for them to go, I was sobbing like a baby.  Then I made some jokes to stop my tears.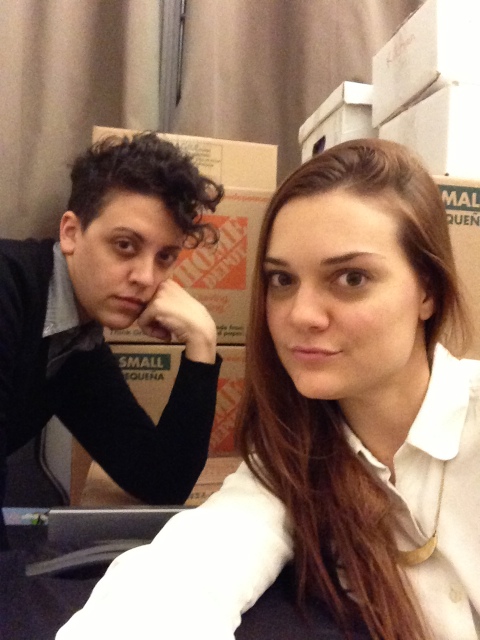 R: That sounds pretty on par. When you try and avoid those feelings sometimes they just come pouring out anyway.
C: Out of my face holes.
R: And then, there's the joke. That's why I love you.
Arthur the dog: WHAT THE F@#K IS GOING OOOOOOONNNNNNN????
---
The Going Away Party
by robin & carly
Tuesday night was our going away party and the drinks and the feelings were a flowin'. We invited everyone to meet us at The Dove Parlour in the west village which is a comfortable loungey bar with a vintage vibe and delicious cocktails. (note: Robin will not go to bars where she cannot sit down.) We were excited to see some of our closest friends before we embarked on our journey west (like Fievel). Carly had to excuse herself to go cry in the bathroom twice and we overused the phrase "we have a guest room" at least a hundred times. In NYC, no one has guest rooms so its not only novel but made us feel like we could possibly see all of these people sooner than we think.
Wednesday morning we woke up early, feeling mildly hungover despite that late night trip to the Taco Truck, packed the car and headed to NJ to spend the night with Robin's parents. Our empty apartment was too depressing to stick around on the air mattress another night. The thought of having a home cooked meal before a week of fast food was rather enchanting.
We are no longer New Yorkers.
"We're the Californians."
"OMG I was just thinking that!"
http://www.hulu.com/watch/350669
So Thursday morning we will wake up at 6 and make our first trek all the way to Columbus, Ohio where we will see Intern Grace and watch the finale of 30 Rock at the Red Roof Inn.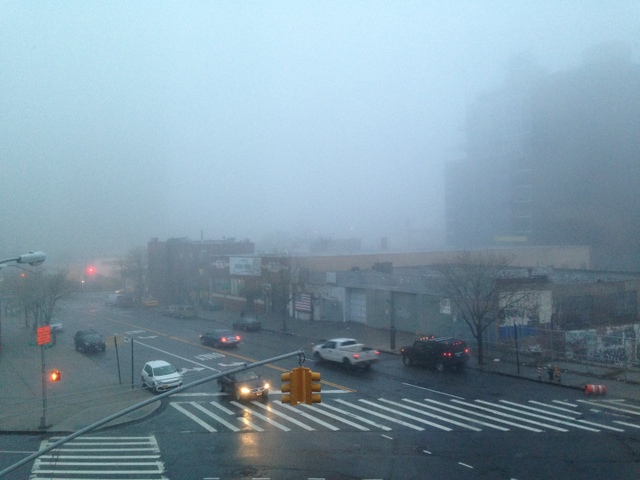 You'd hate to miss any Twitter updates!
Follow Robin @robinshoots
Follow Carly @carlytron