Yvonne Marquez, Autostraddle Senior Editor, 26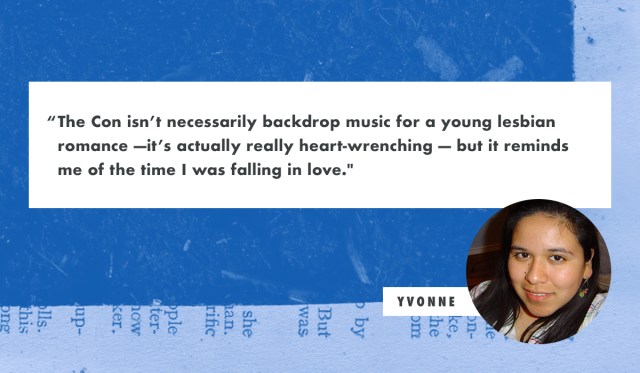 I was introduced to Tegan and Sara by my straight best friend in high school. Vanessa always gave me mixed CDs with all of her favorite music. She and I were obsessed with angsty alternative/pop rock music: Taking Back Sunday, All-Time Low, Boys Like Girls, Every Avenue, Say Anything and the list goes on. She would fangirl over the cute boys in the band and if I'm being honest, at one point, I did too. She would rip 50 songs onto a CD for me because she knew I had dial-up internet and I didn't know how to illegally download music like she did. In 2007, at the beginning of our junior year, Vanessa gave me a mixed CD with two songs at the very end that didn't match the rest of the CD. Besides Paramore, they were the only two songs with female voices. The songs were slower and softer and less angry than the rest of the CD. It was the first time I heard Tegan and Sara and I was hypnotized by "I know, I know, I know…" and "So Jealous." Vanessa heard the songs on Veronica Mars and liked them so much she shared them with me.
Vanessa gave me that CD right around the cusp of when my world would turn upside down. I was beginning to have feelings for my other best friend, E. We hung out all the time, laughed and talked like other teenage best friends but we held our gazes and each other's hand for way longer than what was "normal." Every time I listened to that mixed CD I couldn't wait till the very end so I could listen to the last two songs. I only thought of E when I listened to them.
"The same as I love you
You'll always love me too
This love isn't good unless
It's me and you"
As time passed, E and I couldn't hold those gazes for much longer and we ended up kissing one night at my house and it made the most perfect sense. But it also confused the hell out of me. We didn't have the language to put a label on who and what we were, but we knew we couldn't tell anyone about it. From then on we had a secret relationship. We held hands underneath cafeteria tables, stole kisses in deserted hallways at school, exchanged love notes between classes and made out after school. Every night I would listen to those two Tegan and Sara songs on my iPod nano and thought of her.
I had no idea who Tegan and Sara were and it wasn't until several months later when another friend pointed out that they were gay that I really started to pay attention to them. I craved more of their music so I used my birthday money to buy their latest album, The Con. I couldn't wait till I got home to listen so I popped in the CD as soon as we got in the car. I was Christmas shopping with my dad and brother and they really weren't the best people to have a first listen of this album. "They sound like chipmunks," my dad remarked, laughing. I was annoyed at my dad but I didn't care, I finally was listening to new Tegan and Sara.
The album immediately became a beacon to me in my lonely, closeted world. The lyrics were simple yet punched me right in the gut with all its emotional complexity. "I felt you in my life/ Before I ever thought to" Yes, I could relate. I found The Con at a time when I had so many intense feelings I could burst but I had to keep them all in. I was peak, head-over-heels for a girl but I had to stifle the giddiness and excitement that comes with a first love. I was so afraid of what others thought that I didn't show my affection to E in public or to my friends or family. The only way I could process it all was through listening to The Con.
Later that year, my parents gave me a car so I was able to drive wherever my friends and I wanted on the weekends, which was usually to go eat or to watch a movie. I always dropped E at her house last so I could give her a kiss goodnight. On my way home, I would scream sing along to the majority of The Con since we lived pretty far out of the city limits. I felt on top of the world. The Con isn't necessarily backdrop music for a young lesbian romance —it's actually really heart-wrenching — but it reminds me of the time I was falling in love. It reminds me of when I was just coming into my queerness, with all of its messiness and sweet, fun moments. It's an album that's forever etched in my memory as the soundtrack to my baby gay years.
---
Casey Stepaniuk, Autostraddle Contributing Writer, 32
Since I'm Canadian, I had known about Tegan and Sara since they were a tiny Canadian band who played in small Canadian cities. I had heard a few of their albums before 2007, but I didn't own any. Listening to them after coming out, though, gave them a whole new meaning. The Con didn't quite coincide with my coming out to myself and close friends, which had happened about a year and a half earlier, but it did arrive right around the time that I started to really tell people. A large part of my idea of telling people meant cutting my hair really short. The picture I shared is pre-short hair cut, but it was taken on an exchange to Germany where I was around brand new people who knew me as queer right from the get-go for the first time ever. As you can probably tell, I was pretty ecstatic at that time in my life.
I have visceral memories of walking around where I lived at the time, Victoria, B.C., with my newly short hair and wearing this red leather jacket I had just bought on that Germany trip and listening to The Con on my discman. (I think even in 2007 I was very behind by still having a discman). I remember walking and walking to nowhere in particular thinking over and over "Oh my god, everyone can tell." It was an exhilarating but terrifying feeling that I'm sure was mostly in my head. I mean, no one could tell I was listening to Tegan and Sara, although I probably did kind of look like the baby dyke I felt like. It was such a strange and painful mix of emotions because I wanted people to know, but I also didn't?
The Con made me feel so bad-ass and powerful at a time when I wasn't feeling either. Even now, when I hear the opening guitar notes of "Nineteen" or "The Con" it gives me this weird surge of energy. It takes me right back to that period of my life. I think I could walk forever in the dark on the streets of any city feeling strong and fierce if I was listening to The Con. I know this is maybe a bit weird compared to other people's experiences with this album, which is admittedly heart-wrenching and about all kinds of love that was lost or unrequited. It's not that some of the songs don't gut me; they do. Maybe it's that I drew strength from their radical vulnerability. Maybe it was just that they were out queer women at a time when I so desperately needed to see women out there in the world like them.
---
Alexis, Autostraddle Staff Writer, 23
Sadly, as a baby closeted lesbian I didn't know anything about Tegan and Sara or how much they'd change me. I was in ninth grade when The Con came out. Aside from not knowing where to look for music outside of my family (I could choose the music I wanted but I didn't have the money to be sneaking around and getting my own CDs), I shared computers with my parents and little sister at home and my grandma at my grandparents' house during most of the school week, so I wasn't going to have a chance to know about Tegan and Sara anyways.
It's hard for me to sit long enough with the thought of how things used to be and contrast them to what they are now. Maybe if I had known where to look and had someone like me looking our for little me, I would've gotten a mix CD with some of their songs and kept it hidden under my mattress. Maybe by the time I got to high school, I would've learned to let Tegan and Sara howl about my anguish instead of doing it (embarrassingly, unforgivably) myself. Instead, I mistakingly described the script of But I'm a Cheerleader to a friend, trying to play it off as a mistake that I ended up watching. When they said, "So you watched gay porn?" that put a stop to any exploring I was gonna try to do.
I didn't really know about Tegan and Sara until after I graduated. After coming back from college attempts several times, I moved from the living room to the basement and made a little desk right next to my bed and books. I figured now was as good a time as any to really get into the lesbianess of it all, so I ordered Imagine Me & You off Amazon, found fanfiction, and pressed PLAY ALL on Tegan and Sara's profile on Spotify.
I played "Nineteen" over and over again as the oh, this is how it feels of "I felt you in my legs before I ever met you" hit home. When I think of kindergarten and my best friend, and then high school and how I didn't know how to deal with the feelings I had, and some of the friends that I didn't know I shouldn't have such friendly feelings for. A lot of times I was sitting next to them, close but not too close, and every time they did something that made my heart flip I felt that lyric: "I was yours right?"
---
Vanessa, Autostraddle Community Editor, 28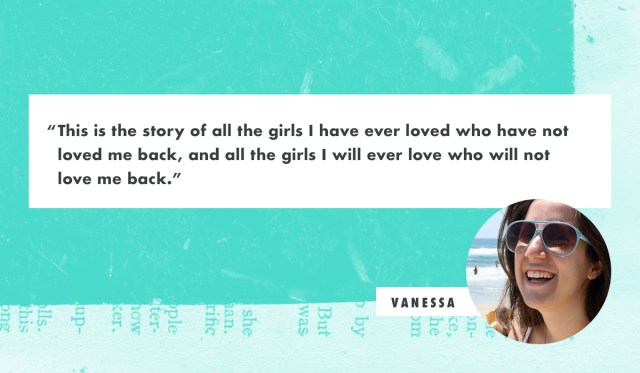 The thing is, in 2007 I thought I was straight.
I hadn't met Emily yet and I hadn't had my heart broken by a girl yet and I had no idea what the fuck was yet to come. So The Con existed but I didn't know about it – not really, I mean. I vaguely knew there were twin sisters named Tegan and Sara who sang songs and were Canadian and gay (did I even really know they were gay? Do straight girls pay attention to these things? I don't remember) in the same way I vaguely knew there was a show called The L Word and a bar in New York called Cubby Hole and an LGBT center at my university. These things were far away though, and didn't concern me. I had an unrequited crush on my best boy friend from high school and a college dorm room in downtown Manhattan and a seemingly permanent hangover.
I did not have any feelings about queer heartbreak.
Fast forward to June 2010. I was about to graduate from NYU and I was the most embarrassing clueless overly emotional baby dyke. I was taking a gender studies 101 class and I was in love with my professor and her terrific brain and her perfect muscular arms. (If you ever took a gender studies class at NYU I BET YOU KNOW WHO I AM TALKING ABOUT.) I was also in love with Emily, who turned my whole life upside down when she kissed me the year before but then stopped speaking to me because she wasn't interested in "being a tour guide for a confused straight girl." I was reading every gay book I could get my hands on, making my queer friends explain "how to have sex with a girl" at coffee shops, and binge-watching The L Word on Netflix every single afternoon in the apartment I shared with a straight girl from Long Island who didn't really know what to make of me. I found Autostraddle. I found Lesbians Who Look Like Justin Bieber. I wasn't sure which label fit me best – bisexual, lesbian, gay, queer – but I knew I was all in. I've never felt so scared and so good at the same time. I'm gonna teach myself how to be a dyke, I thought.
And then I met Corey.
Corey was a freshman and I was a senior and she sort of didn't give a shit about me, except when she did. She was in my gender studies 101 class and I thought she was cute but we never said a word to each other, until one night we found each other on the dance floor at NYU's drag ball and she exclaimed, "I knew you weren't straight!" which was irritatingly thrilling, considering how everything went down with Emily. We made out and I was so into her but everything after that was a mess of missed connections and she was really in love with her RA and she made fun of my incessant texting and blew me off but then wanted to study for our final exam together and then she was perusing my bookshelf and suddenly we were making out on my bed but I had to go to a gym class (why didn't I blow off my gym class?!?!) and she said, "what do you need from me right now" and I said, "a rain check" but we never got that rain check because ya know, that's how life works sometimes. She ignored me for weeks after that and then we both went home for the summer. I had graduated and was moving to Israel soon and she lived in London and we were so far away but suddenly we were talking all the time, she was sorry for how she'd acted in New York, we Skyped every night, sent each other crazy long emails, said we'd go on a date when I moved back to Manhattan in a year… oh, it was a mess.
And that, dear reader, is when I discovered The Con.
I found the music video to "Call It Off" first, because of course I did. I watched it approximately 47 times in a row on the first day I found it, and then approximately 1000 times a week for the rest of the summer. I couldn't stop. I was 21 and living in my childhood bedroom in my parents' house in the suburbs and I had found two (incredibly attractive) queer women who were singing these songs about my life. This is the story of me and Corey, I thought to myself. This is the story of me and Emily. This is the story of all the girls I have ever loved who have not loved me back, and all the girls I will ever love who will not love me back – maybe I would've been something you'd be good at; maybe you would've been something I'd be good at.
After finding "Call It Off" I devoured the rest of the album. I've always loved "Nineteen", "The Con", "Back In Your Head", and "Burn Your Life Down" best (after "Call It Off", of course), but I appreciate the whole album so, so much. It taught me how to be gay, which is exactly what I was trying to do that weirdo summer of 2010, and it taught me how to be okay when she didn't like me or love me back.
Corey and I never went on a date, of course. We fought over Skype and hurt each other's feelings and then I met a girl in Israel and fell in love with her and ended up dating her for almost three years, and Corey got together with her RA after all, and years later we met in a bar in New York right as I was about to break up with my girlfriend and I said, after four drinks, "If we were single do you think we would go home together tonight?" and she looked at me with a smirk and said, "If we were single I don't think we would've made it past the first round."
I drunkenly listened to The Con on the way home that night; I knew what was coming. I don't reserve the album for breakups, though. It's too good. It's a breakup album, for sure, arguably The Queer Girl Breakup Album, but for me, it's also a soundtrack that invites me home, back to my queer becoming. The Con means the same thing to me that Buffy means, that the Shane/Cherie Jaffe pool sex scene means, that Riese's essay about her own sexuality means. It's all stuff that taught me how to be gay; it all taught me how to be me.
In two years I'll celebrate the 10 year anniversary of my own queerness. But today, I celebrate a decade of The Con – a perfect queer album that got born two years before I even knew I would one day need it. Thank the goddess for its existence, amen.
---
Raquel, Autostraddle Staff Writer, 28
Like many, I came to The Con a little bit late. It was more like 2009, when I was receiving my 'gay-ducation,' as she put it, from the girl who would eventually become my first girlfriend. Strangely, my journey through the album, the songs that stuck to my gills one by one, paralleled my months-long journey of leaving my four-year boyfriend. This was in part because it was a profoundly toxic relationship, and in part to explore my queerness with this girl who was shaking up everything about how I thought my body worked, this girl I would see walking down the halls and wonder why my heart stopped and my eyes locked on.
The first song already intrigued me — the scream-sung assertion that [Sarah] "was married in the sun." I guess that meant it was sunny that day, but I imagined her, on the face of the actual sun, shining and burning. I think maybe that's something of how it felt. I was inching my way into my queerness, and I couldn't imagine the experience of being able to marry a woman, the heartbreak and the confusion of then, not being married anymore. Of course, I'd heard of divorce before, I'd experienced breakups, but somehow, now, the thought felt more real. Ironically, the account of a relationship between two women falling apart made me realize that maybe, maybe that kind of relationship could be an option for me. Maybe, it was everything I wanted.
Then came "Back in Your Head." That fucking refrain. That lilting, insistent trill of the piano. This song haunted me. I don't fully know what it meant to Sara, but it spoke to me of the years I'd spent with this guy, of the years since I felt truly connected. He rationed his vulnerability, giving me glimpses of intimacy before shutting himself off again. As happens at the end of relationships, I'd play and replay our beginning, the feelings I used to have of closeness, the conviction that only we two could understand one another in the world. The perils of falling into a deeply-entwined, overbearing and overwhelming relationship at 18. I was in art school, and one day, there was a moment after one of our morning 4-hour studios, when The Girl in my class started playing "Back in Your Head" and drawing. I was sitting on top of the long, wooden studio table, cross legged, hanging out as college students are wont to do, and I started bawling. Just, embarrassing, wracking sobs of ugly-crying. I did just want back into his head. Everything felt overwhelming, and I didn't know what to do or how to do it. I freaked her out, I think, but she was kind and listened to me talk about this boy, tactfully keeping her mouth shut and drawn in a small, sharp line. "I'm not unfaithful, but I'll stray. I'm not unfaithful, but I'll stray." I looked at her with my red eyes, and my eyelashes clumped in tears, and I knew precisely what those words meant.
And, finally, "Call It Off." It was the simplest video, and I watched it over and over. I watched as Sara encircled and entwined Tegan with the colorful, knotted wires and understood the metaphor. I watched the pain in Tegan's eyes echo mine as she sang. I knew it had to be done. I knew it was long overdue. I didn't want to. I wondered, at the time, if I had destroyed this relationship by my vacillatory nature, with my questions and my queerness. I was causing such pain, was it truly sinful — was I? The phrase "Maybe I would've been something you'd be good at. Maybe you would've been something I'd be good at" felt aimed at a relationship that was a false start, a connection that never took, but I felt it twice over. I felt it towards the girl, wondering in this past/future tense if it would work out, if it could possibly. I felt it towards my on-again off-again boyfriend, realizing that this back and forth wasn't working, wasn't helping, and my questions were too big for the relationship to survive them. I had new questions to ask.
---
Riese, 35, Autostraddle Editor-in-Chief
It was a queer and sultry summer, the summer my heart broke and I screamed on the rooftop of the Central Harlem apartment I hated nearly as much as I hated life itself, the summer that dark couldn't come soon enough for me. It was hot IT WAS SO HOT and I was walking so quickly it almost felt like running and I had my blog and not much else. I've been eating music, I wrote on my blog. I asked Carly to give me a list; she did, a good long one, I ate it.
Carly ended up being my gateway to my generation's queer-adjacent musical zeitgeist. I knew that Tegan & Sara existed, 'cause they'd been in The L Word, and I'd downloaded every song that'd ever been on The L Word, including "So Jealous." But then Carly sent me a playlist of songs to download and I guess she didn't do it on purpose but every song on it was exactly what I needed — Shiny Toy Guns I can't forget what you've forgotten, Stars I'm still in love with you I'm still in love with you, Rilo Kiley Sometimes when you're on you're really fucking on but the lows are so extreme that the good feels fucking cheap.
And! And Tegan & Sara!
I traded in "crying to Chris Pureka" for "never standing still to Tegan & Sara."
Here, finally, a way to deal with the world. Another barrier between me and it. Here, at last, a soundtrack louder than the mania surrounding me, the psychosis that turned my first relationship with a woman into an abusive, controlling, life-wrecking mess.The pressure of this life is so you can't be held accountable. If you go, you go.
"The Con," like so much Tegan and Sara I fell in love with that summer, gave misery velocity, was energetic in its sadness. I'd never heard music like this before, music that understood that despair can mean run-walking sweaty down hot-as-hell streets as much as it can mean lying in bed, staring at the wall.
This blog thing had opened some doors for me, and by "doors" I mean a way to meet girls who already thought I was cool before meeting me in person and thus discovering my sub-par social skills. That's how I met Carly, she commented on my blog and had a cute picture. It turned out we'd been separated at birth and it was our true destiny to be friends forever, write a lesbian sitcom together, and, for a month or two, drink/plow/starve/flirt/laugh away our breakup-related depression.
I'm up and doing circles I collapse.
She'd just escaped Orlando and the break-up of the long-term relationship she had there. I hadn't escaped a damn thing but I sure as hell was trying to.
Everyone I love, I need you now.
I was messy, aggressively messy, and looking back I'm not sure if I'm ashamed or bizarrely proud of myself. I wanted to burn my life down but I wrote it all down instead, and I'll keep writing it down until the day it makes sense to me.
I'll hold this pain in my heart forever, Tegan and Sara sang like holding pain in your heart forever was a thing you could do and still manage to sing about it.
I can't stop listening, I wrote, like I need a soundtrack really badly. Silence kills me. It reminds me of what used to fill it, maybe.
"The Con" is forever the summer of 2007, when I wasn't nineteen (I was 25) but maybe I was nineteen in gay years. Because when I heard I felt you in my legs before I ever met you I knew they were the truest words I'd ever heard. My fucking legs, always walking in the direction of tragic drama, the bones I wanted to shake my ex out of, but couldn't. The thoughts I hated thinking, but couldn't not: Maybe I would've been something you'd be good at. But now we'll never know.
The heat of the city, of this new friendship, of THIS MUSIC — it helped.
So what I lied, I lied to me too.
"The Con" was taking the cross-town bus to Pathmark to stare at boxes of food I didn't feel like eating, because all I wanted to consume were my emotions and Tegan & Sara. It was writing 'til 2am, drinking vodka on the stoop, needing constant distractions. "The Con" was long days and all-nighters writing our lesbian sitcom often followed by late nights in crowded bars for gay boys or girls.
When I feel like this / when I get so into myself I lose track of where I'm going. 
It just doesn't stop being exactly the only thing I can even think about hearing, I wrote. It's like my life is an elevator and this is my elevator music and the elevator is stuck.
"The Con" was the gallery opening we went to where the power went out and somebody else's girlfriend kissed me on the mouth and the ex-hookup I'd invited told me she'd just had an abortion and left without saying goodbye and I didn't even notice she'd left. I'd get twitchy waiting for the night to end so I could put my headphones back in.
I just want back into your head.
We finished writing the lesbian sitcom and nobody wanted to buy it and Carly got a full-time job and let's be honest I'd never looked for one. So I was alone at my desk again, staring at my keyboard, screaming with my mouth shut.
I collapse
I knew I was losing it, had lost it, and maybe coming clean, even if I had to air the dirty laundry first, would help me find a way to be still. I won't regret saying this, this thing that I'm saying. Is it better than keeping my mouth shut? That goes without saying.
---
Carrie Wade, Autostraddle Staff Writer, 28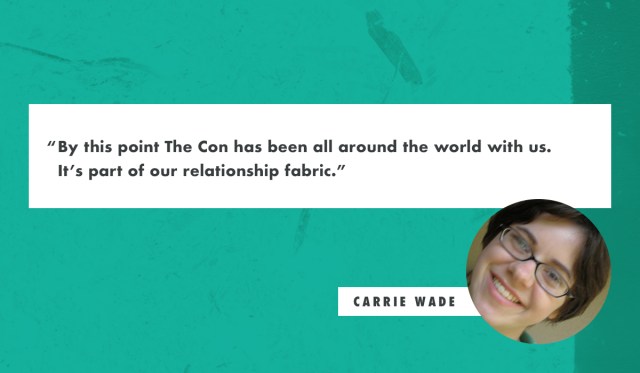 The summer that The Con came out was one of the roughest times of my life. I was recovering from a heavy-duty (is there any other kind, really?) spinal surgery, unmoored by the fact that I had to leave school to get better, and going to multiple physical therapy appointments a week just trying to get to know my body again. It was my third time learning to walk and the first where it really stung, because I was an adult and understood that this wasn't supposed to be happening to me anymore. I was impatient and scared and sad. Both of my parents stood by me like champs, handling my unpredictable anger and setbacks with a resolve I still don't know if I'd be able to summon. And my dad was the one there with me all day (he's the stay-at-home parent in our family), trying to figure out how to get me through the next minute and hour. We made a pact, once I was well enough, to get out of the house at least once a day because I was so sick of being cooped up. We curated our own personal taco and ice cream tour of Los Angeles that summer. And more often than not, The Con was on the stereo.
I feel like as a queer woman I'm probably supposed to relate to the lyrical minutiae of The Con a lot more than I do. But honestly, it's never been about that for me. I love The Con because it reminds me of my dad. He was actually way more into the record than I was at first — he's always been cooler than other dads and his own kids — and the minute he figured out he had a lesbian daughter, he hopped aboard the Tegan and Sara train and never got off. It's one of his favorite albums to this day, a sure winner on every road trip or whenever silence needs filling. He loves "Nineteen" so much he makes me shut up whenever it comes on. We've been to multiple T&S shows together solely so he can hear that song. I learned to love the whole album just by watching him listen.
By this point The Con has been all around the world with us. It's part of our relationship fabric. It connects me to one of the people I love most in the world, and reminds me how lucky I am to have such a phenomenal family.
Pages: 1 2See entire article on one page