Major spoilers below for Anne With an E season two. 
I really hated the first season of Anne With an E, which I wrote about in scathing detail on this very website. The short version of my loathing is: The remake hammers the soul and spirt out of Lucy Maud Montgomery's beloved town and beloved characters, and mangles their tried and true storylines in the name of grit and edginess. There is, however, canonical gayness in Netflix's reboot, and even more in season two, which landed last week. I like canonical gayness. I especially like it in a story that's been read for a century as queer by lots of queer people. I didn't like that it was expressed at the expense of feminist icon and probable also gay lady Marilla Cuthbert in season one — but that's enough complaining out of me.
Last season Diana explained lesbianism to Anne and it looked like this:
Diana: [My aunt Josephine] is disinclined to stay at home since her companion died.
Anne: Her companion?
Diana: Her best friend forever and ever. Aunt Josephine never married. Neither of them did. They lived with each other their whole lives.
Anne: I'd live with you forever if I could, but I know you'll leave me the day you get married to some wealthy and handsome gentleman. I hate him already.
Turns out Diana didn't actually didn't know Aunt Josephine and Aunt Gertrude were lesbians, despite the fact that they shared a home and a bed and everyone calls Josephine "Jo," which, as you know, is the shortest short-hand way to call a person "gay." Aunt Jo invites Anne and Diana to her house for a party in season two's "Memory Has as Many Mood as the Temper" and things go from slightly canonically queer to heckin' queer. Right out of the gate, Jo reveals to Anne that she and Gertie were, "in their way, married." In fact, Gertie's books are still on her bedside table, just how she left them. Anne picks up Jane Eyre and Jo asks her to take over Gertie's tradition of reading a passage from a favorite book at the party.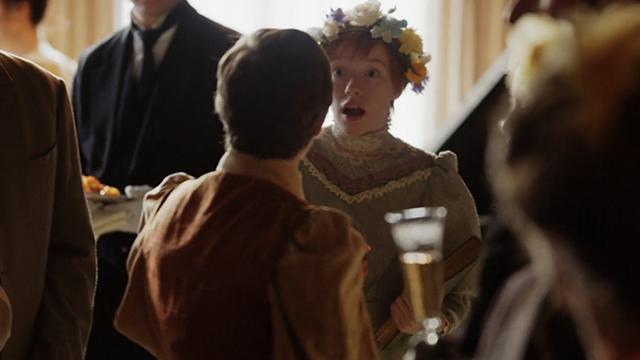 Anne worries that she's not going to fit in, because she's not like everyone else. "Then you've come to the correct party," Aunt Jo assures her. And it's true! It's a very queer party full of very eccentric people, including men wearing makeup and women wearing tuxes and a lot of artists. Anne even bumps into another girl with a pixie haircut who declares to Anne, "Love your pixie haircut!"
Toward the end of the evening, Aunt Jo stands up to give a toast, and really it's a love letter to Gertie. When she's finished speaking so beautifully about their love, one of their be-tuxed women friends hold her glass of champagne high and says, "To Gertrude, to the most wonderful couple, to my romantic ideal!" And everyone toasts, "To Gertie and Jo!"
And, look, I cried.
To Anne, this deceleration is no big deal, having cracked the lesbian code the second she walked into Jo's house — where, I should also add, there are at least two sculptures of naked women canoodling. To Diana, it's a shock that sends her reeling for several episodes. They can't be, it's unnatural, etc. To their friend Cole who tagged along, it's a miracle. He's gay too. He's felt out of place his whole life. Meeting Aunt Josephine, hearing about Gertrude, it changes the shape of his world. (Oh he's obviously also an artist.) He tells Anne about his revelation with just a shy smile, which she reciprocates. He tells Aunt Josephine with his mouth, right out loud. And she promises him a life of bumps and bruises, but of so much fulfillment and love.
And, look, I cried again.
There's one other slightly gay thing I should mention about season two and it's Miss Stacy. Here she is arriving into Avonlea on a motorized bicycle that runs the Cuthbert's horse off the road. She wears pants.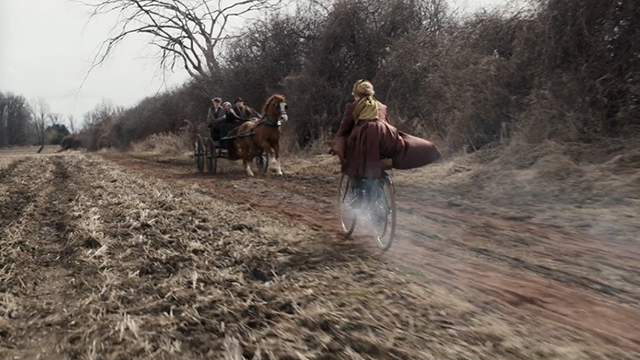 Diana finally shakes off her shock about Jo and Gertie and gets over it, Cole ends up moving in with Aunt Jo, and Anne goes out into the world to preach the gay gospel, telling Marilla and Matthew on a picnic at the beach: "Love doesn't look the same for everyone. It can come in so many forms. How can there be anything wrong with spending your life with the person you love?"
How indeed!
Anne With an E continues to use characters shoehorned in from 2018 to explain race and gender and sexuality to people on Prince Edward Island in 1908 as a way of explaining those things to people watching television on the internet in 2018. It's clunky and weird and sometimes embarrassing. The dialogue sometimes feels like it was written in an alien language and run through Google Translator. The drama is so overwrought it's ridiculous. The characters remain unrecognizable. But give me some elderly lesbians in love their whole lives, mentoring a couple of queer kids, and I'm gonna cry like a little baby-gay baby (which I, like Anne Shirley, will always be in my heart).