Find Your Fit is a style advice column helping real queer people find the masculine, butch, and tomboy styles that make them look and feel hot.
Hey Mika,

It's me — the queer academic who hardly ever fits men's clothing but is thirsting after that ~professorial~ aesthetic anyway.

I'm a PhD candidate in California finishing up my third year of grad school, aiming for an academic career in a couple years, and definitely looking forward to dressing the part. As a 25 year old, 5'3″ AFAB genderqueer person, with a face that apparently screams "possibly a 14 year old unaccompanied minor in this airport??", it's important that I look professional enough (especially when I'm teaching) to convey some authority. I love dapper-queer, effeminate-gay-boy stylings—I'm not afraid of colors, bold prints, and tight silhouettes. In my less academic moments, I admittedly sometimes venture into athleisure (a new development since I moved to CA a few years ago—love me some Adidas track pants) or occasionally into what my partner calls "the Greaser look" (leather jacket courtesy of having just bought my first motorcycle!).

My main struggle in achieving all of the above is that I'm usually too small to wear the clothes I really like (I'm about 30″ chest, 26″ waist, EU 37 shoe). Any advice you've got to help me achieve my goal of being the queer professor crush of everyone's dreams (no? was that just me daydreaming in class?) much appreciated.

Style icons (disclaimer, I'm bad at thinking of these): Timothée Chalamet, Ellen Page, Cameron Esposito, Jidenna.

Best,

DM
they/them
Generally, queer people get infantilized a lot in the world and it sucks we gotta change or style ourselves with that in mind just so we are taken more seriously. However, it's very doable! I think we can tweak certain things within your fits to age up a bit.
Monday Morning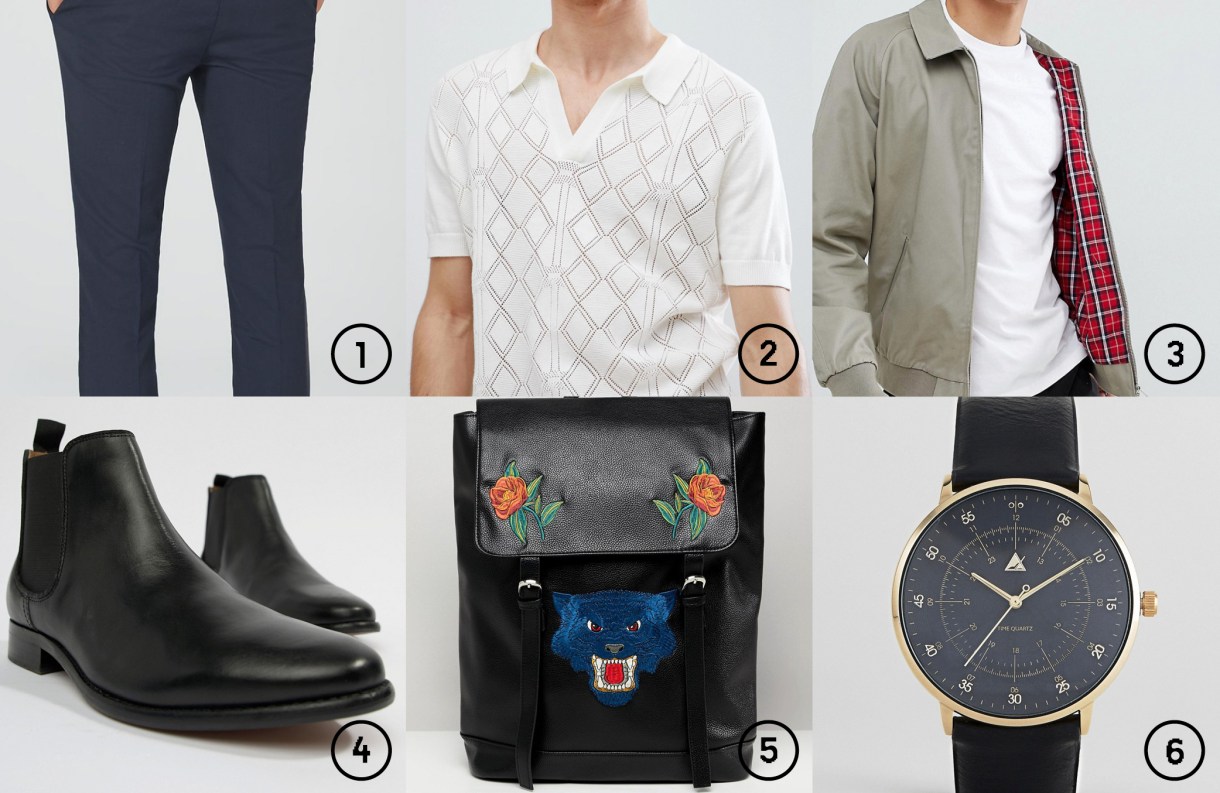 1. Trousers // 2. Knitted Polo // 3. Jacket // 4. Boots // 5. Bag // 6. Watch
Inspo:
Timothée is a great option for this kind of fit. In a lot of his red carpet/panel appearances he tends to wear some formal pieces layered up with more casual ones, creating an effortless balance that doesn't sacrifice formality.
Styling:
I'm imagining this look for a full eight-hour day. This is the kind of outfit that also gives you flexibility if you want to go do something after class and don't want to change clothes.
The key to the kind of look you want to have is wearing the pants properly; having a dark-colored slim trouser can take you many places. There are stores that sell pants your size, but don't be afraid of tailoring if they still happen to be a bit big. 95% of people that wear menswear tailor their trousers/jackets to size, it's very very common I promise. If you do get a trouser, take it to a tailor and have it cut at the ankle; because you're short a good trick is having your pants cut at the ankle and showing your shoe to elongate you a bit! (I do this literally all the time.)
Timothée loves a Chelsea boot/trouser combo with a more casual top. These boots from ASOS can be worn with a ton of outfits., though I'd recommend you stay in the blacks; wearing a lot of black and grey tones will give you that extra bit of sophistication that can age you up a bit. I know it's probably an unpopular opinion, but maybe stay away from browns in terms of shoes.
It's great you aren't afraid of a fitted look because it works well for your frame and the kind of style you're aiming for! Knitted polos are very in right now; think of pairing a light-colored one with the trousers and wearing it untucked. If this doesn't work for you any type of fitted shirt tucked in will work great. Don't wear a belt with trousers! Not wearing a belt keeps you fresh and modern rather than aging you down (you end up looking like a little kid) or aging you up (you end up looking like a dad™).
Timothée often layers a nice light jacket with his fits; this is a great trick to give you a bit of a squarer frame if you happen to be very small (he is very very small too). I picked this harrington jacket from ASOS because the pattern inside and the cream will add a little extra touch. A light color jacket or even a mid hue like a maroon or british green will help you incorporate color easily to a monochrome look.
I added a black leather watch to every fit because I saw you have a very nice one and it's the perfect accessory for these looks, so please wear it with everything!
Since you're like, a ~cool~ teacher I picked this backpack for you — the black leather adds that formal touch and the embroidery adds a bit of edge, color, and personality. Experiment with your bags, but make sure to pick something that retains a bit of formality.
Summer Fridays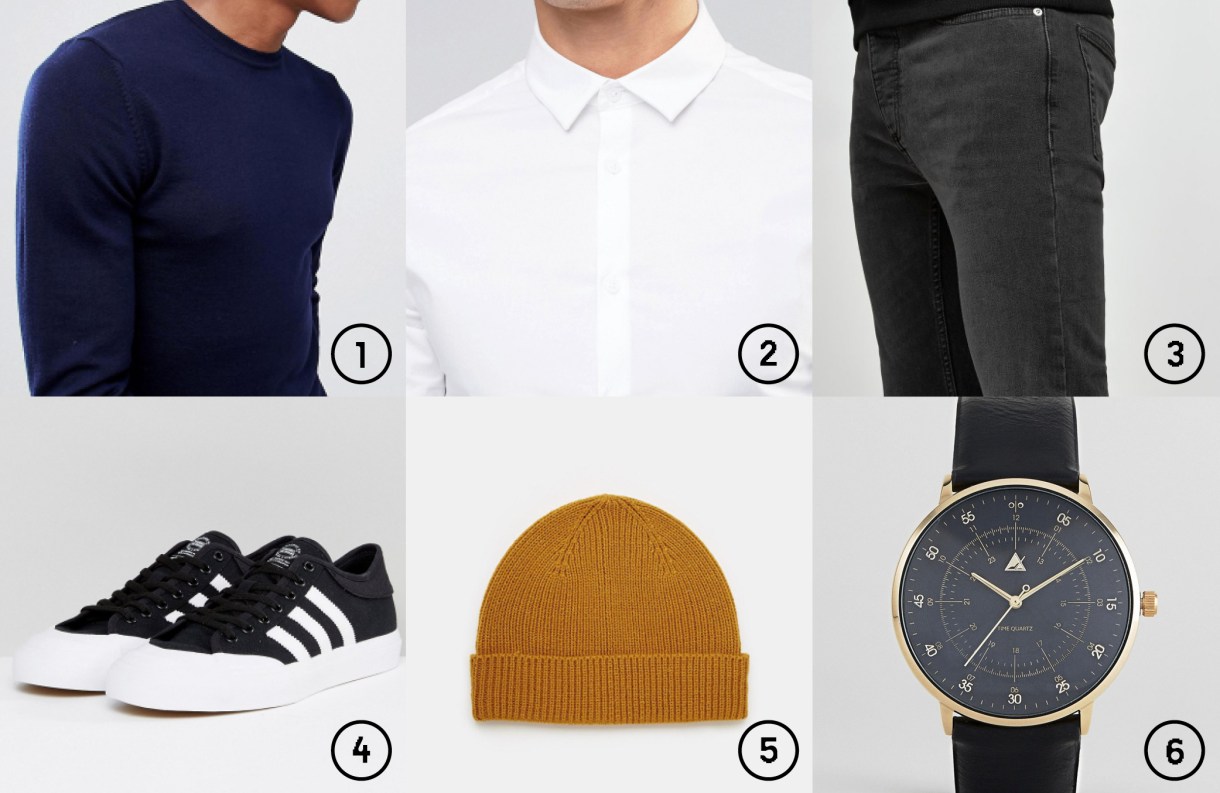 Inspo:
Ellen is known for styling around comfort. She usually juxtaposes basic, simple pieces, with more structured ones.
Styling:
For this fit let's do 'dapper' on top and casual on the bottom; this works great for a shorter work day, a casual Friday, or if you just want to go pick up some coffee with a friend.
Pair a plain button up with a fitted sweater. If you wear a light-colored sweater, pair it with a dark shirt, and vice versa. Tuck the collar inside the sweater, so just the top of it is peeking out. I picked this navy one from ASOS because the fabric seems light enough that you shouldn't run very hot. You can wear this set up with trousers and shoes and make it formal, or you can have the shirt tucked out and wear it with dark-wash jeans to juxtapose formal and casual.
Any pair of sneakers will work, just make sure to roll the jeans around the ankles. If you want to wear visible socks, pick a dark pair (black, navy). Patterned socks can make you look very young; I'd stay away from them.
Finally, Ellen LOVES a hat, but because we're in a more academic setting I'd stay away from baseball hats and move more towards a fisherman beanie. Tuck in your hair in it! If you're just grabbing coffee or doing something outside of school think of wearing a 5-panel or baseball hat.
Day and Night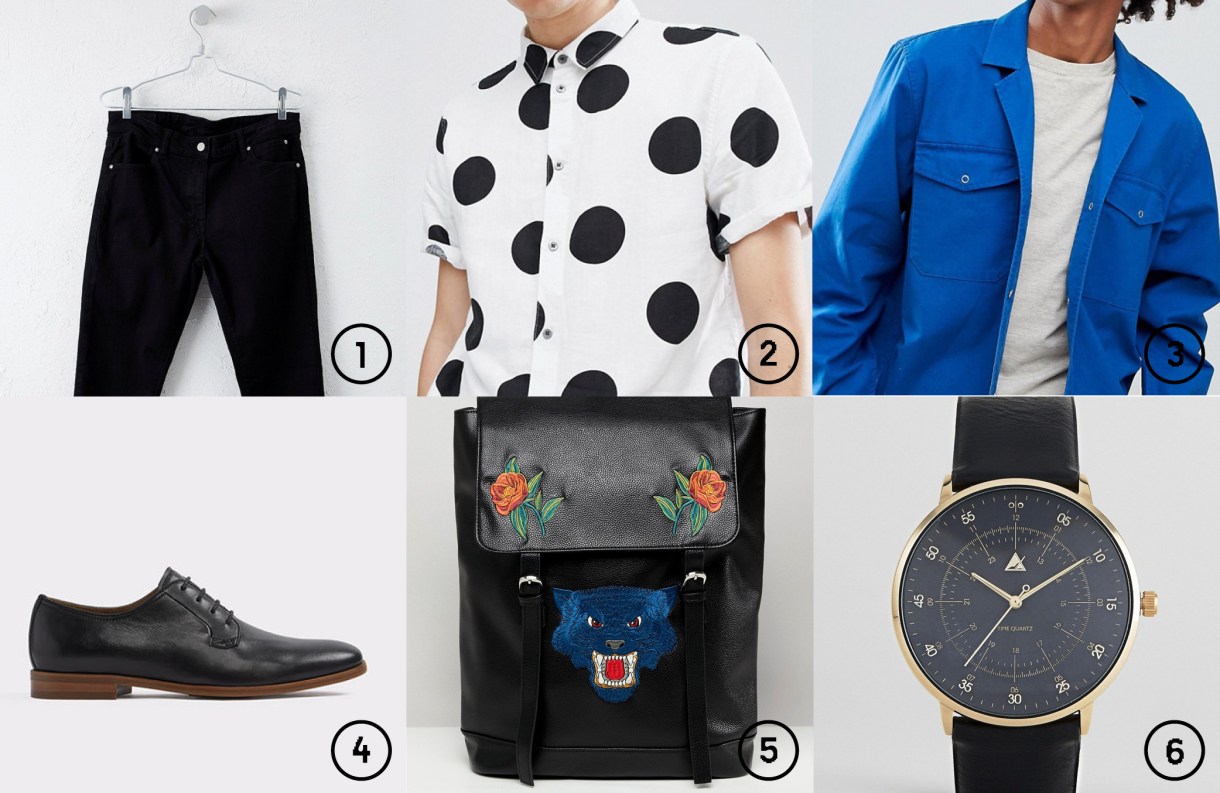 Inspo:
Cameron loves a patterned shirt and so do we. She does a great job of picking her shirt/jackets according to whatever the outfit needs.
Styling:
This fit is great for literally everything and anything. You can wear it during the day, at night, to class, on a date, literally ANYTHING.
I picked these skinny jeans from ASOS but any will do; the key to patterned shirts in an academic setting is wearing dark colors. Pick fun patterns but stay within darker tones to age you up a bit. When you're wearing a skinny fit in the bottom of your fits, you have more freedom to wear a looser fit on top. This shirt's structured fabric should give you a squarer frame without distorting your size or age. Roll the sleeves and button it all the way to the top. You can choose if you wanna tuck it in or not; regardless, don't wear a belt!
To incorporate a bit of color to your fits a nice light bomber jacket or overshirt can be the answer! I picked this overshirt from ASOS because the bright blue will definitely add a nice touch; it will give you bright without making you look younger than you are. Pay special attention to fabrics to create contrast and add texture with your shirt/jackets.
I picked a nice pair of dress shoes from ALDO because they tend to have smaller sizes online (though not really in store) and their shoes definitely last for a long time. You can also wear the Chelsea boots from the first outfit if you don't feel like buying two pairs of shoes. If you do get a pair of dress shoes, roll the jeans to your ankles!
---
For help finding your fit, write to mika [at] autostraddle [dot] com with a little about yourself, your personal style icons, and three or four selfies in your current favorite outfit(s)!