If you're unfamiliar with the viral internet sensation Comedians in Cars Getting Coffee, here's the basic deal: Jerry Seinfeld — one of the world's richest comedians, of Seinfeld fame — takes a fellow comedian of his choice for a spin in a vintage car. Then, they get coffee. And that's it! That's the whole show!
It's a bit like Inside the Actors Studio? But, with Jerry asking whatever is on Jerry's mind. What's on the mind of a wealthy, cis, straight man is the LAST THING I CARE ABOUT in 2018, and guess what? Jerry Seinfeld is no exception to that rule! Any survivor of the '90s can tell you, Seinfeld famously built his comedic empire on a whole lot of "nothing." Apathy is the name of his game, but man, rich men being apathetic in 2018 is a pain.
After nine seasons at Crackle, Comedians in Cars Getting Coffee got a fancy Netflix facelift. Part of that facelift includes LESBIANNNNNS!
New episodes dropped this month. One has Jerry having iced tea with the head of the lesbian mafia, the one! the only! Ellen DeGeneres! Another leaves him zipping around New York with everyone's favorite girlfriend — who also happens to do a killer Hillary Clinton impression on karaoke night — Kate McKinnon! They both look about as excited to be in a car with Jerry Seinfeld as I would be!
Here are the best faces Ellen and Kate made while being trapped in a car with this guy. This dialogue is 100% real.
---
Jerry: Your talk show… you couldn't have imagined that it would be as successful as it's been.
Ellen:
---
Jerry: Wow. Nobody would believe that you really talk like this.
Kate: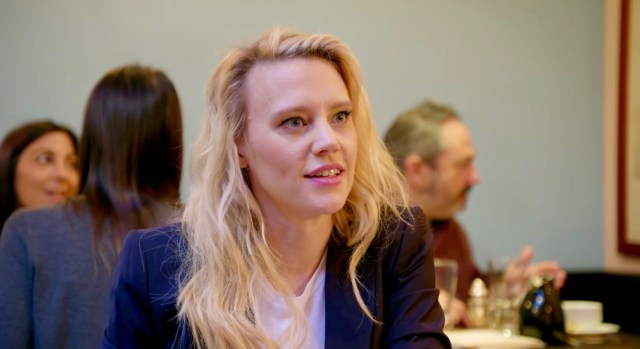 ---
Jerry: What would you like your appeal to be? What would you like people to think when they see you?
Ellen: That I'm a good person. That I'm a nice person.
Jerry: No one's paying to see a nice person.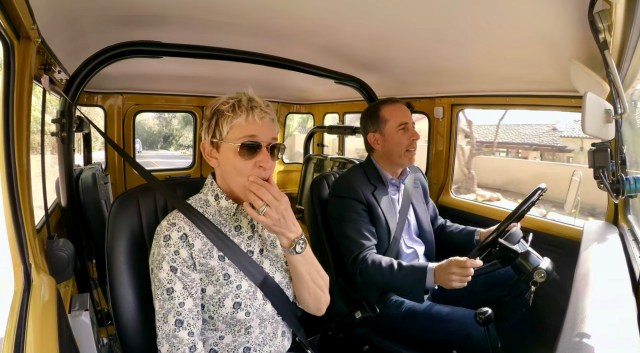 ---
Kate: Are you here? Should I, like, come to the car?
Jerry: I would appreciate it if you were not so suggestive in the white-hot radioactive sexual misconduct rodeo world we now live in.
---
Ellen: When I lost my sitcom, I didn't work for three years solid until I got the talk show.
Jerry: So when you say you "weren't working," what were you doing?
Ellen:
---
Jerry: The thing that really intrigued me about you is that you went to Columbia.
Kate: I did mostly puppetry.
Jerry: What do you think about a ventriloquist dummy that's a paraplegic?
Kate:
---
Ellen: The world is such a scary place right now, in so many ways. It just overwhelms me with dread. Do you ever like, go to those places?
Jerry: No.
Ellen: You don't?
Jerry: No. My attitude is that each generation kinda gets this thing dumped in your lap to deal with.
Ellen: When I talk to your kids, I'll ask them what they think.
Jerry: I don't really care what they think.
Ellen: That's… my point.
---
Kate: Parallel parking on the right side of the road? God, you're a man. You're a real man.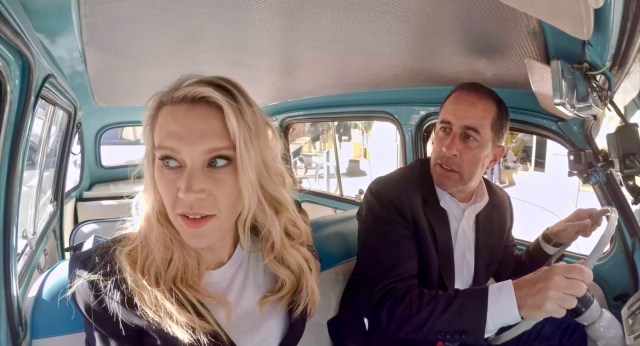 ---
Jerry: I know that you don't like men, but even if you did…
Ellen:
---
Jerry: What did you do when men were attracted to you? How did you handle that?
Kate: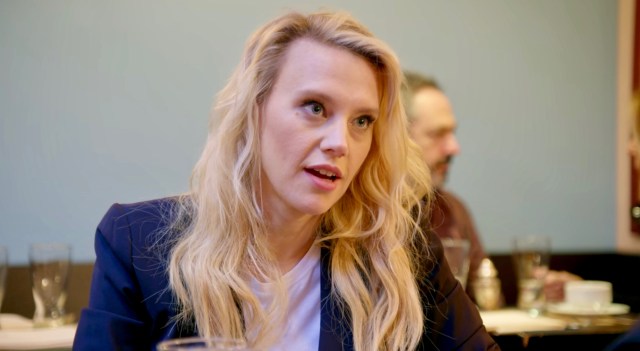 ---
Kate: I wore a pair of SpongeBob SquarePants pajama bottoms, clogs, and a hand-me-down hooded sweatshirt. I gave myself my own haircuts. And that's when I looked the best!
Jerry: But you wanted girls to like you.
Kate: That's fine for them! That's the secret.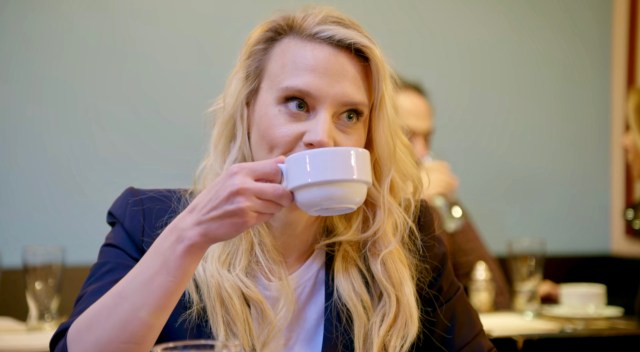 Jerry: That's the most attractive aspect of this lifestyle that I did not know about.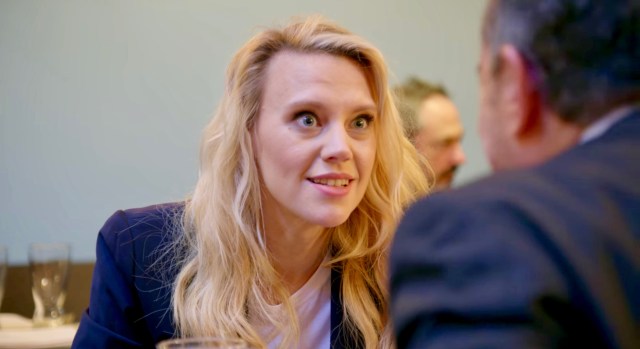 ---
[Jerry Seinfeld's philosophy on how celebrities should treat fans]
Jerry: What do you owe? Your show was free. You gave these people a show for free. I don't understand. What is this "owe"? Quite frankly, I gave you something. If anything, now you owe me something!
Kate: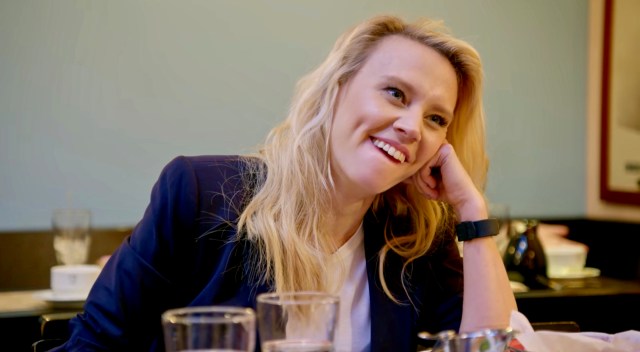 ---
Jerry: [I kid you fucking not, he makes a joke about domestic violence.]
Ellen: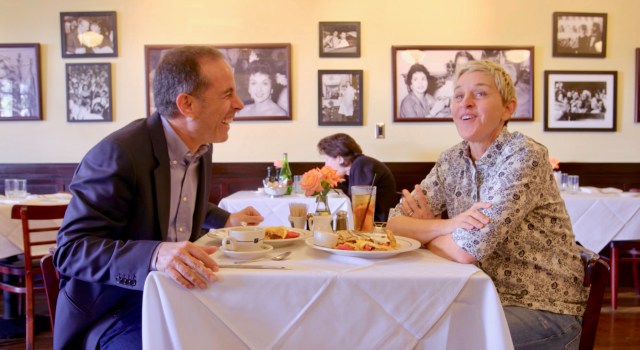 ---
And finally… I present to you: "When Your Host is a Wanker and You Get Him Back, A Play in Two Parts."
[Ellen steals Jerry's car keys]
[Jerry visibly panics]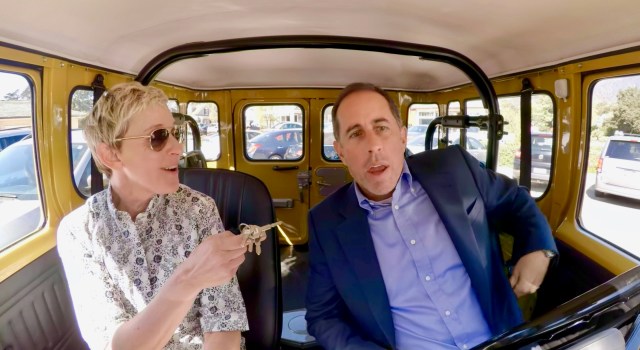 Ellen: It was to teach you a lesson! I could've let that go for longer.
Jerry: If you had any balls, which you don't.
Ellen: … I should've let it go really, really long.
Jerry: I don't think that was going anywhere funny.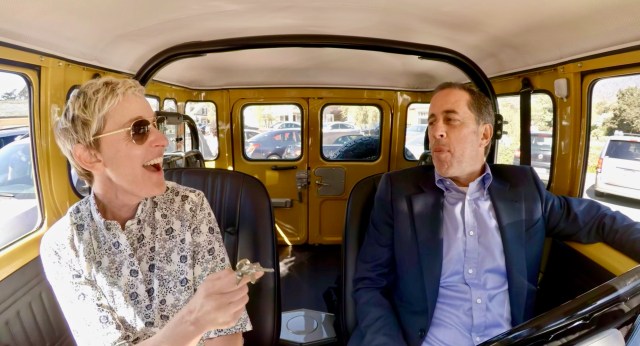 ---
If you want to partake for yourself, the new season of Comedians in Cars Getting Coffee (called "2018: Freshly Brewed") is on Netflix right now. Ellen's episode is #3, "You Said It Wasn't Funny." She talks about her first stand up, being the first woman comedian invited to sit at the desk with Johnny Carson, and re-discovering joy after her girlfriend died in a car accident (which is something I previously didn't know about her!). Kate's is episode #10, "Brain in a Jar." She gets in deep about physics, environmental science, and the Coriolis Effect (that's what makes your toilet flush backwards!). She also impersonates Jessica Lange in American Horry Story and mimes a dog taking a poop on the sidewalk.
Until then, tag yourself in the comments! I'm Ellen laughing my ass off at Jerry not finding his keys.