Lord have mercy you will never get through all of this. Maybe next week I'll do two smaller AAAs and everyone will wake up happy. Here are some of the things we missed while Time magazine was being the absolute fucking worst!
---
Gay.
+ One of my favorite humans, Arabelle Sicardi, wrote The Best Time I Got Sent to 'Pray Away the Gay' Bible Yoga Camp and it's beautiful:
In the morning we are led into the field and asked to ruminate with God, to meditate on our sins and how we can best serve him through us. Or something. I am hungry, and this feels like the beginning of a horror movie, a cult I was driven into, and I want to go home and think about the cute girl I met in Chess Club with green eyes. The greenest eyes. I let her win twice in a row last Friday. I don't want to sit in a field and think about God when I'm godless and my mother is godless and I was dumped in a field to try to find someway back home, a place where religion is a confusing map my family can't navigate. A place to go when we can't speak frankly to each other. I do not have the words of religion in my mouth and neither does my mother, but I found myself in a field worrying about ticks and dying and lying to a God I don't believe in. If he was here, why won't he tell my mother I'm not sick? I'm not sick. A few years later when I come out the first words she says is that I am sick. I am not. I just happened to mention in passing that I liked a girl in Chess Club when I was 14. Why does this require me to sit in a field at 6am among strangers? I just like a girl. It is simple. It is something I don't need to memorize like I have to memorize a prayer. I can't memorize a prayer, it is empty to me in the exact opposite way green eyes make me feel like my bones are burning. The language of wanting is easy. But I have no language for this map of Christ and queerness.
+ Do you want to cry a little? Feel a little warm in your heart? Vikki Reich has this piece, Things We Cannot Know, about choosing to use an unknown donor to help create two brilliant new people.
Then, she inched just a tiny bit closer and said, "So we can never know our donor, Mama?"

She'd spent part of the day with our friends' daughters, who have known donors, so I knew immediately why she was thinking about this. There was no way to soften the edges of my answer so I spoke after only a beat, "No, baby. We can't."

She looked back at me with those dark eyes, "Well that's a little bit sad."

I knew I had a choice in that moment. I could ask about the sadness and try to untangle it or I could sit with the truth of her statement and, in the end, I chose simplicity.

"Yes. It is."

But that truth is not hers alone.
+ Trans Women Stage First Bangladesh Pride!
+ Philadelphia Official Writes About Her Complicated Life as a Lesbian.
+ Goddamn I hate to send you to Buzzfeed because they're actually ruining the internet for indie sites like Autostraddle (get an A+ membership here!) but this is an important story for you: The LGBT Kids Who Flee Their Countries and Their Families for the U.S.
+ Gross: Colorado Elects Republican Who Believes Gay People Want Your Soul.
---
Doll Parts
+ Well excuse the fuck out of me and you and everyone we know: Columbia Fucking University Fucking Fined Student Activists for the Carry That Weight Day of Action and would you like to know why? I bet you would!
As part of the national protest last week, Columbia students carried 28 mattresses around campus with messages of protest against rape and sexual assault, words of support for survivors, and demands for change to the University's sexual assault policy. At the end of the protest, the mattresses were placed on Columbia University President Lee Bollinger's lawn, for which the students are now being charged with up to $1,500 in clean-up fees.

Columbia spokesperson Robert Hornsby says the fees were not unusual. "These are entirely typical matters in apportioning direct costs for facilitating student events," he said, referring to the University's decision to throw the mattresses into dumpsters within an hour of being placed on President Bollinger's lawn. However, according to student and protest organizer Michela Weihl, the University's actions held more meaning than a simple clean-up. "The symbolism of them literally dumping the mattresses in the trash within an hour," said Weihl, "it's so indicative of how they handle sexual assault on this campus – they literally throw out rape cases without a second thought."
JESUS CHRIST.
+ Weather Forecasters Predict Better Services for Women by Michelle Leslie:
While further research on gender-specific weather and climate services is needed, evidence from Senegal shows early successes.

For example, once women were armed with weather information, they kept children at home during heavy rainfall, potentially saving lives as children often drown in floodwaters, Tall said.
+ Could Banksy Be a Woman? from Cait Munro.
+ Facing Race Spotlight: Trans Latina Activist Isa Noyola — don't forget that our very own Yvonne and Fikri will be at Facing Race this weekend! Absolutely cannot wait to hear about this amazing conference.
+ RSVP for MS Magazine's Wonder Awards in DC!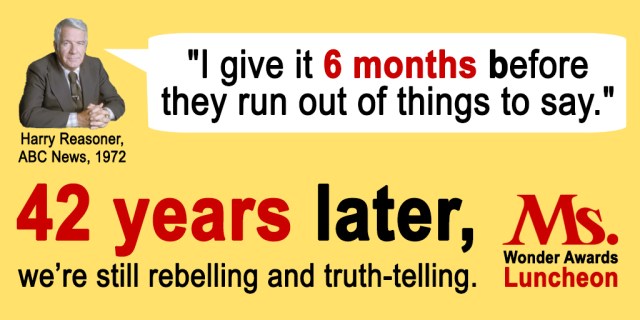 + Marguerite Del Giudice on why it's crucial to get more women involved in science. Related: The Challenge of Being a Rural Science Teacher by Alexandra Ossola.
+ Women With Kids More Productive Than Literally Everyone according to a study and Tracy Moore, which I already knew but I do love a good reason to bring it up. Feels nice.
+ All-American Girl at 20: The Evolution of Asian Americans on TV is a thing you have to read because Margaret Cho.
+ Geek Culture: A New Hope by Jennifer K. Stuller:
What's underlying the recent outburst of hatred is the fact that culture is changing. New communities of nerdy people are changing what it means to be a nerd, and so what we're looking at in this cultural moment is not the death of the geek, but the death of a stereotype. People who've historically not been seen as geeks—people who are not straight, white males—are building communities online and IRL to connect genre preferences with identity politics.
+ PUSSY PUSSY PUSSY now you can say pussy on Comedy Central. Does anyone here remember Lords of Acid's "Pussy" song? A real treat, that one.
+ Hey are you driving your waitress to drink? Not anymore because Elaine Atwell is going to save you and your waitress from yourself.
+ Just bookmark this if you haven't already, and visit it often: Glamour Magazine's Woman of the Year Project.
+ "Did You Ever Mind It?": On Race and Adoption by Nicole Soojung Callahan is a must-read, so do that now.
---
Saw This, Thought of You
+ Everyone on earth is talking about Too Many Cooks so here's some of that!
+ Feministing Jamz: A Fall Playlist Featuring Women and Queers of Color.
+ This was fascinating and I couldn't get out of my car yesterday morning until it was over: How Animals Hacked the Rainbow and Got Stumped on Blue
+ 911 Calls From Inside Corn Mazes. Officially a Thing.
"We thought this would be fun. Instead it's a nightmare. I don't know what made us do this."
+ ORAL HISTORY OF MEAN GIRLS??!!!
+ Transgender Lockheed Martin Engineer Receives Top LGBT Award. Congrats Christine Bland!
+ It's Sesame Street Week at the A.V. Club. Good stuff.
+ Is There Hope for Local News? by Alana Semuels:
But as local newspapers shrink and broader-based national sites grow, who's going to cover the local news? It's something that, as a journalist, it's hard not to fret about. Many of us came up in local newsrooms, where our first assignments were calling local cops and bugging them for information about items on the scanner. Many of us now work for sites that don't have anyone calling the local cops, or even listening to the scanner.

"There are organizations and events and actions that will never get any attention if I'm not there paying attention to them," Redmond told me. During his time at the Bay Guardian, for instance, the paper uncovered stories that led to major policy changes in the city. It produced a series of investigative stories about San Francisco Mayor Willie Brown and his shortcomings, exposed a plan by the National Park Service to turn the Presidio into a business park, and drew attention to a lack of oversight on how San Francisco spent on nonprofit contracts.
+ Do you want to think and talk about how anime art has changed? Kotaku has you covered.
+ My brain bled out of my ears when I first started reading this post, but it serves as a nice reminder that some things are fucking awful and yet some things are fucking necessary. Idk it was a roller coaster (oh do you see what I did there no probs not bc you haven't read it yet!). It's Everywhere, the Clickbait
+ Fariha Roisin and Sara Black McCulloch have started a new, relevant-to-your-interests series on The Hairpin and you can read the first installment here: Self-Care, In Theory and Practice.
+ Why Don't People Want to Donate Their Organs, hm?
+ Oh hey here are Five Sky Events This Week: Mars Has Tea While the Moon Joins Jupiter. Who the hell do they have titling their shit over there at NatGeo? Because I want to hug their face with a kiss.
+ How We Came to Make Wishes on These 11 Things.
+ Um excuse me, an architect has shared the secrets of building the ultimate pillow forts.
+ It's Just a (Thanksgiving Dinner) Fantasy — This got my attention because we've been rethinking the Thanksgiving meal and traditions in general, and it was pretty inspiring in terms of YES I CAN AND WILL DO WHAT I WANT etc, so you should totally read it! But the real gem that I thought would make you cackle and HAHAHA until you just couldn't stifle the urge to slap someone upside the head is this line:
A man can dream, can't he? Of course he can.
HAHAHAHAHAHAHAHAHAHAHAHAHAHAAAA OH SHIT.
---
Local Autostraddle Meet-Ups
11/15 Boston, MA: Pre-Book Swap Meet-Up
11/15 Boston, MA: Queer and Animal Rights Book Swap
11/16 New York, NY: Lesbian Trivia Night
---
And Finally
Riding In Cars With Dogs — there's a calendar and everything. See, dog lovers? I GOT YOU.