+ Fox News's Dr. Keith Ablow says that "As a psychiatrist who has helped adolescents and adults make sense of their sexuality, I am convinced that, for many people, environment and social influences do indeed impact sexual desires and sexual behavior." He does this to liken the condition of homosexuality to that of pedophiles, who apparently become pedophiles because Vogue uses very young sexualized models, just like all the people who become transgender after seeing Chaz Bono on the teevee. Really honestly, that's what his thing is about. Read it.
+ While we're dealing with Retro ideas about Homosexuality, Brain Pickings has an hour-long documentary called "The Homosexuals" which aired on CBS in 1967. So you will see how far we have come.
+ Wanna see all the anti-gay shit from that GOP debate in two easy minutes? DUH!
++

+ Could GOPROUD hate itself any more than they already do? Yes! In addition to their campaign against "the gay left" they have added Ann Coulter as an Honorary Chair.
+ Gloria Steinem says reality stars don't empower women, is probably right.
+ On what's going down with Butch Voices and Butch Nation, by Sugarbutch.
+ New Balance got into some trouble when it was revealed that their Chairman Jim Davis made a private donation of $500,000 to Mitt Romney. It's now released a letter on its facebook page to re-state its position on gay rights and distance themselves from Davis's donation.
+ All New York City public middle and high schools will now have sex ed.
+ The Ali Forney Center for homeless LGBT youth has been given a $620,000 grant and an additional 20 beds, bringing their total number of beds to 77. Their waiting list is still about 180 people.
+ A collection of poems from Phillip Lavine because he is the poet laureate.
+Liberal Swedish politicians are fighting a law that requires "sterilization for individuals who undergo sex reassignment surgeries."
+ Staceyann Chin on A Single Lesbian's Quest for Motherhood.
+ Married gay couples in Australia are officially being recognized in the national census like real people.
+ Lesbian swimmer Diana Nyad attempted to swim 103 miles from Havana to Key West without the use of a shark cage. The 61-year-old was unsuccessful, citing bad winds and currents as her reason for stopping after 29 hours. Nyad Tweeted, "It felt like this was my moment. I don't feel like a failure at all. But we needed a little more luck."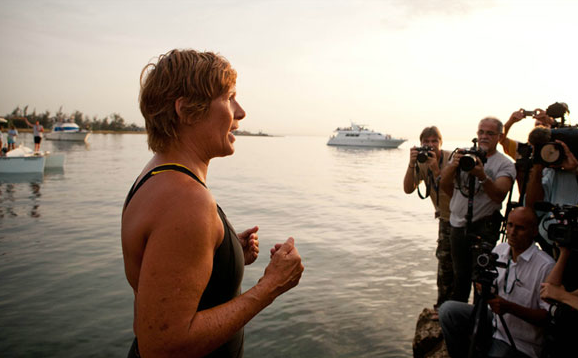 + "When a number of gay API men and women started showering with a fire hydrant in front of the Hong Kong Economic & Trade Office in New York last Sunday, they weren't looking for a way to beat the heat. The group was getting wet to protest Hong Kong's recent decision to hold an "ex-gaywp_postsconversion workshop for its social workers. "
+ Rick Santorum is Being Crazy as his fight with Dan Savage gets more ridiculous, he makes a napkin analogy and also a water analogy and also was really special during the debates.
+ A West Virginia LGBT advocacy group is launching a state-wide campaign in hopes of establishing effective anti-bullying polices. West Virginia currently has no discrimination protection at all for sexual orientation or gender identity, so this is a pretty big deal.
+ As a part of the ongoing "Our Family" series, Elixher interviewed a lesbian couple that is raising a daughter together about blended families and co-parenting with a child's biological father. It's cute.
+ Behind the scenes of Britney Spears' Femme Fatale Tour. This is all I ever wanted in life.
+ A Very Brady Blog. Magical.
+ Gay rights group kicks off tour in Utah!