Hello, Seahawks! I'm calling you that because you're winners or something. I don't really get how football works, but let's take a peek at the stories we missed this week while I was trying to figure it out. (I didn't.)
Pee Wherever The Fuck You Want, Y'all
Maine: The Bathroom Equality State.
The Maine Supreme Court has delivered a significant victory for transgender students. In its interpretation of the Maine Human Rights Act (MHRA), the Court ruled that trans students have the right to use the bathroom with which they identify and cannot be forced to use a separate restroom.

The case involved a fifth grade student who had already been fully identifying as a girl for several years and was using the girls' restroom at Regional School Unit 26. Another student's guardian objected, and a media firestorm prompted the school to begin forcing her to use a solitary staff unisex restroom. Eventually, the student's family had to remove her from the school and move to another part of the state so that she could go to school safely.

Though the decision was not unanimous because of one justice's concerns about how the law was written, the court did unanimously agree that the student deserved equal access to the girls' restroom.
Don't F*ck With Panti
Don't ever tell a drag queen that you know homophobia better than they do.
A video by Rory O'Neill – also known as drag queen Panti – on homophobia in Irish society has gone viral, with more than 100,000 views in less than two days… In the video, Panti fights back over the use of the word 'homophobia' which he says has been appropriated by other groups since The Saturday Night Show interview.

"For the last three weeks, I have been lectured to by heterosexual people about what homophobia is and who is allowed to identify it," he told the audience. "People who have never experienced homophobia in their lives… have told me that unless I am being thrown into prison or herded onto a cattle truck then it is not homophobia – and that feels oppressive."
Vanity Fair's Best Cover Yet
Vanity Fair's 20th annual Hollywood Issue has a three-panel gatefold cover, and unlike every other year in their history, a black person is on the actual cover of the issue this year rather than folded inside the magazine for second glimpses. OUT OF THE FOLD AND INTO THE STREETS, Y'ALL.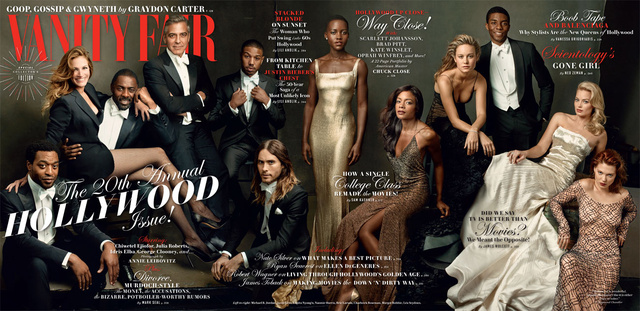 Jerry Seinfeld is The Least Funny or Aware Person on Earth
Jerry Seinfeld, the man who thinks his own life is funnier than anyone else's, just doesn't get why comedy needs to be diverse. I mean, don't we all relate to him and his weird-ass life? ISN'T IT ENOUGH THAT HE GAVE US A SHITTY SITCOM LIKE TWENTY YEARS AGO?
In a recent sit-down with  BuzzFeed Brews with CBS This Morning, Seinfeld said it is "anti-comedy" to approach the genre like it's "the census." Seinfeld was asked why he featured so many white men in his web series Comedians in Cars Getting Coffee and seemed to become irritated at the question.

"It really pisses me off," he said. "People think [comedy] is the census or something, it's gotta represent the actual pie chart of America. Who cares?"

 "Funny is the world that I live in. You're funny, I'm interested. You're not funny, I'm not interested," he said. "I have no interest in gender or race or anything like that."
It Ain't Easy Being Queer Anywhere
+ But it might be a little better in Latin America:
Latin America's gay rights revolution has highlighted the ingenuity of gay activists and the leadership of politicians like Argentina's president, Cristina Fernández de Kirchner. In July 2010, she became a gay rights heroine when she signed Latin America's first same-sex marriage law, over vigorous opposition from the archbishop of Buenos Aires (today Pope Francis). But the celebration of activists and politicians has overlooked another hero in this campaign: the region's high courts. Their embrace of gay rights has been nothing short of audacious, especially in contrast to recent decisions by the U.S. Supreme Court.
+ In Russia, 77% of LGBTQ people don't trust the police – and the queer community is being overwhelmed by violence that no cop seems to care about. But Happy Olympics!
+ For queer folks coming to seek asylum from South Africa in America, safety isn't always that easy to come by.
For The Marriage Crowd
+ Next up in the #MarriageEqualityWars: Wisconsin.
+ Gigi Chao doesn't wanna marry a man – and since her dad doesn't get it, she appealed to him in public. (He has since rescinded his dowry offer.)
A week after Hong Kong tycoon Cecil Chao doubled his 2012 offer of $64 million to any man who could marry his gay daughter, Gigi Chao has publicly rebuked him and urged her dad to accept her partner of nine years.

"There are plenty of good men, they are just not for me," she wrote in an open letter published by two Hong Kong newspapers on Wednesday. "It would mean the world to me if you could just not be so terrified of [girlfriend Sean Eav], and treat her like a normal, dignified human being."
+ DOMA being struck down didn't just change one moment in history; it continues to change our history.
+ Blue Cross Blue Shield is really sorry to all the North Carolina homos who waited too long for family coverage health insurance.
+ In Oregon, gay marriage is one thing. But helping make gay weddings awesome? That's another.
Free CeCe: The Documentary You Could Make Into A Thing
I began researching this story with Laverne Cox when I was the Series Producer of the public television show, In The Life. When In The Life ended, in December 2012, this project stayed with me. It seems each month there is a new headline of a bias crime against a transgender woman of color. I became committed to producing and directing this powerful, feature-length film that confronts transgender bias crime with both rigor and humanity. I wanted to hear the voices of victims who were all too often silenced by brutality; I wanted to produce a useful film that sensitizes the audience and amplifies the authentic voices and lives of trans people.
Acabeymia
Rutgers is offering a class on Beyonce. I have no words for this situation as it leaves me blindingly optimistic for our world.