Hello please enjoy this day-late link roundup, just for you and all your friends! It's 736 lightyears long, so grab a snack.
You Should Go or Do or Give
+ Support the Lesbian Avengers 25 Mobile Exhibit!
+ Take this survey to share how the recent election and marriage equality are affecting you! There are what, a million trillion studies on the health and wellbeing of cis men? And a noted lack of similar studies on the health of queer people like us — lesbians and bisexual women and trans people. This team of researchers from the Midwest, East Coast, and the South has reached out to us personally because they want Autostraddle readers to be involved in their study (and future studies!) that focus on just that: your health and wellbeing. This particular study was originally only focused on the effects of marriage equality on your life, but they've expanded the research to include your feelings re: this recent presidential election.
We are currently working on a project to try to better understand how marriage equality impacts the health and well-being of LBQ women and transgender people. Stress from discrimination and stigma have been shown to increase risks for poor health, but we still need more research! We want to learn whether the legalization of same-sex marriage and other positive policy changes make a difference in your health and life experiences. Given the possible impact of the recent election on the LGBTQ community, we also want to know how this is affecting you and what your concerns and worries are about the future.
Take the Marriage Equality and Recent Political Events Study and sign up to be included in future studies at the end of the survey, then pass it on to the rest of your people. Thanks weirdos!
---
Queer as in F*ck You
+ 190+ Business Tell Tennessee 'Don't Try Anti-LGBTQ Laws Here'.
+ Louisiana Judge Throws Out Executive Order to Protect LGBTQ Rights.
+ '195 Lewis' is a New Series About Being Black, Queer and Polyamorous in Brooklyn.
+ Autostraddle's very own Yao Xiao, talking about her art, being Chinese and queer and living in New York and identity and just generally being very cool and talented!
+ In case you're about to find yourself in West Midtown Atlanta some time soon and would like to eat amazing food prepared by a lesbian chef: Deborah VanTrece's Twisted Soul Cookhouse & Pours Reopens.
+ Life as a 4L — Lesbian, Latina, Lady and Lawyer — and the Complexity of Identity Perspective.
+ At Stonewall, Lynch and Maddow Discuss Future of LGBTQ Rights.
+ Increased Anxiety Seen Among LGBTQ Youth Since Presidential Election.
+ Probably want to go out and get your copy of National Geographic's upcoming Special Issue: Gender Revolution.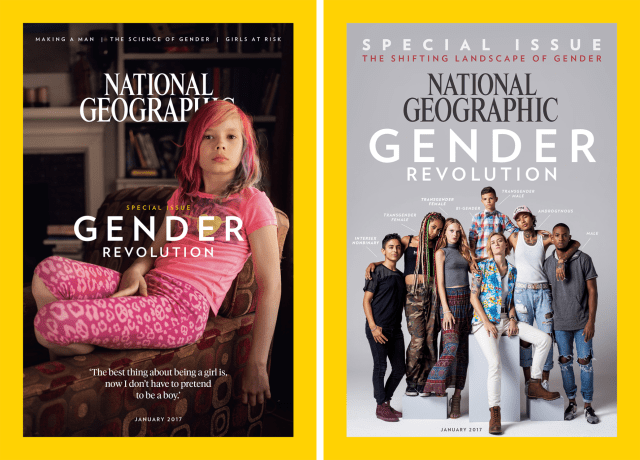 ---
Welcome to the Hellmouth
+ You've already read this so just take its inclusion as me reiterating your excellent choices. My President Was Black: A history of the first African American White House — and what came next.
+ This was so fun to watch play out yesterday. First, Trump Grill Could be the Worst Restaurant in America, and then Donald Trump's Restaurant Feud With Vanity Fair Goes Way, Way Back. Sometimes the universe gives you little gifts, you know?
+ Here's a Very Depressing Story About Everything the Clinton Campaign Reportedly Failed to Do In Michigan.
+ 7 Questions NPR Would've Asked Donald Trump at His Canceled Press Conference. This is like when your ex blocks you on facebook and you still write status updates detailing every shitty thing they put you through for the last six months and how even though they paraded around with that new girl whatever her name is at Courtney's going away party in August, they can still come pick up their books whenever, any time, you're not stopping them. They're in a box with some other things and you know how much that one first edition means to them. You're just saying.
+ The Media is at Risk Under Trump. Now What?
+ Donald Trump Interviewed Mitt Romney Just to Torture Him, Roger Stone Says.
+ AIDS and the House That Trump Built.
+ What Do Trumps Cabinet Picks Have in Common? A History of Misogyny. ?? ?? ??
+ John Podesta: Something is Deeply Broken at the FBI. Sure as shit is, John!
+ Researchers Are Preparing for Trump to Delete Government Science from the Web. Perfectly normal day at the office.
---
Doll Parts
+ How the Park Service is Failing Women.
+ Male Tears for Fears: Embracing Ironic Performance Misandry.
+ Obama Bars States from Denying Federal Money to Planned Parenthood.
+ A Note to My Fellow White Women About the Barred Inauguration March.
+ A Story from Roxane Gay's Upcoming Collection, 'Difficult Women'.
+ Wonder Woman Won't Be the Face of UN Gender Equality Campaign. Presumably a room full of white men learned there are real, living women with the capacity to fill this role. Amazing.
UPDATE: Wonder Woman Has Empowered Me Since I Was Four. She Was a Great UN Ambassador has me feeling a different way, actually! Now I'm leaning more toward Nicola Scott's take. Look at that — the power of writing.
+ Why Do Innocent Women Confess to Crimes They Didn't Commit?
---
Keep Up
+ Rewire's Legislative Tracker Tool is now keeping up with all proposed Religious Imposition laws in the United States. This is a searchable database with a focus on intersectionality and should, sadly, be extremely useful over the next four years.
+ We Wanted To Find Troubled Jails, So We Counted The Bodies.
+ The Dark History of How False Balance Journalism Enabled Lynching.
+ LA Bans Criminal History Checkboxes on Job Applications.
+ Columbia Grad Students Vote to Unionize.
---
Saw This, Thought of You
+ How Web Series Have Broadened TV's Talent Pool.
+ Hi there's gonna be a beer that celebrates Sue the T-Rex and will only be available at the Field Museum, so this story combines three things you probably love a whole bunch, according to (queer) science.
+ Cheese plate. Want one.
---
And Finally
SORTING HAT SPIDER ! Eriovixia gryffindori, to be exact.