Welcome to Almost Famous, a weekly segment where we ask up-and-coming queer musicians some hard-hitting questions about music and life and maybe even convince them to show us photos of their pets. Get to know intimate details about your new favorite artist or band before they hit the Big Time and become too famous for us to interview for real.
Header by Rory Midhani

---
Mary Lambert
Seattle, WA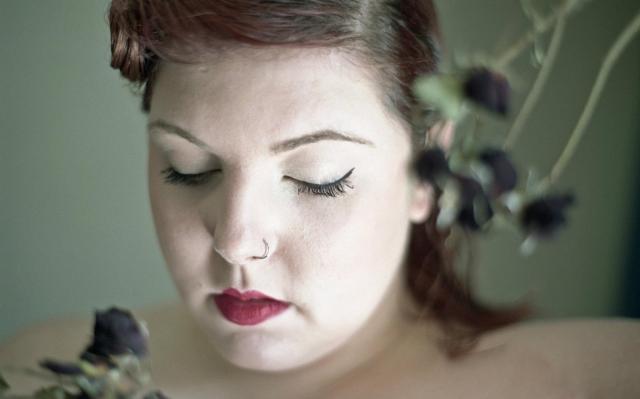 You've already fallen in love with Mary Lambert's voice; you just may not know it. Mary owns the sweet, rich voice heard on "Same Love," the Macklemore & Ryan Lewis anthem for same sex marriage that we all fell in love with last year.
Music isn't a new venture for Mary; she's been writing songs and making people cry via music since she was 9 years old. She discovered her love of poetry slams and performance while studying Music Composition at Cornish College of the Arts in Seattle. Upon graduating, she put her plan to get a teaching certificate on hold, deciding to take a year off to "really try to be a rockstar."
In that year Mary recorded her first EP, letters don't talk, paired up with an internationally acclaimed hip-hop duo, performed "Same Love" live on The Ellen DeGeneres Show and VH1, toured extensively, and is now in talks with some major labels. It's safe to say the whole "really try to be a rockstar" plan seems to be working out okay.
How would you describe your music?
Songs to cry to, for whatever reason. I'm an emotionally charged writer, which is another way to say that I cry all the time and need to talk about my feelings to the world. My friend Hollis said my music was "heartbreak folk." I think that works.
What instruments do you play?
Piano, guitar, and cello. I play piano probably most proficiently. I kind of fake my way through guitar. I taught myself both when I was around 8 for piano and 10 on the guitar.
Which song would you most like Autostraddle readers to hear? 
This is a song called "I Know Girls (Body Love)," which is the track I want to change the world with. Seriously serious. It's a song/poem that I wish I would've heard when I was 18, hated my body and needed everyone to be in love with me in order to feel whole.
Do you have any pets?
No! I'm so sad about it too. I want a puppy, but I tour too much. Thanks for bringing it up, jerks.
What has been the most memorable moment of your music career to date?
I got to sing a song about gay rights that I wrote, in front of 8,000 people at Macklemore's Seattle release show. And the crowd, primarily of teenage kids, sang it with me and knew every word. My words! About my lady! I cried so hard.
Do you have any pre-show rituals?
I like to listen to Ludacris' "Get Back" and Kendrick Lamar's "Backseat Freestyle." I always have a cigarette before I sing. I know, I know. Sorry mom.
What is the best and worst thing about touring? What was your favorite part of your most recent tour?
The best thing about touring is really getting to know your friends and the whole crew. And travelling! I'd never really been anywhere before I went on the Macklemore tour. The worst part is the constant sickness, and how it circles around the bus. Everyone had pneumonia at some point. Also I lived on a diet of beef jerky and chex mix. That shit was rough.
If you could share a line-up with any two other artists, which ones would you choose?
Feist and St. Vincent. Feist is heaven's angel and I love her.
What do you do outside of making music?
I love bartending! I love it. I love fancy cocktails, and infusing spirits, and egg whites in my whiskey sours. And then drinking 5 of them in a row. I also love folding laundry. Towels fresh out of the dryer?! So warm and soft!
What was the last book you read?
I love reading poetry collections and short fiction anthologies. My friends are crazy talented writers, and many of them have books. The last one I read was Rose McAleese's Strong. Female. Character.
Can you tell us a bit about your poetry and your new book?
My poetry collection is called, "500 Tips For Fat Girls." There aren't actual tips. That would be a shitty book and demeaning on several accounts. It's more about body-dysmorphia and seeking to find self-love. The collection spans a variety of my experiences: being bipolar, heartbreak, rape, incest and falling in love with women. I try to be as real as possible. Being vulnerable is kind of a huge part of what I do. We can't have a real connection with each other if we're constantly being guarded. I think being vulnerable is the key to human connection. I think that navigation of vulnerability to reach self-love and love for each other is universal. This book is a collection of poetry exploring that.
You can buy Mary's book here. Everything else you ever wanted to know can be found here:
www.marylambertsings.com
http://marylambert.bandcamp.com
www.facebook.com/marylambertsings
www.twitter.com/marylambertsing
If you are, or know of, a queer artist or band that should be featured in Almost Famous, drop Crystal the details via crystal [at] autostraddle [dot] com. Please write 'Almost Famous' in the subject line!