Header by Rory Midhani
Welcome to Crystal's Track Stop, where every week I bring you a selection of the raddest tracks from my record collection and also from the internet. All killer no filler.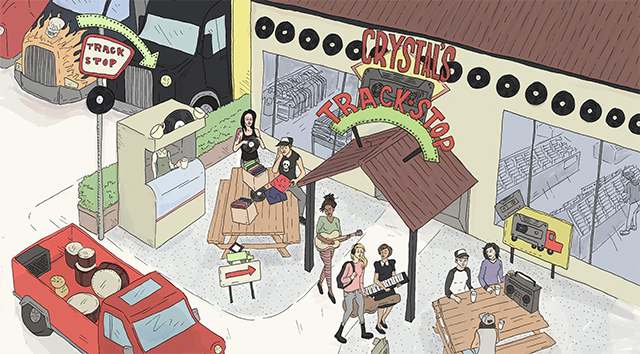 ---
"Ipswich" – Georgi Kay
I can't think of a more perfect way to kick off my very first Track Stop post than by introducing you to your new music obsession. Georgi Kay has a Sarah Blasko sound, a dapper look and a teen hearthrob vibe, frankly I'm surprised that I didn't learn about her from tumblr. At 19 years, Georgi's already amassed a number of impressive accolades such as an ARIA award and a GRAMMY NOMINATION for "In My Mind", aka that dance song with the dreamy vocals that was re-mixed by Flo Rida and stuck in your head all summer. That's not the track that I want to play for you, though. It's this chilled out single, "Ipswich."
https://www.youtube.com/watch?v=cX-haYYDHGw
Also! "Breakfast in Bedlam" and "Lionheart". You can download some of Georgi's mp3s here.
"Sacrilege" – Yeah Yeah Yeahs
If you want a sure-fire way for people to like your new song, add handclaps. It's science. They teach that to you on the first day of music school. The 24-person gospel choir in "Sacrilege" and their handclappy acapella ending is fucking epic. Nicely played, Yeah Yeah Yeahs. I'm so excited to hear what comes next.
"Nothing Left" – Allison Weiss
For the past two weeks I've been listening to Allison Weiss' yet-to-be-released album. Don't hate. It's called Say What You Mean and it's out April 16, it's upbeat like caffeine and the words cut like a guillotine and fine, I'll stop. The new album is gonna feature "Am I Making It Up" and "I Was An Island", as well as this cool track:
"Lovers In The Parking Lot" – Solange Knowles
So last week I finally got around to checking out Solange Knowles' latest EP, a leisurely three months after the rest of the world did. True is a collaboration with Dev Hynes, aka Blood Orange, that features the fairly flawless and highly contagious pop hit "Losing You" (I told you, handclaps). However, for me the biggest addiction on this record is "Lovers In The Parking Lot". So dark, so good.
"All The Things" – MMOTHS feat. Holly Miranda
It's been over two years since Holly Miranda released an originals album and so I've been clinging on to every little musical morsel that is thrown to us. The latest is "All The Things" by Irish electro artist MMOTHS, a super catchy track featuring Miranda's voice. You'll love it if you love the xx, or maybe you won't! Who knows how you'll feel. It made me feel good though.
[soundcloud url="http://api.soundcloud.com/tracks/77100725″ params="" width=" 100%" height="166″ iframe="true" /]
---
Do you know what track I'll fall in love with next? Shoot me the link via @trackstop or crystal at autostraddle dot com (please write "track stop" in the subject line).