Welcome to NSFW Lesbosexy Sunday!
+ In an interview with Collectors Weekly, Dita Von Teese talks about burlesque, cars, and lingerie:
"I get asked a lot to explain that burlesque is different from stripping. But the term 'burlesque' as we know it today comes from a type of risqué variety show in America that one would go to see in the 1930s and 40s. Performing striptease—'stripping'— is the word to describe what the burlesque performers did onstage. Nowadays we use the word 'burlesque' to describe this retro-styled striptease that is seeing a big revival. Without the strip, it's not burlesque, that's for certain, and the greatest burlesque star that ever lived, Gypsy Rose Lee, called herself a stripper. You aren't going to hear me tell you that there is a difference between burlesque and stripping. I think it's awfully pretentious to go on and on about how burlesque isn't really stripping. Burlesque-style striptease is where the modern pole-dancing-type strip originated from. Essentially, we're all related."
+ Artist Wendy MacNaughton illustrated Susan Sontag's thoughts on love for Brain Pickings: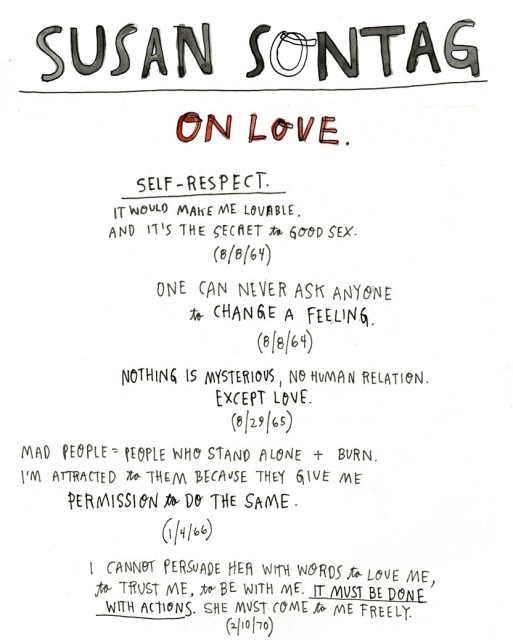 + Want sex dreams? Sleep face down, according to a recent study in the journal Dreaming. Subjects were surveyed about how intense and frequent their dreams are, and how often they sleep face up, on their sides, or face down (prone):
"When he analyzed the numbers, he found that the prone sleepers, as a group, were much more likely to score highly on what he calls the Dream Motif Scale (DMS), regardless of their personality type. Motifs like 'persecution,' 'erotomania,' and 'sex' appeared significantly more frequently."
+ An NYC vibrator giveaway happened, but was shut down, which is really depressing.
+ Sex writer Clarisse Thorn on The Despair of a Missing Orgasm:
"For a long time, being unable to "get therewp_postswas the most toxic secret I had, and it weighed on me. And I believe this is a depressingly common experience. I never contemplated suicide because of the orgasm thing, but I can imagine how and why someone would. It feels like a failure, and it feels like you're missing out on what's supposed to be a transcendent experience, and sometimes it feels like you can't even share it with your partner for fear of making them anxious."
+ In Bitch, Catherine Scott explores playing with race in BDSM:
"While many kinksters would immediately respond with the defense that BDSM is about playing with the forbidden and taboo, and pushing boundaries, this is insufficient even for some black people within the scene. Chupoo, a black submissive, says, "I can't do race play because I have people in my family who had to submit to that, where they had no choices. It's too close to home for American black people.wp_postsShe adds that, while she can accept the transgressive appeal of erotic language that seems to degrade women, she cannot accept scenarios that do the same to black people: 'The race thing is really a lot deeper.' […]
Private play is one thing, but putting eroticized sexual and racial violence out there in pop culture is quite another. As commenters on my previous post noted, rough sex can be great in the bedroom, but inevitably grows misogynistic on TV or in porn. If BDSM practitioners are obliged to be sensitive to their audience at a play party (one of Margot Weiss' interviewees muses that he might indulge in race play in private, "but in public, no fucking way"), should our media be held more accountable for glorifying images of white men being sexually aggressive to black women? How much responsibility should we demand of artists like Rihanna and Ciara—if any—to be cautious of such imagery?"
In a follow-up post, Scott writes:
"Art is often not real life, or even close. It's also a necessary reminder of how we need to accept that black women—singers, artists, or BDSM performers—are as capable of getting into boundary-pushing roles and then leaving them behind afterwards as anyone else. Recognizing precisely that "it's their way of loving not minewp_postsalso reminds us that for some, the thrill of the taboo and delving into what we find scary can be the biggest turn-on of all. Mollena Williams writes that "daring to stare into the face of racism, classism and sexism and discover why they tripped my erotic triggers"* left her more fulfilled as a person, as well as a sexual being. And therein lies the appeal of BDSM that pushes boundaries, race included—it allows us 'to play with real, structural inequalities in safe and pleasurable ways: in ways that make such play play.'"
+ Want to try to female ejaculate? Try getting your partner to go for your g-spot, trying it alone first, using sex toys, and being really, really turned on:
"Being super sexed-up, overcome with lust, and engulfed in the flames of desire means a number of things: a) Your G-spot is easier to find and can take more pressure, which means more experimental poking. b) Your pelvic muscles are more relaxed, which makes it easier to let go. c) You're more likely to have an orgasm, causing pelvic contractions which help expel the fluid. d) You're super sexed-up, overcome with lust, and engulfed in the flames of desire!"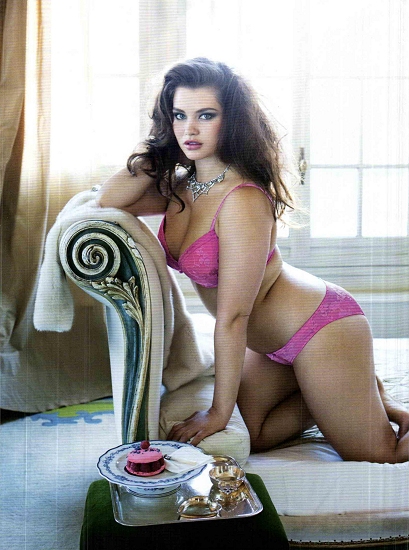 + Breaking news: kissing leads to more and better sex:
"'It's crucial to make time for making out, Blakeway said. "Kissing is one of the first ways we connect sexually,"' she said. 'And then over time it goes down. But there are some physical things that make kissing important. It decreases the level of cortisol, which is a stress hormone and it increases oxytocin, which is a bonding hormone. And that's why, chemically speaking, kissing makes people more relaxed and builds connection. Chinese medicine says that the mouth and the tongue have a connection to the heart. So it's the same idea. Kissing attaches people to each other.'"
+ Being geeky about sexuality can be both a good thing and a bad thing:
"I think geek sexuality is an awesome thing.  God knows it's the only sexuality I've ever known.  Geeks are tinkerers who constantly try to improve and innovate, and geeks are not bound by many mainstream social rules, and these two things combine to create some fucking hot sex.  Also for some semi-mysterious reason the overlap between "geek" and "kinkster" is, like, 90% of both groups.
But geeks also are prone to weird social thinking, some of it a reaction to the ungeeky mainstream, some of it their very own invention."
Disclaimer: All of the photographs on NSFW Sundays are taken from various tumblrs and do not belong to us. All are linked and credited to the best of our abilities in hopes of attracting more traffic to the tumblrs and photographers who have blessed us with this imagery. The inclusion of a photograph here should not be interpreted as an assertion of the model's gender identity or sexual orientation. If there is a photo included here that belongs to you and you want it removed, please email our tech director at cee [at] autostraddle dot com and it will be removed promptly, no questions asked.