I'm sorry that I must once again inform you of someone saying women aren't funny. It's not like it's news or important — it's just annoying and stupid. But this time it went one step further. Adam Carolla not only said women aren't funny, he gave the world's worst reason to justify his jokes against the LGBT community. Now granted, I've never heard him tell a single joke (at least I hope they weren't jokes) so I'm not exactly sure how offensive the things he's said in the past have been. There's really no way I'm going to let his being a turd be the reason that I look into his comedy either, so let's just get to his justifications on the matter and go from there.
"…if somebody goes, 'What do you think of Chaz Bono,' I have to say something that's horrible, so I can get a laugh." – "The Talk" 6/19/12
Pretty much he thinks he HAS to be mean because mean is hilarious. If being mean is the only way you know how to be funny, that's a large indicator that you're not actually funny. If that's your go-to comedic weapon, why not focus it on groups that aren't constantly punished, bullied, and disenfranchised? Give yourself some kind of challenge. Why isn't he mean to straight white guys? Personally, I think that'd be way funnier than any gay joke you'd come up with, because I'm gay and thus hate men. While promoting his book, Not Taco Bell Material, he had a few choice things to say about women in comedy that apparently dawned on him during a sexual harassment seminar. I have no clue what the title of his book means but in any capacity, it seems he's set the bar for himself pretty low and somehow still didn't make it over.
"…they make you hire a certain number of chicks, and they're always the least funny on the writing staff. The reason why you know more funny dudes than funny chicks is that dudes are funnier than chicks. If my daughter has a mediocre sense of humor, I'm just gonna tell her, "Be a staff writer for a sitcom. Because they'll have to hire you, they can't really fire you, and you don't have to produce that much. It'll be awesome."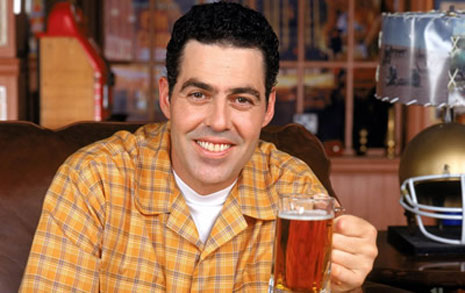 Of course. Because there are zero reasons women wouldn't want to present themselves as funny in today's society. And I forgot how they're just handing out staff writing jobs to anyone but ESPECIALLY women. On top of all of this tomfoolery, this dude put Sarah Silverman and Kathy Griffin in the same boat as Tina Fey, then went on to diss Roseanne. Doesn't he know she's running for president?!
Most of my thoughts about women being funny can be found somewhere on Autostraddle, but this idiot made me realize something. The reason I sometimes seem disproportionately disappointed in shows like Whitney or Two Broke Girls is because I had high hopes and expectations and I was disappointed. I KNOW women are funny and as a woman, I hold these "groundbreaking" shows to higher standards, because we have more to overcome. It's not like Whitney is the only show I find unfunny on TV. Far from it. I just happen to care about it, unlike all the other horrible shows out there.
What is it we stand to gain from reiterating that 95% of the people willing to voice their opinion on this subject disagree with Carolla? Not much it seems. But at least it's a good reason for people do something he hasn't been able to accomplish: tell funny jokes. Now let's treat him like a woman and talk about how unattractive he is!