In the "food for when it's too hot to cook" category, these are at the top of my list. I used shrimp as filling, but you could also use chicken, beef, or tofu. The fresh herbs are one of the most important parts of the wraps, so make sure you have enough of them. (If you hate cilantro, use extra basil as a substitute). To finely chop the mint, stack up all of the individual leaves, roll them lengthwise, and slice them thinly across.
SUMMER ROLLS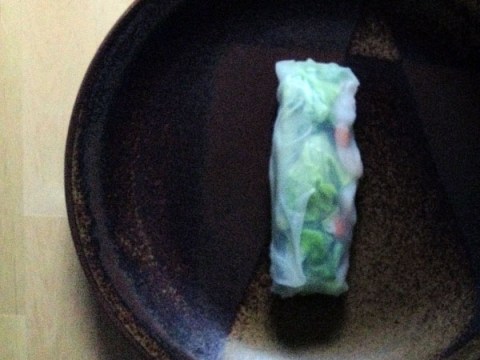 Ingredients
16 medium sized shrimp, peeled and cooked (or defrosted)
rice noodles (as many or as little as you want. Perhaps 1/3 of a package)
8 large round rice paper wrappers (plus a few extras)
several handfuls of Boston lettuce, cut into thin strips
1/2 cup fresh mint leaves, finely chopped
1/4 cup fresh cilantro leaves
1/4 cup fresh basil leaves
4 green onions, cut into 3-inch pieces and then thinly sliced lengthwise
Instructions
1. Prepare all of your ingredients ahead of time. Boil a saucepan of water over high heat, add the rice noodles, remove from heat, and let stand for about 8 minutes, stirring and separating the noodles occasionally. Rinse in cool water and drain.
While the water boils, slice the shrimp in half lengthwise. Wash/chop/cut/slice all of your other ingredients if you haven't already. Find a platter or plates on which to put the finished rolls.
2. Fill a skillet large enough to lay the rice paper flat in with water until very warm (but not simmering). Turn off the heat. Slide a sheet of rice paper into the water until it gets more flexible (I go by when the pattern on the paper starts to disappear), and then remove it and lay it flay on a cutting board or extra plate. The first few times, it will probably stick to itself and the water will be too hot to reach in to and you will be glad you have extra rice paper, but you will get the hang of it.
3. Line up the noodles, lettuce, herbs, and green onions on the lower quarter of the rice paper, working away from you and leaving about an inch between the ingredients and the edges. Roll the bottom edge up and over the ingredients. Fold each side over to close off the ends. Line up the shrimp just above the folded-over edge. Roll the wrap up tightly and press the final edge down (gently wet it with your finger if it won't stick). Repeat for as many rolls as you have ingredients for.
4. Place the rolls on the platter with some space between them, or they will stick together. Serve immediately.
Adapted from Fine Cooking.