Welcome to Queer Outfit of the Week where I scour the world and tell you all about my one favorite queer outfit this week. I'll envision a scenario where you or your girlfriend or your best friend or your mom or your cat could wear it and talk all about why it's a great outfit for that event. Every week will be a different style, gender presentation and event so there's a little something for everyone — even the person who just wants to look at pictures of stylish queers! So let's get to it — we're going to figure out what the heck we're going to wear this week!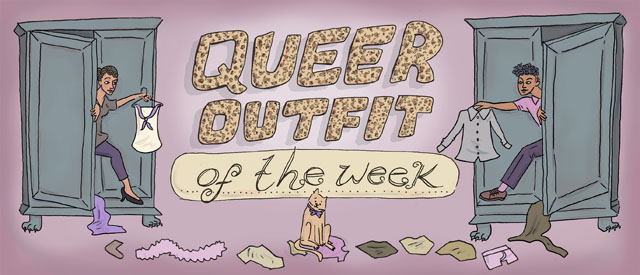 Seems this week every lesbian on the block is braving the cold wind to go see Blue is the Warmest Color. In fact, it's probably just about the perfect movie to ask that cute girl with the unknown sexual orientation at the muffin shop to. She'll know exactly what you're putting down. Or maybe you and your longterm girlfriend just really really want to finally see Thor 2. Either way, it's cold and time for a cozy movie date, but don't forget to layer!
The start to any great date outfit is making it something special, without going too over the top. With a movie date you need to take things one step further and make sure you're also comfortable and snuggle ready. You never know what might happen in a dark movie theater!
You want to start your look with a button-up and tie, to look like you're bring your date A game, but then taper it down. With this in mind, a gingham button-up with a casual grey bow tie is a great combo. Gingham is more casual than pin-striped or solid dress shirts. Similarly, a grey flannel or chambray bow tie is much more casual than a shiny black one. Plus flannel is super cuddly– even on a bow tie. You could even bump it up a notch and go for a plaid flannel bow tie. Super snuggly.
Pairing your button up and tie with narrow or slim chinos, rather than traditional slacks will also keep your look more casual and weeknight appropriate. Plus it will be much more comfortable while sitting in a cramped seat through a two hour movie. If you're more femme, you can opt for grey skinny jeans or even soft grey leggings.
Most importantly, you need to layer for your movie. You don't want to shiver your way through Adèle's climb to adulthood. Better yet, if you bring enough layers you can be the knight in shining armor when your date gets cold! While crew-neck sweaters are the classic go to paired with a button up, a half-zip pullover is a more casual approach for a change of pace.
Go enjoy your date, and remember, the most important part is to maximize mid-movie cuddles!
If you see something that you think should be featured on Queer Outfit of the Week, send me an ASS message, ask on my tumblr, or tweet me @Ohheyitslizz