A Prairie Homo Companion is a regular column that celebrates the Canadian prairies, canola fields and big skies, and the paradoxes of being a fine-ass lady prairie homo.
Header by Rory Midhani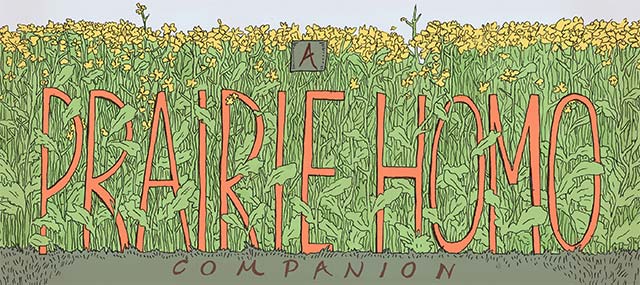 For the longest time, I've wanted to write a Prairie Homo Companion piece only on First Nations (FN), but I've been worried. As a non-Indigenous person, I'm obviously not the best choice when it comes to talking about issues related to being FN. But growing up here on the Canadian prairies, I'm surrounded by racism against First Nations people on a fairly regular basis. It can be hard to explain to someone from other parts of the country how rampant and, well, visible racism against Indigenous Canadians is here — as we discussed, racism looks very different in different communities. Here in Western Canada, First Nations people and activism are visible and so is the racism. Wherever I walk in my city, most of the homeless people I see are first and foremost First Nation. I've heard derogatory slurs against First Nations in school, on the bus, in the street, at parties, at the grocery store… everywhere. It's infuriating, but there are lots of (Indigenous!) people fighting back. For today's installment of Prairie Homo Companion, I'm going to share some of the work by kick-ass female First Nation writers and activists I've been reading about to better understand the fucked up racist shit (excuse my language) happening in the Canadian prairies and elsewhere in this country.
[Note: Throughout this piece, I will be using the terms "First Nation," "Aboriginal," and "Native American" according to how each writer/activist/artist describes herself and her community.]
There are more than 5000 missing and murdered Aboriginal women in Canada. As I've written before, many of the organizations advocating for these women have been defunded by the Harper government. The RED Dress Project, by Winnipeg-based-artist Jaime Black, is an installation project in which red dresses (each one representing a missing or murdered Aboriginal woman) are displayed in various locations. I remember when the installation came to my university last year. I'd be walking across campus lost in my thoughts about exams and papers, and then I'd suddenly see a red dress hanging outside, blowing in the wind, or draped inside from a ceiling. It was haunting and made me uncomfortable, which I think shows how effective the project is. No one in our country should be comfortable knowing Aboriginal women are the most likely to be murdered or go missing, and there's not much being done about it.
From the Red Dress Project website:
"My current work: The REDress Project, focuses around the issue of missing or murdered Aboriginal women across Canada. It is an installation art project based on an aesthetic response to this critical national issue. The project seeks to collect 600 red dresses by community donation that will later be installed in public spaces throughout Winnipeg and across Canada as a visual reminder of the staggering number of women who are no longer with us. Through the installation I hope to draw attention to the gendered and racialized nature of violent crimes against Aboriginal women and to evoke a presence through the marking of absence."
"âpihtawikosisân is the name the Cree have given to the Métis. It literally means "half-son." I chose the name to reflect the fact that I am coming from a Métis perspective, and it is not actually my name, legal or otherwise. It sounds like ah-pih-du-wi-GO-si-sahn. In rapid speech it can sound more like ah-pih-duhh-GO-si-sahn which is what most people repeat back to me when asked how to say this word. I'd understand either pronunciation."
-Chelsea Vowel
apihtawikosisan.com is the blog of Chelsea Vowel, a 35-year-old Metis mother, activist, and writer from Lac Ste. Anne, Alberta. She currently teaches in Montreal, while writing blog, which is an excellent resource on the contemporary and historical issues, FN people in Canada have faced and continue to face. She also writes about what we can all do to start making things better.
"Politicians won't be the ones to fix what's wrong with Canada and its relationship with indigenous peoples. This is a job for regular people, dealing with one another as human beings, and right now indigenous people in this country have not not are not being treated humanely."
-Chelsea Vowel, in "Canada, it's Time. We Need to Fix this in Our Generation"
3. Jessica Danforth (also known as Jessica Yee):
Jessica Danforth identifies as a "multiracial Indigenous hip-hop feminist reproductive justice freedom fighter," so just from reading that you know how cool she is. She has spent a good chunk of her life fighting for reproductive and Indigenous justice rights in Canada.
I think oftentimes people think in order to be an activist you have to be this protest picket waving person loudmouth, but I learn all the time from people who do something completely different from me. I learn from people who are activists at home. If they're in their home community where they're dealing with the most horrendous realities, and living with the effects of colonialism for example, in every sense of the word, their activism is just by surviving. That gives me a lot of fire.
-Jessica Danforth, University of Windsor distinguished visitor in Women's Studies.
Jessica Danforth is the founder of The Native Youth Sexual Health Network, "an organization by and for Indigenous youth that works across issues of sexual and reproductive health, rights and justice throughout the United States and Canada." As well, she is the author of Feminism for REAL: Deconstructing the Academic Industrial Complex of Feminism.
I want to learn about people's understandings and experiences of feminism in real life and go deeper than the notion that it just exists within the walls of the academy–in big textbooks, universities and colleges, or other fancy institutions. Not because I now hate academia, but because I've lost count the amount of times I've been asked by others and asked the question myself, what is now the main title of this book, "But what is feminism, for real?
-from Feminism For REAL
So these are three of the amazing Indigenous female writers, activists, and artists I've been reading this week. I may not be the best person to write about Indigenous issues, but I can certainly read what I think are some of the best, educate myself, and encourage you to do the same.