Welcome to the  fifty-eighth installment of  Queer Your Tech with Fun, Autostraddle's nerdy tech column. Not everything we cover will be queer per se, but it will be about customizing this awesome technology you've got. Having it our way, expressing our appy selves just like we do with our identities. Here we can talk about anything from app recommendations to choosing a wireless printer to web sites you have to favorite to any other fun shit we can do with technology.
Header by Rory Midhani
---
There's about to be a lot of hullaballoo, traveling and family. Even if you're not big on the holidays, you might not be able to escape the expectations or family dinners. If you've got an existing smartphone or computer, here are a few apps that'll make life a bit easier for the next few weeks. Some of them I've talked about before, some of them I haven't. But all of them are nice and useful and should definitely be on your tech this year.
For The Party You're Throwing
I recommend Songza for parties of all stripes because it's a free service with curated playlists and — get this — no audio ads. Nothing but music for you and your guests! If you're hosting a holiday party, they have a bunch of relevant playlists whether you're looking for pop stars or Nat King Cole. Available on the web, iOS, Android (and Amazon App Store for Android), Windows Phone, Blackberry and for Sonos.
For the pre-party food shopping and the post-party leftovers, Freshbox lets you enter what you're putting in your fridge and reminds you when it's about to spoil. 99 cents for iOS.
It's like Evite's classier older sister. Paperless Post lets you send e-card that look like, well, paper cards (and though their name doesn't let you in on it, they have a paper selection, too).  Some cards and invites are free, some are paid but all of them are adorable. Like this "Let's Get Elfed Up" invite.
The devil's in the details and planning a party can be a pain. Keep your task list organized (and separate from your other task lists) using Wunderlist. Categorize things by due date, by list, by urgency. Free and available for iOS, Android, Mac, Windows, Kindle Fire and Web.
For the Places You're Going
This completely customizable packing list lets you create specific lists for specific trips (really helpful when you've got multiple trips that are happening back to back) and save items (like binders, under armor and button downs) as well as choose from their database of commonly packed objects (passports, train tickets and boxers). Free for iOS.
We all know that the website is one of the best ways to bargain shop for flights, hotels and cars. But have you seen their app? It's really pretty and gives you up-to-the-minute itinerary reminders and changes. Even if someone else (a benevolent family member) buys the ticket for you, just enter the itinerary number to see it in your Expedia app. Also a great way to book on the go, if your family gets a little… trying and all you want for Christmas is a night in a hotel. Free for iOS, Android and Windows.
So my parents moved to South Carolina and I have no sense of direction. I don't know the way from their house to the grocery store, even. Waze is a nice, community GPS navigation app that even tells you when there's traffic. Turn-by-turn included! Free for iOS, Android and Windows Phone.
Or For When You're Far Away
Make the card on your mobile device and, with the tap of the button, send it in real life. If you're too far away to hand deliver this year, this is both an easy way and a high-quality way to send a nice note while you're running around doing all your other holiday errands. US delivery for $1.99, but the app is free for iOS and Android.
Viber's tagline is "free calls, text and picturing sharing with anyone, anywhere." And that's what they do, even if your loved ones aren't in the same country as you. They also try to do this on as many devices as possible, so you can grab Viber for your desktop, iOS, Android, Windows Phone, Blackberry, Bada and Nokia.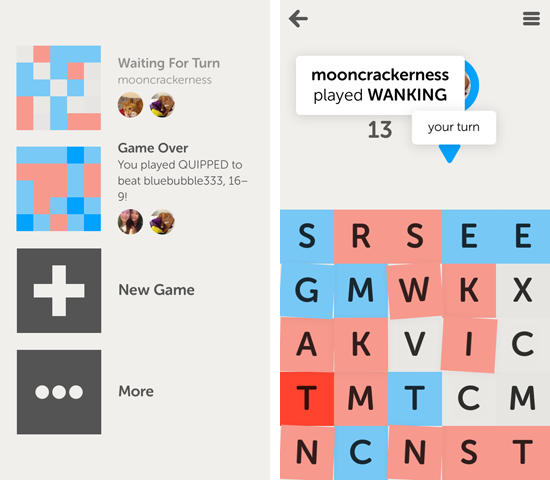 Fikri and Natalie reviewed Letterpress as a wonderful way to connect with your long distance sweetie, and I think we should take this once step further by saying it's great way to feel like you're sitting next to anyone you wish you were sitting next to this holiday season. Great for brothers, mothers, honeys and cousins. The name of the game is to claim the board by making words. Free for iOS.
For Staying Holed Up In Your Room
This creepy first person adventure feels like a darker, Swedish version of Myst. This puzzle/RPG is based on ancient Swedish folklore and is, frankly, gorgeous. And slow. And difficult. And will definitely give you hours of you-time if you throw on some headphones and immerse yourself. $3.99 for iOS. Also, if you're curious about Swedish folklore, there's a companion app that acts as a mini-encyclopedia for the game-world and its real-world inspiration.
Doing a Jigsaw Puzzle on your tech is, strangely, really relaxing. Which, if you play Year Walk and are freaked out, you might need to help you sleep. Or it might help you forget that your adult brother just threw toast at you over breakfast (naw, that didn't happen to me or anything). The app is free for iOS, Android tablets and Windows, and comes with plenty of puzzles to do. You can also purchase additional puzzles in the app.
We've talked about this syncing journaling app a few times before. But in this case it's perfect if you want to curl up in bed and process your family feelings on something that's password protected. $3.99 for iOS and $7.99 for Mac.
Or Getting Out There And Gifting
If you're a gifter and you've got a nice-list a mile long, this is a great way to organize everything you're thinking of getting or making. It can grab your giftees from your contacts and it helps you budget. And! If you share an iPad with one of your giftees, no worries! This app is designed for multiple users, so no need to worry about snooping (accidental or otherwise). $4.99 for iPad.
Because we know you've been shopping our Holigay Gift Guides, you might have a lot of packages to track this season. Parcel let's you do that. For free, if you only need to track three at a time. Even track the gifts you're shipping to far-flung loved ones. Track it all! Just stick the number in. For iOS and Mac. And I know, I've found a few now that are Apple-only, so I found an alternative to this one for Android as well: Shiprack Package Tracker, also free.
This is really more for you than anyone else — Apple's giving away some free stuff from the iTunes, iBooks and Apps Stores. One digital item a day from December 26th to January 6th. This promotion has been going on for a bit, but this year is the first year it's coming to the US. To make sure you don't miss the free stuff, download the 12 Days of Gifts app to your iOS device and wait for the goodies.