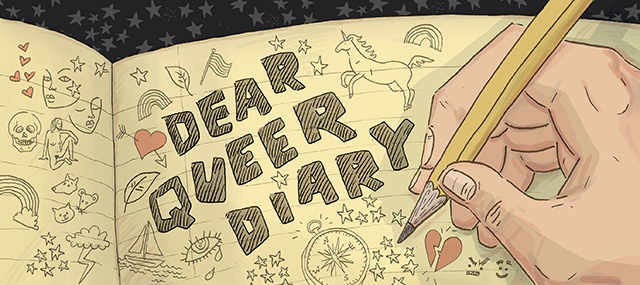 ---
I have been known to scour flea markets for antique postcards, I don't own a television, and I am proud to announce to the world that I possess at least three colors of sealing wax. All things considered, I think it would be fair to say that I am an old-fashioned kind of gal.
And yet, the fact that you are reading this on the interwebs suggests that I am not exactly a Luddite. (Luddite, incidentally, is one of my favorite terms, recalling as it does the memories of my high school advanced placement European history class, in which we memorably used paper puppets to act out the events surrounding the end of the Hapsburg dynasty). Indeed, my dear queer diariests, I believe that the world of technology is almost as glorious and seductive as my girlfriend's pheromones—which is saying something.
In the last three years alone, I have purchased an iPhone, created and maintained a somewhat infrequently updated Twitter account, and, most recently, experimented with taking my love of journals online. Since Sunday, September 22, 2013, I have faithfully recorded the events of (almost!) every day on what has to be one of the least high tech of high-tech journaling services, an almost-three-year-old website called 280Daily.
The concept is extremely simple. Every day, I get 280 characters—essentially, two tweets—to sum up the events of the past twenty-four hours. The site saves my entries, which are accessible only via my login, and I can look back on them later, search them for particular words or phrases, and feel accomplished at having written a miniature diary entry (almost) every day for the past 75 days.
One of the main reasons I started using 280Daily was that it was free, but now that I've proved to myself that online journaling has merit, I am starting to consider shelling out a few of my hard-earned dollars to invest in additional services. While the upgraded version of the site I am already using doesn't seem to have any particularly thrilling features I can't live without, other options beckon from the shiny faux-metal world of the app store.
My reasonably superficial research indicates that there are about a bajillion different diary apps out there in the world, but only a few of them seem exciting enough to justify putting down my ballpoint pen and lined-paper notebook. A long, long time ago, on an Autostraddle far, far away (and not yet beautifully redesigned!), Ali wrote about Day One, whose pretty screenshots have me drooling on my keyboard. While the simplicity of my 280Daily experience has been nice, I am definitely into the idea of fonts and formatting and a smoother mobile experience—and this seems like the one to beat.
The other journaling app most likely to get me to fork over the moola might be the intriguingly social-media-integrated Momento, which automatically syncs with Twitter, Instagram, Foursquare, etc. in order to create a complete narrative of your life on the web. The dedicated journaler in me balks at the "passive" qualities of Momento, by which the app automatically compiles the social media aspects of your journal; however, my desire to exhaustively document is thrilled by the way my painstakingly filtered Instagram photos and occasionally clever tweets might effortless coexist with the other events of my day in a digital format.
Never fear, my dear queer diarists! Even the most miraculous of high-tech journaling experiences will never succeed in getting me to give up my pens and pencils (and sealing wax)! However, I am full of curiosity about your experiences with these journaling media and/or any others. Do you type your daily reflections and synch them to the mysterious cloud? Tap them into your Android while you're on the subway? Photograph your special Evernote Moleskine notebook pages in order to save them forever and ever? Tell me everything in the comments!
---
Dear Queer Diary, is a column about the joys (and occasionally, the pains) of journaling. We'll be cracking open our tiny notebooks and breaking out the rainbow-colored pens on the regular, so get ready to limber up your writing hands and document all your beautiful feelings!