You can't buy her a new album, because she has all the ones that are "worth having." You can't get her concert tickets because she stood in line for several hours at the presale. So what are you supposed to do? We've got you covered.
p.s. If you don't have this problem, but you would like to, feel free to send any or all of these gifts to Cara and/or Stef, who drooled the whole time they were making this.
You Can Take It With You

Sometimes you need music to be playing at all times no matter what — in the park, in the dark, on a train, in your brain, in a box, with a fox, etc. These gadgets will make it happen! Eco Speakers from Dormify give your tunes some extra heft, plus they're collapsible so you can carry them around like it's nothing.  For bike adventures and commutes that would benefit from a soundtrack, there's this cool smartphone bike mount — if you're more of an analog person, you can carry this portable transistor radio instead. And if you'd rather make or mix your own tunes on the go, grab this intuitive, neat-looking Pocket Piano, or apply your EQing and crossfading skills anywhere with a POKKETMIXER, "the first mobile mini DJ mixer."
For Actual Musicians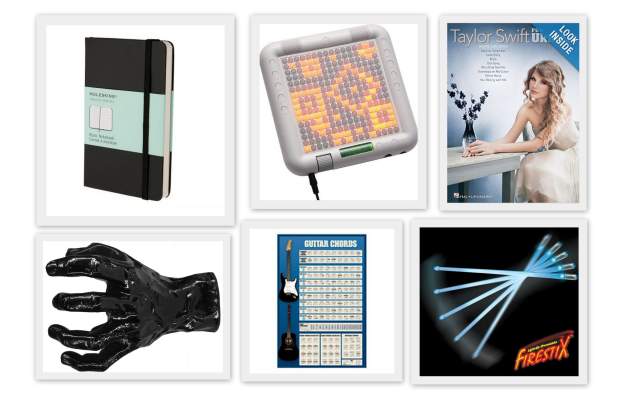 It can be hard to find gifts for someone who actually PLAYS music — they're almost sure to have their own gear preferences, and if that amazing personalized silver pick is a few millimeters too thick it might never come out of the box. But even the most stubborn gearhead won't be able to resist Firestix, because they're glow-in-the-dark drumsticks. Same goes for this Grip Studios Custom Guitar Grip, which will ensure no one uses their axe without asking again. Beginners and pros alike will enjoy this handy Guitar Chords Poster or this Music Moleskine (it's filled with staff paper!), as well as this less-handy but still amazing Taylor Swift Ukelele Song Book. And absolutely everyone in the world can have fun with a Yamaha Tenori-On light-up sampler — especially since it's 60% off right now.
Hardcore Decore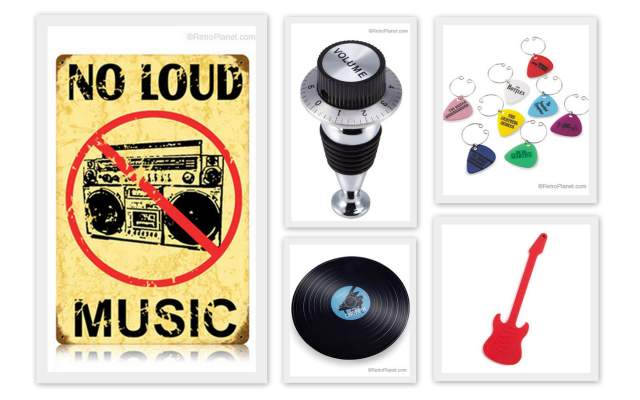 One time I had a long conversation with someone about how it would be cool if I could eat music, because then I would never space out on meals and flirt with malnourishment. These kitchen supplies are the next best thing, probably. When you use this Retro Record Cutting Board, all your veggies will suddenly acquire a new depth and crispness (vinyl 5ever). Whip out this Gama-Go Guitar Spatula and your potatoes shred themselves. Throwing a party? Turn it up to eleven with these puntastic Guitar Pick Wine Charms and a Volume Knob Wine Stopper, plus some 45 RPM Singles Coasters. Round it all out with this hilarious "No Loud Music" sign, which can double as a passive-aggressive gift to roommates, neighbors, or little brothers.
Words About Musics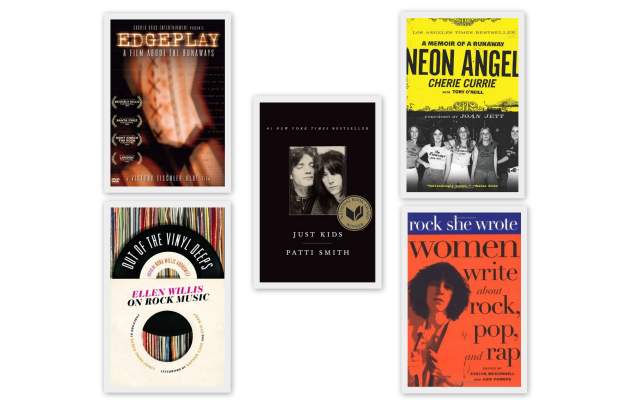 Sometimes your ears are tired and you need to curl up with a good book (about music). Here's a bunch that will warm the feminist and Fenderist parts of your heart. Patti Smith's Just Kids and Cherie Currie's Neon Angel are gripping autobiographical accounts of what it's like to really make it, as well as evocative portraits of places and times many of us miss (whether we were there or not). If criticism is more your bag, crack open Out of the Vinyl Deeps, a new collection from the late Ellen Willis (a "groundbreaking radical leftist writer and thinker whose true loves were rock music, feminism, pleasure, and freedom"— I know, right?), or dive into Rock, She Wrote, a collection of over 60 music essays by women writers. And if your eyes are tired too, give them some candy: pop in the "insightful and compassionate" documentary Edgeplay: A Film About The Runaways, or grab a friend and break out Homoground's amazing Feminist Playing Cards, which feature everyone from Ani DiFranco to Grace Jones to Yoko Ono.
---