by riese with help from heather
As the leaves change and time slips through our fingertips like sand through the hourglass, a brand new season of television is upon us. Reflecting the overall trend of pretty much everybody being gay, there are quite a few lesbian and bisexual females hitting up your television screens this fall and this is a special safe space in which to celebrate that blessed reality, and then go home and pray quietly to ourselves that they won't be murdered or relegated to the background.
We've been delaying this fall preview in anticipation of the release of GLAAD's "Where We Are On TV" Report (which usually has a few more reveals regarding which shows will have LGBTQ characters), but we just couldn't wait another minute since so many of these shows start so soon! You can look forward to another post when GLAAD does release the report.
Grantland has called this season "the worst fall season in modern television history" and The Washington Post says this fall's docket seems to fit neatly into their prediction that we'd reached the "silver age" of television, with "plenty of quality writing, acting and heightened production values, but how much of it is really, truly, can't-miss TV?" Still, LGBT women are turning up in significant numbers and we're seeing a lot of women front and center in new and returning shows.
Asterisks indicate an LGBTQ female character exists on this show.
---
Monday
*Faking It Season 2B (MTV) – August 31st, 9:30 PM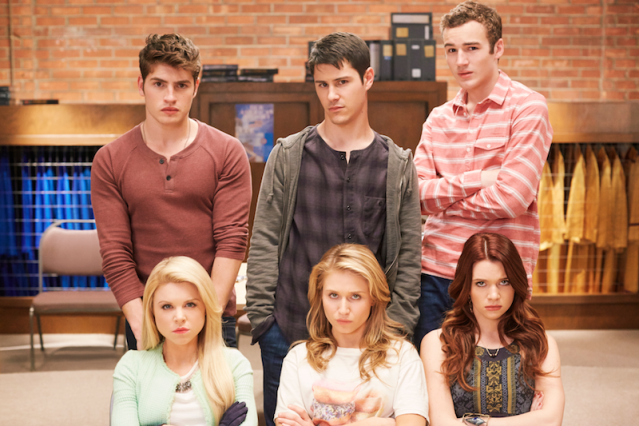 Faking It Season 2B is, in fact, already upon us, and Amy remains a maybe-lesbian, Karma is a maybe-bisexual, Shane is definitely gay, Reagan is definitely a lesbian, Lauren is intersex and Shane's boyfriend is also gay. I will be recapping the whole blessed season.
*Gotham Season Two (Fox) – September 21st, 8PM
Gotham Executive Producer John Stephens told AfterEllen that "Barbara will be part of a love triangle that includes a new female villain," and AE's bet is on Tabitha/Tigress, played by Jessica Lucas. Heather, however, told John Stephens (via yelling at her laptop) that she will invest exactly zero more minutes into this show because they capitulated to entitled straight white fanboy outrage over the fact that Renee Montoya was a viable romantic rival to The Great Fanboy Mary Sue, Jim Gordon, and wrote her off the show without ceremony or explanation. Yes, the first canonically queer women in a live-action version of either Marvel or DC's universes, a beloved lesbian Latina character, was trashed, and the women who preferred her over Jim, Miss Barbara Kean, was turned into a depraved bisexual psychopath. Heather gives it zero out of five stars, would not recommend.
Supergirl (CBS) – October 26th, 8 PM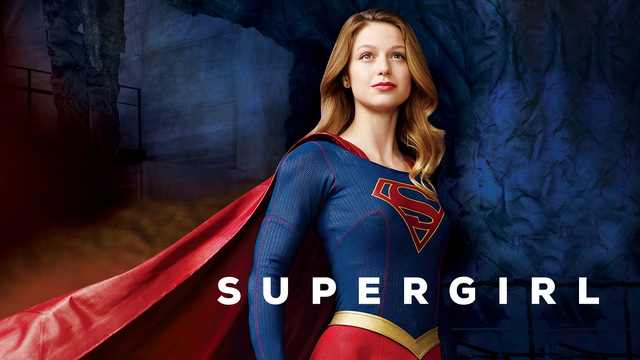 Ideally, this show will erase from our minds all memory of Melissa Benoist playing Marley on Glee — she's headlining this DC Comics-inspired program, which'll also feature Laura Benanti as her birth mother and feature Dean Cain (who I remember fondly from Lois & Clark) in a guest spot as her foster father. Out lesbian writer Ali Adler (The New Normal, Glee) is on the writing team. Heather caught a screening of the pilot at the Paley Center and can confirm that this show is full of unapologetic girl power (kind of awesomely aimed at teenage gals!). It's campy in the style of Lois & Clark (with a special guest appearance by actual Clark), and Benoist plays Kara Danvers with a swoony kickass charm. Like all the best superhero stories, you'll easily be able to make the connection with hiding superpowers and being in the closet as a gay human.
*Jane The Virgin Season Two (The CW) – October 12th, 9 PM
Jane the Virgin was one of the most delightful (and surprisingly feminist) shows to land on TV last year. It features so many well-round Latina characters — including the matriarchal wonder of a household that includes Jane, her mom, and her abuela — and three queer women. There's Luisa, the OBGYN who accidentally artificially inseminated Jane with her (Luisa's) brother's sperm. There's Rose, Luisa's former stepmother who also was her lover; she killed Luisa's father, buried him in cement, and kidnapped Jane's baby because in addition to being bisexual, she's also a criminal mastermind. And there's Juicy Jordan, Luisa's current girlfriend who also is an Ultimate Fighting Champion in MMA. (Did I mention this show is a telenova?)
Crazy Ex-Girlfriend (The CW) – October 12th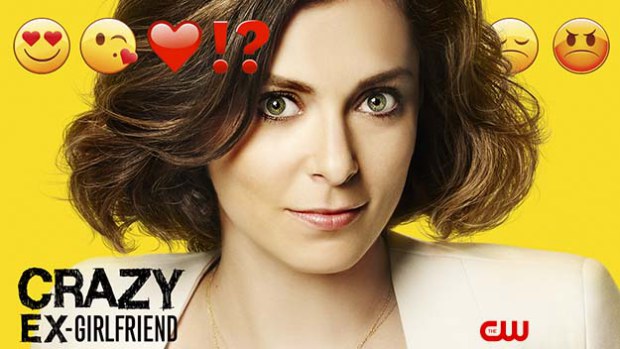 Comedienne Rachel Bloom is behind this unexpected and wacky musical comedy that sees her character, Rebecca, flushing all her meds down the toilet and leaving her career as a lawyer in New York for suburban Covina, California to chase down a boy she fell in love with at summer camp ten years earlier. With a concept that terrible, it has to be fantastic, right?
---
Tuesday
*Grandfathered (Fox) – September 29th, 8 PM
This John Stamos sitcom is, um, a John Stamos sitcom — but, early reviews have been largely positive, and the show's creator, Danny Chun, did time writing for The Office and The Simpsons. Paget Brewster (Emily Prentiss on Criminal Minds) plays Stamos' ex and MORE IMPORTANTLY, Kelly Jenrette plays his lesbian assistant, Annelise. How much John Stamos can we endure in order to relish in the beauty of a black lesbian character in a primetime sitcom? Find out this season, on FOX.
*Scream Queens (Fox)  – September 22nd, 8pm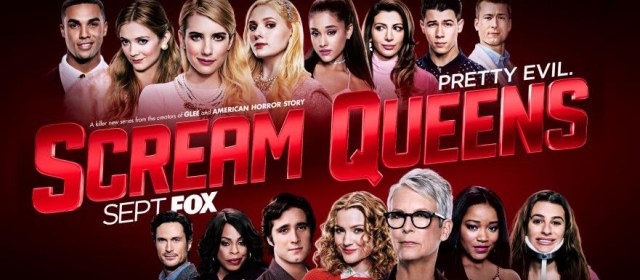 The latest Ryan Murphy/ Brad Falchuk / Ian Brennan project is full of blood, guts and Murphy's own brand of camp. The cast, headed up by Emma Roberts playing sorority girl Chanel Oberlin, also includes Jamie Lee Curtis, Abigail Breslin, Niecy Nash and Lea Michelle. It's a "killer comedy" about a serial killer, disguised in a devil outfit, who begins terrorizing campus during sorority rush. Sam, played by Asian-American actress Jeanna Han, appears to be our token queer, with a style "inspired by Sam Ronson." On Afterellen, Trish Bendix noted that although Sam will appear in the pilot, "it doesn't sound like she'll survive much longer than that." So, you do have an out, queer women of the world! You don't have a moral obligation to watch! Tavi Gevinson will guest star.
The Muppets (ABC) – September 22nd, 8pm
The Muppets are returning to prime time, this time doing a fake reality-show style situation that is sure to tickle your nostalgia bones and also your funny bones and probably sell a lot of merchandise. I don't know guys I just love the muppets. I know they're not gay but you know, some of them basically are.
*Fresh Off The Boat Season Two (ABC) – September 22nd, 8:30 pm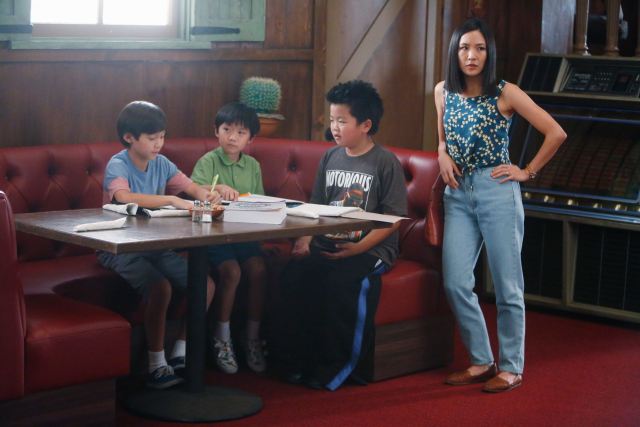 Sonya Eddy is playing Deb, the bartender at The Denim Turtle, because it turns out that Jessica's first trip to the Denim Turtle was not her last — it's her new favorite bar, and thus, Deb is her new best friend.
*The People's Couch Season Four (Bravo) – October 6th, 10 PM
JULIE AND BRANDY JULIE AND BRANDY JULIE AND BRANDY no for real I know it sounds stupid to watch people watch television, but this show is genuinely hilarious, and it will do a little something to fill the gaping hole in your heart where In Your Box Office used to live.
Best Time Ever With Neil Patrick Harris (NBC) – September 15th, 10pm

This is a variety show hosted by a gay man, which could be relevant to your interests! Of the premiere, Vulture said, "I've seen a lot of next-day complaints that Best Time Ever was awkwardly staged and performed and disappointing and so on. I didn't see that last night. What I saw was a series of physically and musically and otherwise gifted people doing amazing things with no safety net to speak of, save the rather brief pauses afforded by the prerecorded clips. I don't think I've used a pogo stick since I was a kid, and I damn sure can't do a backflip from one, as Harris did. Live, people. Live." They were filming this situation across the street from Heather's favorite bar recently and there was a crane and everyone sipped on overpriced cocktails and discussed the fact that he should have teamed with Maya Rudolph for this.
Hulu picked up this show (one of my favorites!) last year when it was dumped from network television. Lesbian comedienne Fortune Feimster will play Jody's sister, Collette Kimball, a nurse with "big energy." No word on whether or not her character is gay but like, come onnnnnn….. 
---
Wednesday
*Arrow Season Four (The CW), October 7th, 8pm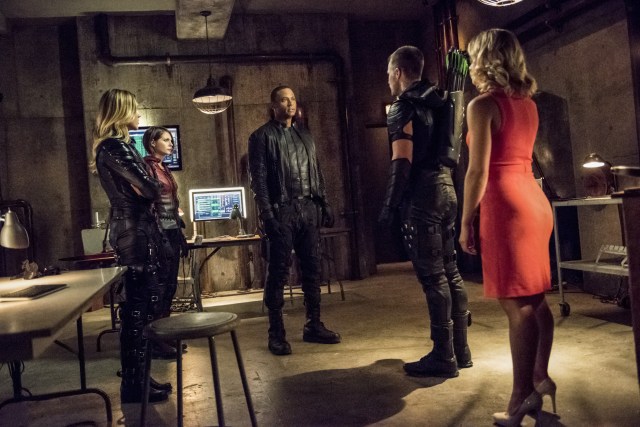 Arrow. Arrow, Arrow, Arrow. Well, on the one hand, Arrow completely stuffed their leading bisexual character, Sara "Canary" Lance, in the refrigerator very early on in the season last year. Very unacceptable. One thousand points from Slytherin. On the other hand, Arrow brought Nyssa Al Ghul, Sara's ex-girlfriend, back for a whole lot of the back half of the season and let her kick asses and mourn her beloved out loud. She'll be back this season. Oh, she'll be back. Now, on a third hand, Sara Lance (or some incarnation of her) is going to star on CW's latest Arrow spin-off, Legends of Tomorrow, which lands in January. No word yet on whether or not she'll be queer, but considering the huge fan backlash over her death, it seems very likely.
*Empire Season Two (Fox), September 23rd, 9pm
Bisexual hip-hop artist Tiana Brown has been upgraded to a series regular for season two and there'll be a new lesbian character, Forbes list billionairess Mimi Whitman, played by Marisa Tomei. Mimi is described as "a demanding venture capitalist who becomes involved in Lyon family drama" and a "lover of hip-hop music, social trends, high-end fashion and beautiful women." Our mortal enemy Ilene Chaiken told AfterEllen that Mimi is "a fabulous character. We've having loads of fun with her. But she also plays an important role in the soap, in the treachery, in the Cookie vs. Lucious and in the fate of Empire." Everybody cross your fingers that Cookie and Mimi are gonna hook up please.
*Rosewood (Fox), September 23rd, 8pm
The story of a private pathologist teaming up with a cop to solve crimes will feature two lesbian characters: Gabrielle Dennis will play Pippy, Rosewood's sister and the practice's "toxicology queen" and Tara Milly Izikoff will play her fiancé, DNA specialist Anna Konkle. Our main worry, of course, is that being a lesbian is the number one way to get yourself killed in Emily Fields' Rosewood.
Criminal Minds Season 11 (CBS), September 20th, 9pm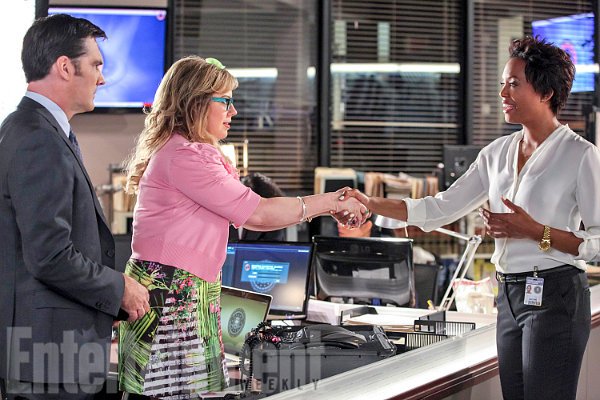 Your favorite guilty pleasure that sometimes scars you psychologically is back AND finally a woman of color has been added to the cast! Aisha Tyler will be playing Dr. Tara Lewis, a forensic psychologist with an alternative lifestyle haircut. Out actress Kristen Vangsness will also be returning as my best friend Penelope Garcia.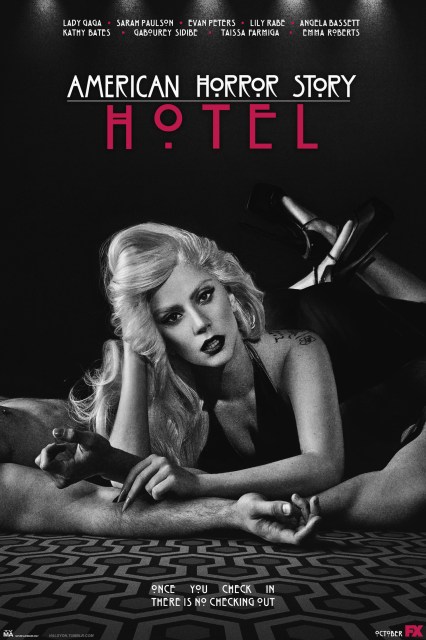 Ryan Murphy's ambitious project returns for a new season with a new story — including Angela Basset's Ramona Royale, the ex-girlfriend of Lady Gaga's character, Elizabeth. Ramona will see herself in a love triangle with Elizabeth and two male characters. Lily Rabe will play lesbian serial killer Aileen Wurnos. Bisexual actress Sarah Paulson is also returning for another season of this extremely twisted show.
Thursday
*Grey's Anatomy Season Twelve (ABC), September 24th, 8pm
Callie and Arizona are getting exciting new relationships this season! According to Shonda Rhims via TVLine: Callie and Arizona will be embarking on in "exciting new romances" in season 12. "For starters, their new squeezes will not be characters we've met before … They're going to both be dating women … I do want to honor the fact that Callie is bisexual, and we've established that she's dated guys. But in terms of where she's going now, she's going to be dating a woman." That's four queer women on one primetime show on broadcast network television, which will set a new world record!
---
Scandal (ABC), September 24th, 9pm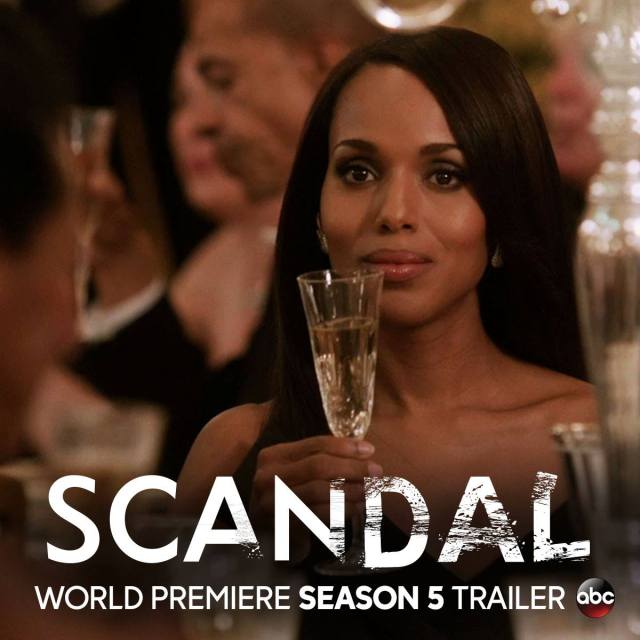 Definitely number one on my list of "shows I'm obsessed with despite the lack of a lesbian character."
---
Angel From Hell (CBS), November 5th, 9:30 PM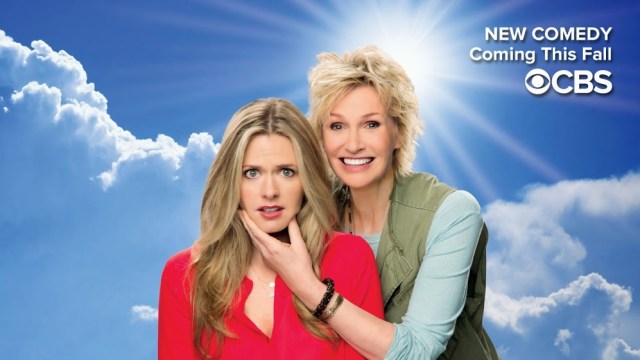 Lesbian actress Jane Lynch stars as the titular angel in this single-camera sitcom who has been watching over Allison Fuller (Maggie Lawson) since childhood. It's not queer, but it does look hilarious and Jane Lynch deserves her own show, don't you think? Jane plays a day-drinking guardian angel who intervenes in her person's life when she finds out her jerk boyfriend is cheating on her with her best friend. Heather caught a screening of the pilot over the weekend and says it's Jane Lynch and her Jane Lynch-iest: bawdy, cutting, and misanthropic (but in an endearing way).
---
*The Vampire Diaries Season Seven (The CW), October 8th, 8:00 PM
Teressa Laine will play Nora and Scarlett Byrne will play Mary Louise, described as "two girls who met in the 1900s where they had to be closeted, and they lived a closeted life and then basically sent away to the prison world, basically a day that repeats on a loop every single day, and they're the only people in the world. They're in a group of, like, five other people. And so they were in love on earth and then they sent to this prison world, which is a replication of this world but with no one else in it, and time stands still, basically. So then poof! in the finale of last season, they come out in this world and they're happy—they're like, 'Oh thank god, we got out of there."
---
Friday
*Transparent Season Two (Amazon), December 4th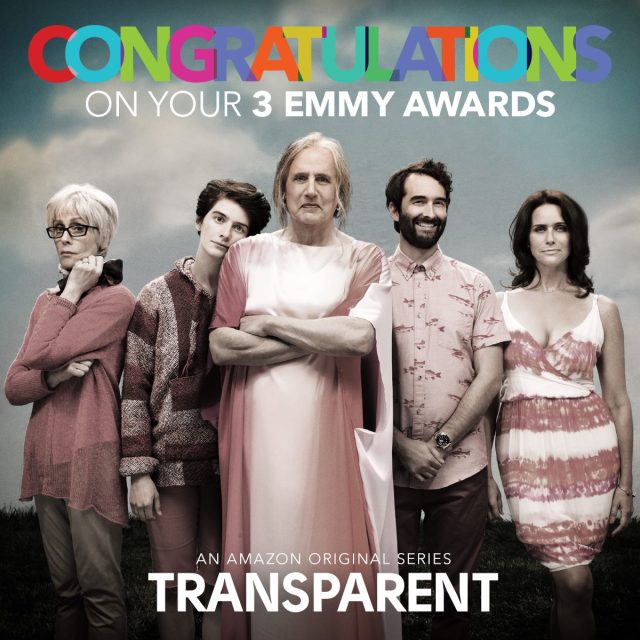 Here is one of probably a few important things to know about this show when you set up a countdown clock on your mobile telephone: YOUR FAVORITE ACTRESS AND AUTOSTRADDLE/A-Camp SUPERSTAR BRITTANI NICHOLS HAS A THREE-EPISODE PART THIS SEASON! Also uh, this show is about a trans woman and basically every female on the show is queer.
*A.K.A. Jessica Jones (Netflix), November 20th
The first LGBT characters in the Marvel Cinematic Universe, Trish Walker and Harper, will appear in this series, played by Rachael Taylor and Carrie-Ann Moss. Well, the first LGBT characters in the Marvel Cinematic Universe if you don't count the super shitty way Agents of S.H.I.E.L.D. treated the two canonically queer book characters it brought onto the show to murder. ANYWAY, this is the new show Heather is most excited for, despite being burned by every comic book TV show in history when it comes to queer women.
*Master of None (Netflix), November 6th
Stand-up comic Lena Waithe will play Denise in this comedy series from comedian Aziz Ansari, who will play an aimless 30-year-old actor. Denise will be part of his friend group, and it wasn't until the show's team met Waithe that they decided to make the character a lesbian.
---
Saturday
Survivor's Remorse is four episodes into its second season, and it's already been renewed for a third. The show follows the life Cam Calloway, a professional basketball player who brought his family along when he made it big in the NBA. His sister, M-Chuck, is an out-and-proud lesbian who refuses to hear homophobia from the church or from anyone in her family. She raised Cam as much as their mom did, so she feels more responsible for him than pretty much anyone else in his family. But that doesn't mean her storylines focus only on him; she's had a couple of girlfriends already!
---
Sunday
*Once Upon a Time Season Five (ABC), September 21, 8:00 pm
Jamie Chung is finally returning as Mulan this season. You'll remember, of course, that the last time you saw her, she was making a face to indicate that she is a queer women in love with Aurora — and then she walked off the camera, never to be heard from again, like Dr. Erica Hahn from the days of yore and the Parking Lot of No Return on Grey's Anatomy. It seems like Chung would be excited to explore Mulan's latent lesbian leanings. She told E! she wanted Mulan to enjoy a full-blown romance to "sink [her] teeth into." WELL THEN.
Quantico (ABC), September 27th, 10 PM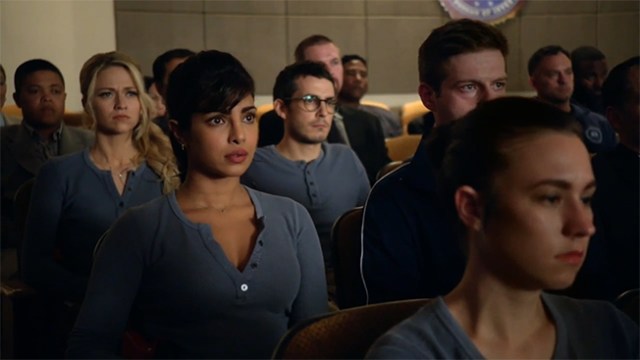 Pretty much every review of this show — which stars Bollywood actress Priyanka Chopra as FBI recruit Alex Parrish — describes it of taking cues from the book of Shonda Rhimes. (Also, like Grey's Anatomy, Scandal and How to Get Away With Murder, the first season appears to feature a gay male character but no gay ladies to be seen). That being said; it's a damn good formula.
*Home Fires (PBS), October 4th, 8pm
Who wants another "stuff women got up to while the men were at war" period drama? EVERYBODY HERE! This British show about the life of Women's Institute members in rural Cheshire debuted on ITV and will have its turn on PBS this fall — and features a lesbian character, Teresa, the new girl in town, with her girlfriend, Connie, showing up in later episodes. Every time I look at the word "home fires" I think it says "home fries," though.
Pages: 1 2See entire article on one page