Thursday
*Grey's Anatomy Season Twelve (ABC), September 24th, 8pm
Callie and Arizona are getting exciting new relationships this season! According to Shonda Rhims via TVLine: Callie and Arizona will be embarking on in "exciting new romances" in season 12. "For starters, their new squeezes will not be characters we've met before … They're going to both be dating women … I do want to honor the fact that Callie is bisexual, and we've established that she's dated guys. But in terms of where she's going now, she's going to be dating a woman." That's four queer women on one primetime show on broadcast network television, which will set a new world record!
---
Scandal (ABC), September 24th, 9pm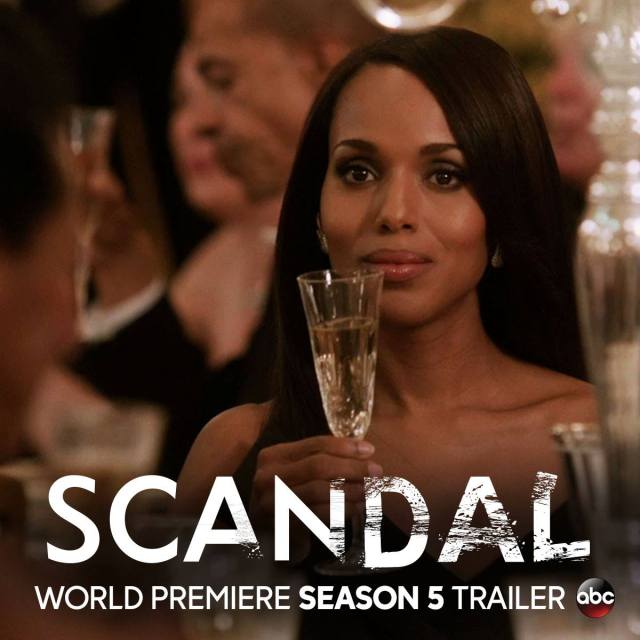 Definitely number one on my list of "shows I'm obsessed with despite the lack of a lesbian character."
---
Angel From Hell (CBS), November 5th, 9:30 PM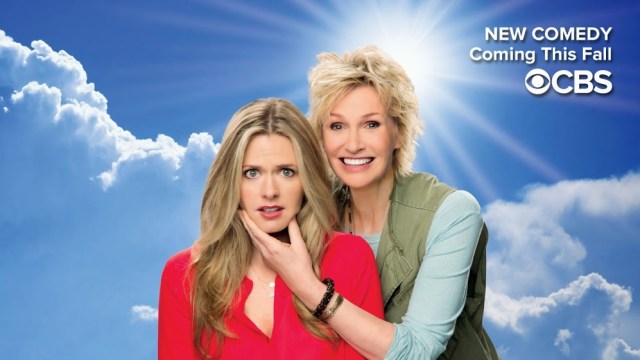 Lesbian actress Jane Lynch stars as the titular angel in this single-camera sitcom who has been watching over Allison Fuller (Maggie Lawson) since childhood. It's not queer, but it does look hilarious and Jane Lynch deserves her own show, don't you think? Jane plays a day-drinking guardian angel who intervenes in her person's life when she finds out her jerk boyfriend is cheating on her with her best friend. Heather caught a screening of the pilot over the weekend and says it's Jane Lynch and her Jane Lynch-iest: bawdy, cutting, and misanthropic (but in an endearing way).
---
*The Vampire Diaries Season Seven (The CW), October 8th, 8:00 PM
Teressa Laine will play Nora and Scarlett Byrne will play Mary Louise, described as "two girls who met in the 1900s where they had to be closeted, and they lived a closeted life and then basically sent away to the prison world, basically a day that repeats on a loop every single day, and they're the only people in the world. They're in a group of, like, five other people. And so they were in love on earth and then they sent to this prison world, which is a replication of this world but with no one else in it, and time stands still, basically. So then poof! in the finale of last season, they come out in this world and they're happy—they're like, 'Oh thank god, we got out of there."
---
Friday
*Transparent Season Two (Amazon), December 4th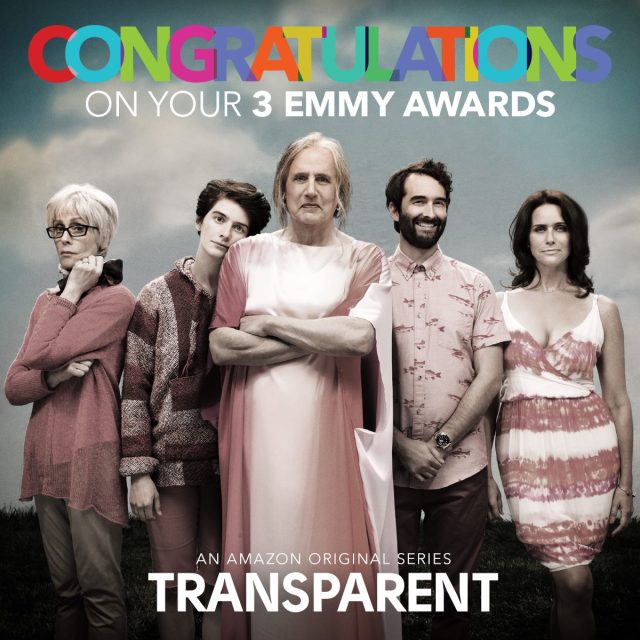 Here is one of probably a few important things to know about this show when you set up a countdown clock on your mobile telephone: YOUR FAVORITE ACTRESS AND AUTOSTRADDLE/A-Camp SUPERSTAR BRITTANI NICHOLS HAS A THREE-EPISODE PART THIS SEASON! Also uh, this show is about a trans woman and basically every female on the show is queer.
*A.K.A. Jessica Jones (Netflix), November 20th
The first LGBT characters in the Marvel Cinematic Universe, Trish Walker and Harper, will appear in this series, played by Rachael Taylor and Carrie-Ann Moss. Well, the first LGBT characters in the Marvel Cinematic Universe if you don't count the super shitty way Agents of S.H.I.E.L.D. treated the two canonically queer book characters it brought onto the show to murder. ANYWAY, this is the new show Heather is most excited for, despite being burned by every comic book TV show in history when it comes to queer women.
*Master of None (Netflix), November 6th
Stand-up comic Lena Waithe will play Denise in this comedy series from comedian Aziz Ansari, who will play an aimless 30-year-old actor. Denise will be part of his friend group, and it wasn't until the show's team met Waithe that they decided to make the character a lesbian.
---
Saturday
Survivor's Remorse is four episodes into its second season, and it's already been renewed for a third. The show follows the life Cam Calloway, a professional basketball player who brought his family along when he made it big in the NBA. His sister, M-Chuck, is an out-and-proud lesbian who refuses to hear homophobia from the church or from anyone in her family. She raised Cam as much as their mom did, so she feels more responsible for him than pretty much anyone else in his family. But that doesn't mean her storylines focus only on him; she's had a couple of girlfriends already!
---
Sunday
*Once Upon a Time Season Five (ABC), September 21, 8:00 pm
Jamie Chung is finally returning as Mulan this season. You'll remember, of course, that the last time you saw her, she was making a face to indicate that she is a queer women in love with Aurora — and then she walked off the camera, never to be heard from again, like Dr. Erica Hahn from the days of yore and the Parking Lot of No Return on Grey's Anatomy. It seems like Chung would be excited to explore Mulan's latent lesbian leanings. She told E! she wanted Mulan to enjoy a full-blown romance to "sink [her] teeth into." WELL THEN.
Quantico (ABC), September 27th, 10 PM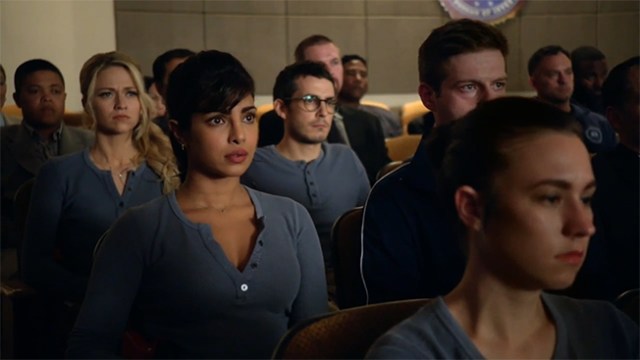 Pretty much every review of this show — which stars Bollywood actress Priyanka Chopra as FBI recruit Alex Parrish — describes it of taking cues from the book of Shonda Rhimes. (Also, like Grey's Anatomy, Scandal and How to Get Away With Murder, the first season appears to feature a gay male character but no gay ladies to be seen). That being said; it's a damn good formula.
*Home Fires (PBS), October 4th, 8pm
Who wants another "stuff women got up to while the men were at war" period drama? EVERYBODY HERE! This British show about the life of Women's Institute members in rural Cheshire debuted on ITV and will have its turn on PBS this fall — and features a lesbian character, Teresa, the new girl in town, with her girlfriend, Connie, showing up in later episodes. Every time I look at the word "home fires" I think it says "home fries," though.
Pages: 1 2See entire article on one page