I am sorry that this Yellowjackets 209 recap is posting later than usual. "Storytelling" — the season two finale — is written by Ameni Rozsa and directed by Karyn Kusama, who directed the show's exceptional pilot. Catch up on past recaps, support the writers strike, and jump into these comments with all your thoughts on the episode and the season as a whole.
---
This episode is sure to be divisive, but full disclosure: I love it. Mostly!
We open with what is easily now my favorite needledrop of the series. The violent chords of "Zombie" by The Cranberries play over Nat walking in slow motion through the snow back to camp. It's heavy. It immediately sets the tone for a blistering episode.
She sees Travis, and he sees her. Then they both watch as the others enter, carrying a thin log, someone bound to it, their faces resolute for the most part, only Shauna showing a glimmer of…something else. Regret? Guilt? There's a lot of guilt vibrating through this episode. It's so quick, but one of the most haunting images of the episode to me isn't one of the more obvious ones to come but rather the moment where the team takes the log off their backs and lets Javi's frozen body — mouth agape — hit the ground. It's the first time we get a look at his full corpse, and there really is something almost inhuman about it, almost like we're situated in the perspective of these characters who are no doubt in denial about Javi being a young boy they once knew, seeing him now as the product of the hunt, as food to feed "it" — and by it I mean their hunger.
Travis is immediately devastated, and Nat says: "Travis. It happened so fast. The wilderness chose." This almost makes things worse. Since when does Nat believe these things? Does she even or is she just saying this in a misguided attempt to make him feel better because he does? Regardless, Nat saying these words is another one of those subtle but unforgettable unnerving moments from the episode that's quieter and quicker than some of the more overt ones. These delusions of the wilderness's power have spread so much, have them all in a chokehold.
Over at Camp Lottie, Lottie is still in the midst of convincing the others to play her little Russian roulette tea party game. She picks up a cup and says "it won't stop til it gets what it wants," and the others immediately jump to stop her. Shauna, thinking on her feet, suggests that to really do it right they should do it the way they did back then. They should give it a hunt.
The others look at Shauna, confused and alarmed. Is she buying into what Lottie is saying about how they all need to sacrifice one of themselves in order to move forward? But no, it's okay, Lottie pulls Shauna into a hug and her face tells them all she isn't doing this for real. They join in, Misty suggesting they need masks and weapons, Nat hesitantly suggesting a deck of cards with a single queen in it. Shauna asks Lottie to ensure her acolytes stay away, and Lottie agrees and leaves. Shauna tells the group she just bought them some time to figure out what to do with Lottie.
Misty floats that it wouldn't be difficult to have Lottie committed to a mental institution given her history. Nat suggests that her homicidal tea party is perhaps a bit too dangerous for this solution, and Van agrees for a different reason: "because this isn't just about her mental illness. We all know what she went through out there, because we went through it, too." Nat says Lottie thinks the wilderness is talking to her again, and don't they all remember where that leads? I do think it's correct of Van to stick up for Lottie's agency. Involuntarily committing her isn't really fair or safe. I do wish she…would propose some viable alternatives? Because without them, the rest of the group just decides to move on with the bonkers plan of staging a hunt and having a crisis team — who knows nothing about Lottie's traumas or triggers — show up to take Lottie away. Upsetting!
Even though I don't agree with the characters' choice to involuntarily hospitalize Lottie, this concern is mitigated by the episode's overall empathy and character development for Lottie. She has never been some wicked mastermind. She holds power over the other teens, because they collectively bestow her with that power. They're not doing so knowingly, but they're enabling her delusions, ignoring her mental illness because they don't know it exists, encouraging her to listen to voices in her head. Misty visits Lottie in the attic and Lottie immediately asks, afraid, why Travis was screaming. Misty replies they're going to eat Javi, that it's fine because they didn't kill him exactly, and that she told the group what she said about not wanting to go to waste. Lottie says "that's not what I meant." Here, Lottie's words were misinterpreted and used against her. Misty says: "Lottie, you started this. It's done. And it's going to save all of our lives, so you better not start making feel bad about it now." It's the first time we really see just how little control Lottie actually has and the true consequences of people putting her on this pedestal. Misty's now saying she's the one who started this, and well, the episode is called "Storytelling." All it takes is for the group to believe they're doing this in Lottie's name for her to be blamed for the start of this cannibalistic hunting ritual. When Misty goes back downstairs, she lies and tells the group Lottie approves of the wilderness's choice and Javi will save them all.
The next sequence unfolds so slowly, and it should. None of the quick, punchy violence of pit girl's demise or Shauna beating up Lottie. It's cold, icy, slow-moving horror. Shauna walks outside to find Travis crying over his dead little brother. But he makes no attempt to stop her or anyone, is just as hungry and as defeated as them, knows what has to be done. He leaves, and Shauna and the others lay Javi out on a table, cut off his clothes, remove his shoes. Shauna pulls her headband down over her eyes and, without seeing, moves her hand along Javi's frozen corpse until she finds his jugular and punctures it. Javi's blood stains the snow red.
It must be said that my girl Karyn Kusama is directing the hell out of this episode! She has a keen eye for capturing blood. The original score, too, is fraught and alive throughout the episode.
While Misty's poking around in Lottie's office, she finds Lottie's meds in a filing cabined as well as her cell phone in the locked closet where the shotgun is. When she hears someone enter, she ducks behind the cabinet's door, but it's just Walter, who says he's here to help her. I've been doubting that's true all season, but this episode kind of proves me otherwise — at least for now.
Van and Tai are doing arts and crafts, by which I mean they're making rather elaborate animal masks for their planned human hunting ritual. Van still has an issue with the way they're all treating Lottie for her mental illness. "If Lottie is sick, they you're sick, too," Van tells Taissa, and she has a point! Taissa is still sleepwalking as a murderous other version of herself. Van asks if she thinks locking Lottie up in a psych ward is going to help her. "Would it help you?" Indeed, the isolation and lack of autonomy in a psych ward would no doubt trigger feelings from the wilderness for any of them. Van says they have to handle this themselves, protect each other. "Didn't we all swear we would?" It's true that despite all their recent betrayals of one another, of course there exists some base level of loyalty, of protection. They survived the wilderness together; they have to survive the present together, too. Again, I do sort of wish Van could suggest some alternatives, but apparently it's enough to convince Taissa, who phones the hospital to call off the crisis team.
While Van and Tai are doing arts and crafts, Shauna and Nat are playing with knives and fire. Shauna files knives down to dull their blades, and Nat takes flame to a Queen card, burning its edges. We don't literally get any flashbacks here, but of course we're all thinking about Nat and the Queen card she drew last episode.
Karyn Kusama has an eye for violence but also knows how to direct comedic performances with just as much zip (Jennifer's Body is one of my favorite movies of all time). We get some of this when Jeff and Callie enter the chat for a little father-daughter murder cult bonding. As they drive to Camp Lottie, Jeff is in the midst of explaining to Callie that it's actually very hard to just disappear and live new lives. There's a great runner that begins with Jeff saying he saw Shauna almost shoot someone, to which Callie replies: "MOM HAS A GUN?!" The gun is in the glovebox, and it's one of several Chekhov's guns in the episode. When they pull up to the gate, Lottie's acolytes descend upon them, and we see this from Jeff and Callie's points of view, which very much makes it all look like a classic horror scene, strange purple people quietly moving closer to them. It's subtle but effective. Jeff says they'll find another way in and pulls the car away just as Kevyn and Saracusa's car pulls up.
This is Juliette Lewis's episode for a lot of reasons. Even when she isn't saying much in some scenes, Nat captivates in this episode, like when she quietly burns that Queen card. Now, we get a scene between her and Lisa, who Nat begs to leave the premises because something is happening tonight. Lisa is immediately concerned and wants to know what she means, but Nat just keeps begging her to go, to live her life away from here. There's so much unsaid stuff. The Yellowjackets have an obligation and indelible connection to Lottie, but her acolytes don't have to. They can get out before things get bad, before all the good Lottie has genuinely done for them is undone by her own trauma, by the resurfacing of old patterns. "I appreciate you trying to teach me forgiveness," Nat says. "It's a nice idea." Woof.
Coach, who missed the hunt while he was hanging out in his newfound man cave, approaches Nat and tells her about it. He says the two of them could survive the winter down there together, that she should come with him because she isn't like these other girls. "Actually, I'm worse," Nat says, and it's one of my favorite line readings by Sophie Thatcher. She says she let Javi die in her place, that it was supposed to be her. "You're a good person, Coach," she says. "You really don't belong in this place." It's interesting, because I don't see things as the young characters being bad and Coach being good. I do think Coach might buy into that mentality. But I think it all goes back to the literal age difference, to the fact that Coach was allowed to live a fuller life before the crash than any of them were. He has been independent for a long time, probably even since he was their age given the fact that he has been closeted. In so many ways, he's better equipped to deal with what's happening out here, but in practice, that actually makes him worse at it. He can't bring himself to make the kinds of choices for survival that the others do. That doesn't make him good or a better person than they are. It just makes him, well, a weak link.
In the cabin, Travis tells Van she should be ashamed of what she has done, and Van replies confidently that she is not. "I'm glad I'm alive, just like you are, and I don't think anyone should be ashamed of that ever," she responds. "Let your brother save you, Travis. After everything he went through out here, don't you owe him at least that?" Her logic is injurious but also not entirely off base when you really drill down into it. Not all of them can survive; it just isn't possible. Should the ones that do feel ashamed? It is, of course, easy for them to all absolve themselves of blame here, as Javi technically died by accident. But he didn't, not really. He died trying to save Nat's life. It's all too complicated to be boiled down to good vs. evil.
Walter sings "Send in the Clowns" in what is my favorite musical theater moment of the series so far — and there are so many! what theater gay is in this writer's room or is it just all of them?! — as he stirs a pot of hot cocoa. Kevyn approaches, and Walter immediately disarms him with his dorky, chatty charm. Outside, Jeff and Callie are slinking around, and Callie — even in this high stakes situation — still seizes the opportunity to be a snarky mean teen and mocks her father's poor blackmailing skills. "The American family is crumbling Callie, YOU try making a living in SECTIONALS," Jeff laments. When they get to the door, Callie pulls him away, having spotted Kevyn. Jeff tells her to go find her mom, that she has a plan. There's an immediate sense of dread. Here is an innocent teen girl now sent into the woods by herself in search of her mother, who is currently getting ready for a fake but also maybe not fake murder-hunt.
Inside, Jeff asks Walter to leave and makes a false confession to Kevyn that he was the one who killed Adam. In the middle of their conversation, Kevyn collapses. Jeff immediately starts freaking out, and Walter re-enters like it's fine, no worries, hehe. He calls Jeff "Jeffery" and asks if anyone calls him that, and Warren Cole stumbles through a hilarious delivery of "Yeah, my mom, no, no she doesn't." Jeff continues to lose it, but Walter needs his help moving the body of Kevyn, who is dead I guess?! Yeah, I'm starting to think Walter is genuinely trying to help Misty.
In his man cave, Coach struggles to light a fire with stones. In the cabin, everyone sits around silently until Shauna enters with a platter of fresh human meat, arranged around the centerpiece of a fresh human heart. Travis approaches and takes the heart, brings it to his lips, and takes a ceremonial bite before throwing it in the pan on the fire. Mmmm crispy heart! The rest of the group eagerly tosses their portions into the pan to sizzle, too. The thing is, this moment of cannibalism doesn't feel scary. It pulsates with dread and grief, sure, especially when Travis literally consumes his brother's still heart. But I don't feel fear when I watch this scene. I feel simultaneous relief and tension. Their hunger is satiated, for now. But it means there's more feasts like this to come.
Misty brings chunks of Javi upstairs to Lottie, who says she thought "it" wanted what was best for them and now she's not so sure. Misty is firm with her. "Your team needs you," she says. "Eat."
We cut to the present, where Lottie is standing in her office, eyes closed, calm but not really here. Elsewhere, Nat tucks a knife into her sleeve. They lay out the animal masks. Lottie seems adrift. I do wonder what has caused Lottie's rapidly accelerating psychotic break. Did she stop taking her meds? Does the presence of the other Yellowjackets trigger her? A combination?
Callie walks through the woods alone and comes across Saracusa. We see that she has the gun, naturally, and she takes it out and holds it behind her back. Saracusa ends up baited by a fake phone call from Kevyn that's actually from Walter, using Kevyn's phone and a recording of Kevyn talking to Jeff. Saracusa goes to check it out. In a later scene, we see Walter's plan unfold. Saracusa opens a car trunk to find Kevyn, and Walter runs up on him and uses Saracusa's gun to shoot Kevyn (I think?? We don't actually see the body, but Walter shoots directly into the trunk). Walter then explains very quickly that there are bank and phone records connecting Kevyn to the deaths of Adam Martin as well as Jessica Roberts (so Walter DID know Misty was involved in that one, too!), and Saracusa can either roll with that story or Walter can have the phone and bank records point to Saracusa. This particular plotline is being tied up a bit too neatly in a bow, but as it's one of my least favorite plotlines of the season — outside of the domestic chaos it has wrought in the Sadecki family, which I  love — I'll take it. I'm just still having trouble assessing Walter's motives.
In the woods, the adult Yellowjackets stand in a circle around the fire. Lottie shuffles, and Shauna says she wants to shuffle more, is trying to buy time before the crisis team comes, but we know they're not coming. When it's Tai's turn to draw, she hesitates, and Lottie says: "Taissa, are you refusing the draw? Because you know what happens when you do." It's such a fun and harrowing line, because WE don't know what happens when someone refuses a draw, but I'm sure we're bound to find out next season. They all pull cards, and no one gets the Queen, so Lottie says they must draw again. Flashbacks to the first card draw in the cabin pop in as they draw. Every time we stop on Adult Taissa, there are Other Tai vibes in her expression, which might help explain some of what happens next.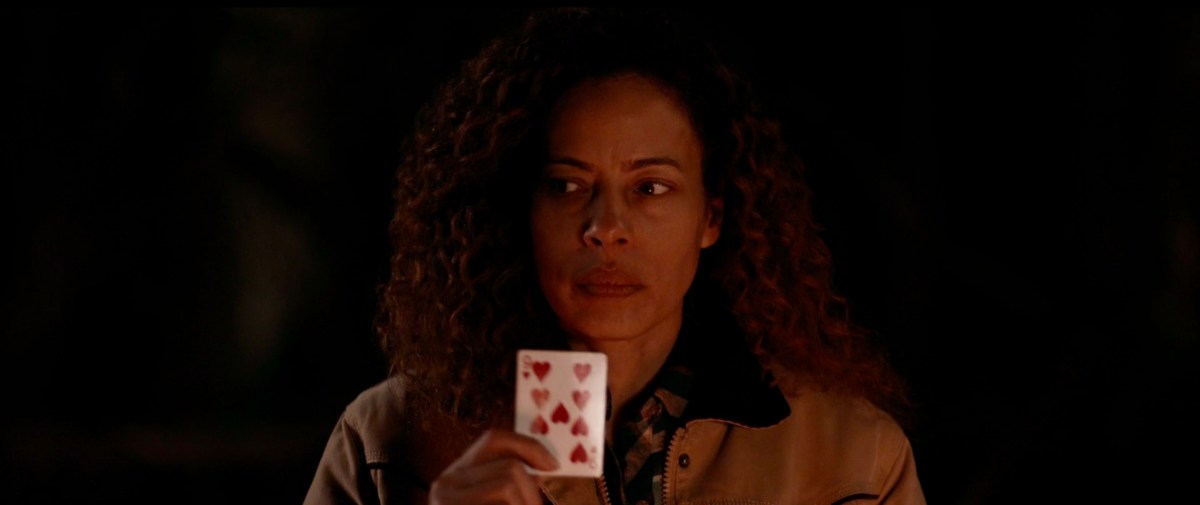 And then Shauna pulls the Queen. The others immediately but slowly peel away from the circle toward the masks and weapons. They put on their masks. The whole time, Shauna is like guyssss, we're not doing this for real though right? Remember? But everyone is just silent, going through the motions. "You can submit or you can run," Lottie says.
"You know there's no IT, right?" Shauna says. "It was just us."
"Is there a difference?" Lottie asks.
Shauna walks away, and the others start pursuing her, weapons brandished. Again, do any of them actually have a plan?! Or were they just sort of like fuck it, we ball the second the ritual started and decided to commit to it? Is this just an extreme version of falling back into old patterns? Where the pattern is MURDER HUNT? I can understand Tai's motivations if she's Other Tai right now. But Van and Nat? What are they doing? It's confusing, and yet I'm also swept up in the moment, unsure like Shauna if what's happening is real or not. We know Shauna has a hunger for murder. What if they all do?
Callie shoots Lottie in the arm, stopping the hunt. Lottie is surprised to meet Shauna's daughter. "She's so powerful," she says. Everyone removes their masks, and it's like as if Callie's interruption has broken the spell that has taken hold of them. A non-Yellowjacket has entered, and they're no longer in their activated mode. Van and Tai admit they called off the crisis team, and Van says: "She's like this because of us." She's right, but again, I don't know how they're going to actually help Lottie.
In the past, Lottie finally leaves the attic. She comes down to everything, and they hug her, are so happy to see her. Sitting around the fire, everyone wants Van to tell them a story, and instead of recounting the plot to a movie like she usually does for them, she tells a story about the wilderness. Outside, Coach pilfers some matches, an axe, rope. He's prepping for his life alone in the cave, away from all this. Lottie says the wilderness chose her because she was the only one who knew how to listen, but now she can't hear it anymore. I'm not sure if Lottie actually believes this or just wants to relinquish her power because she's scared of and guilty for what it has led to. She says they need a new leader who can help them survive the rest of this time. "The wilderness chose who fed us. It's already chosen who should lead us," she says. Misty stands, obviously thinking it's meant to be her. But Lottie says it's Nat.
In the present, Lottie claims to hear the wilderness. She looks at Nat and says "you were always its favorite." Nat flashes back to a couple memories: her with the gun under her chin, her holding the knife at Doomcoming while saving Travis' life.
In the past, Lottie says "we tried to kill you, and it wouldn't let us," to Nat. Coach watches all this from outside, looks afraid. The group all approach Nat, bewildered and silent, and offer their thanks in the form of curtsies, hat tips, hand holds. Misty bows so dramatically it makes them laugh. Travis takes her hand to his heart.
In the present, Lisa barges in with the hunting gun. She wants to know what they're all talking about, what the truth is. Nat approaches her slowly, but Lisa tells her to drop the knife. Nat does. Then Misty charges at them, and we dip into Nat's headspace as she sees herself pulling the card as a teen, Javi's death, her telling Coach she let him die in her place, the moment from the pilot where Nat sees Misty across a field but then she vanishes. Nat steps in front of Lisa to save her life, and Misty instead plunges the lethal injection into Nat's clavicle.
Now we're in an empty plane. Nat sits here, in a signature leather jacket look. She looks confused. Get ready for Juliette Lewis to break your heart. We can hear the muffled voices of the other Yellowjackets reacting to what has just happened, Nat clearly in some in-between space between life and death. When we move back into reality, the other Yellowjackets want to know what can be done, but Misty says nothing. It's too late. She lays her down, crying, full of a kind of remorse we haven't seen this intensely from her since Crystal died. And this might even actually top that emotionally for Misty.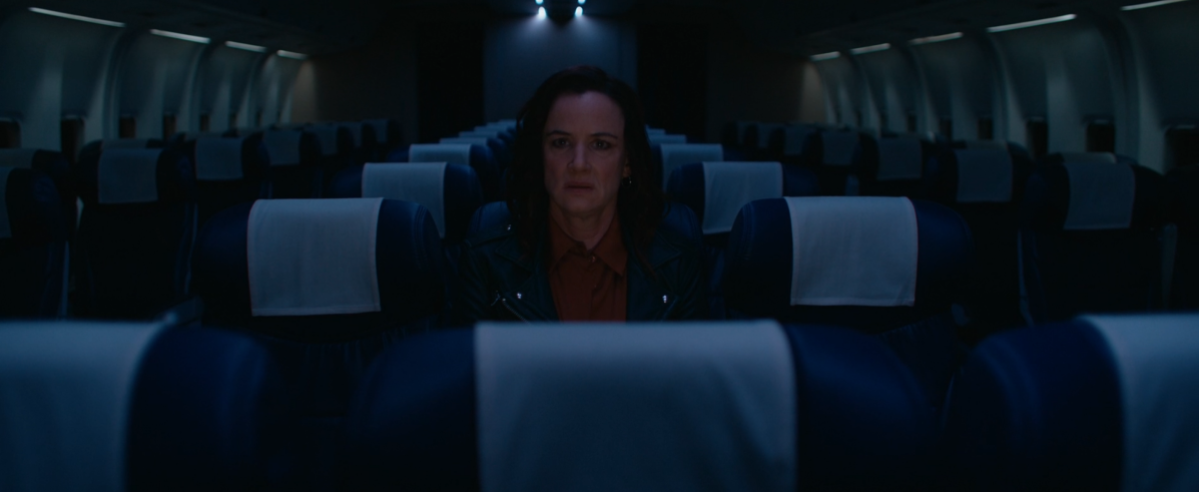 We go back to the limbo plane, and Javi tells Nat there's nothing to be afraid of. She says she isn't supposed to be here. "We both know that's not true," Sophie Thatcher as younger Nat says. "This is exactly where we belong. We've been here for years." Now, Nat really understands what is happening, that she is dying, is dead, and she starts crying. "It's not evil," a younger Lottie tells her. She tells her to let it in.
Local police arrive and rule Nat's death as an overdose. Misty cries to Walter that she just killed her best friend (not for the first time), and he pulls her in for a hug. Callie and Shauna have thousand yard stares. Lottie sits in an ambulance, and Tai tells her they're going to keep her for a little while but they're going to come check on her. So after all that, they still are just going to send Lottie away. "We gave it what it wanted," Lottie says, speaking of Nat's sacrificial death. "It is pleased with us. You'll see." Van's face here is hard to read, but she looks…hopeful? Like she might be buying into her past beliefs. And maybe that's what subconsciously made her go through with the hunt, too. I get what Van says about it being their fault and their shared trauma that is making Lottie have a mental breakdown right now, but I don't see what she expects anyone to do with that information. They're sort of acting as recklessly as they used to as teens — and with as little understanding for mental illness, too.
As truly devastating and shattering as Nat's death is, I don't have a problem with it narratively in the same way I do with the lack of foresight on the whole group's part when it comes to doing this hunt. It would have been so easy to just kill Lisa, a character we've known for a short time, who we've developed an emotional connection with, sure, but not to the extent we have with Nat. It would even, in a way, make sense for Nat and Lisa's arc together if Lisa died. But it wouldn't narratively work as well as what happens instead. The way the season has been structured, we see Nat die as an adult one episode after we saw her teen self narrowly escape death by letting someone die in her place. Now, she gives her life to save someone else. It's brutal, and I know a lot of fans will hate it, but in an episode called "Storytelling," this is some really fucking compelling storytelling. It's the second time Misty has killed her best friend (or who she perceives as her best friend).
Also, I'm convinced this has been the plan for a very long time. There are subtle but meaningful breadcrumbs that come to mind, some of them hinted at in the episode itself. Right as Nat's first stabbed by Misty, she flashes on a series of memory pops, and one of them is that moment where she hallucinated Misty at the bonfire in the pilot. Even if we hadn't been shown that flashback — and I'm glad we were — I would have thought of it, because it's a scene I've never been able to make sense of and have long wondered about its meaning. Nat is also the first character to ever point out the lack of Queen cards in the deck in the cabin. She's the first one to ever pull it. It's like that death sentence is just delivered on a delay. I hate to see Juliette Lewis depart, but I also had a feeling a big death was coming at the end of this season, and for this one to happen in the present timeline instead of the past injects new stakes into that timeline. The past is repeating itself in an even more overt and terrifying way.
But this isn't where the episode ends. It ends in the past, with Shauna journaling in the attic. She writes the words "I used to think it was Jackie who made me feel invisible but" and oh how I wish she finished that sentence, because I'm curious! But her journal sesh is interrupted by the smell of smoke. Downstairs, a fire rages. Shauna wakes everyone up, and it's mass chaos. They can't get out of the cabin. The door is stuck. The flames are growing bigger. Finally, Tai takes an axe to the door (hot), and they spills out into the snow and watch through tearful eyes as the cabin, their only home out here, burns down.
I guess this means everyone is moving into Coach's cave? The problem is: None of them know it exists. Also, is it just me or is the show trying to suggest Coach might have set this fire? I don't think I fully buy that's what happened, because nothing we've really seen Coach do indicates that he would murder ALL OF THEM, even if he does think they've all gone too far in their tactics for survival, even if he is scared of them. Because also, what's his endgame there? He just survives alone out here? Then again, Coach has been pretty detached from reality lately. Could a hallucination of Paul convinced him to do this? Again, that wouldn't really track with what we've seen previously though. Paul is such a symbol of hope and love. I really don't think Coach has it in him to snap like this, but it's also undeniable that we're led to believe it could be the case. Regardless, the one thing they could previously count on — shelter — has been ripped from the Yellowjackets. It means they're only going to have to take more drastic measures to survive.
---
Last Buzz:
Again, I apologize for the lateness of this recap!
I can't believe that's a wrap on season two!!!!!!! And who knows when season three is coming due to the writers strike, which I enthusiastically support. The things the unions are fighting for matter more than me being able to sit down and watch my silly little television programs on a consistent schedule.
As always, writing these recaps is a delight, especially because of the comment community that springs up around them. Thank you for making me laugh and think this year. I hope to see you next time.
Juliette Lewis does the "previously on Yellowjackets

" voiceover at the start of the episode, and if you haven't rewatched it after your first viewing yet, it might make you burst into tears like I did when you do!!!!!

Just want to reiterate that Van should have had…a plan. Or at least some suggestions for alternatives.
The prop heart was disturbingly good.
Sooooo Callie and Lisa are both witnesses to this murder! They're now involved in all this chaos in a much bigger way.
What was Shauna going to say in her journal!
Opening with "Zombie" really is a top tier needledrop, and now I shall be blasting it all day.
I really like this show's various depictions of limbo, the afterlife, whatever you want to call it. They feel unique to each person. Jackie, Shauna, Nat. They all experienced something different in near death.
Now that it's all said and done I think the best episode of the season was "Qui." What's yours?