As any fan of Wynonna Earp knows, getting the fourth season both made and aired has been quite the feat. Renewals, cancellations, re-renewals… and then a global pandemic. But finally, finally Team Earp is returning to us (and on Fridays again, no less) for the second half of Season 4 — which looks like they might be the last episodes of the show.
The first half of the season left us with some questions about Eve, some actions that will surely have emotional consequences, a lone Clanton on the loose and surely displeased, Wynonna finally reunited with Peacemaker, and a WayHaught proposal. Who knows what these final six episodes have in store (I learned early in Season 1 that guessing is futile because when you think this show might zig or even zag it has a chili cookoff FOR FREEDOM so there's no use trying to predict anything) but one thing Wynonna Earp has always done well is staying true to the heart of these characters we've grown to love over the years, so I'm sure Waverly and Nicole are in good hands, even if those hands will put them through the angst machine a bit before it's all said and done.
I won't lie, Wynonna Earp has been my favorite show since Orphan Black and my whole heart is invested; from the characters to the stories to the people behind the scenes creating the show. There are so many queer people on screen — including Dominique Provost-Chalkley and Kat Barrell, who play everyone's favorite bisexual angel and lesbian sheriff respectively – and even more behind the scenes, and it's been so fun to watch them have fun making this show. So this news is a bit of a blow, but I'm holding onto a little kernel of hope that this isn't really goodbye.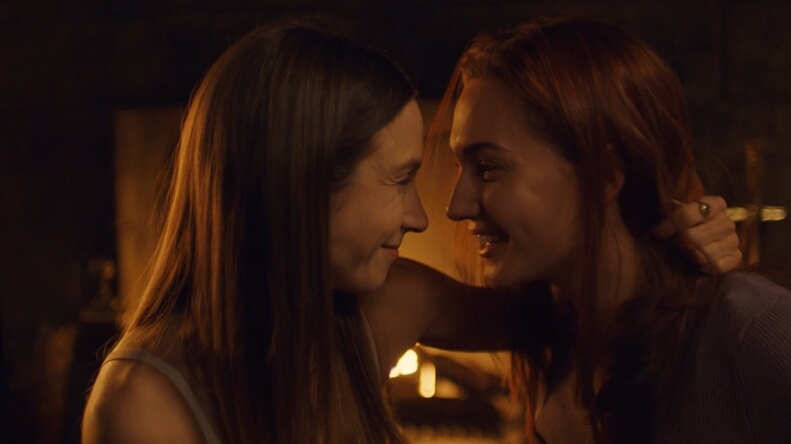 In the press release, showrunner Emily Andras said that she was proud of these last six episodes on SYFY, and goes on to say, "I have been honored to tell Wynonna and her family's story, and along with Seven24, Cineflix and CTV Sci-Fi, are hopeful we can continue to share their inspiring tales in the future."
So maybe that means the studios will be looking for a new home for the show, and if any fandom can convince a new network to pick them up, it's Earpers. Whatever Emily wants, however she wants this to end, that's what I want too. It's her bus, I'm just riding it.
But if this truly is goodbye, we'll at least have these four perfect seasons of television to put in the queer representation hall of fame. We'll always have Purgatory.
See you on March 5th at 10pm EST on Syfy, Earpers.