WELL it has been a week! RuPaul's Drag Race arrived at its dreaded annual "sewing challenge" and it was a full bag of tricks, if you know what we mean. Batwoman is ready to fully embody Bat Girl Magic, and every episode gets better than the one before (plus did you hear? We're renewed for Season Three! More Ryan Wilder for everyone!). Riverdale finally had its graduation episode, five seasons in the making! And Welcome Back to To L and Back, Carly and Riese are tackling The L Word Season Six (ironic, since most of our TV Team agrees that Season Six doesn't exist! But that's what makes it fun!)
Over in the land of movies, Heather watched the Lifetime Original Movie The Truth About Jane (the truth is that Jane's a lesbian! Sorry for the spoilers! We couldn't wait!) for our Lost Movie Reviews. She also found us an exclusive clip of the film Two of Us, which believe it or not is about two old dykes and is going to be France's Oscar contender this year. Then she reviewed the entire elder lesbian thriller for us, and if that description doesn't grab your attention — we don't know what will.
Drew spent all her (virtual) time at Sundance, our first time being invited to the festival as a publication and we are so proud of her!! Here's a rundown of everything that she saw:
And of course, as we start a new month, here is Riese's comprehensive What's New and Queer and Streaming on Netflix, Hulu, Amazon and HBO Max in February 2021? for all your streaming needs!!
Notes from the TV Team:
+ After giving the show up, post-Kate/Rana, I've been checking into Coronation Street a bit more regularly lately: first because of the stellar performance of out actress Shelley King in a domestic abuse storyline and now because of the budding romance between two teen characters, Asha and Nina. I'm not thrilled about the story's pacing so far but, still, I'm excited to see where things go. — Natalie
+ Well, Superstore finally decided to take my advice (sort of) and added a lady gay to the Cloud 9 team. It wasn't who I'd hoped but I will take it. — Natalie
+ Top Chef alum (and perennial No Filter fixture) Kristen Kish has a new cooking competition show on Tru TV called Fast Foodies. It's a cool premise: a celebrity shares their favorite fast food with three top tier chefs and, in the first round, they do their best to replicate it. In the second round, the chefs put their gourmet spin the dish while still trying to keep that fast food flavor. This is gonna be fun. — Natalie
+ I think we might need to put out an APB for Lisbeth on Nancy Drew, but to be fair the Drew Crew has been a little busy what with the death curse and all. That said, the gayest thing that's happened in the past few weeks is search for a sea shanty (despite there being plenty of them on TikTok) so I'll be back next week with a longer update. — Valerie Anne
+ Some very sad breaking news in case you missed it, but it looks like season 4B of Wynonna Earp is going to be its last. My condolences to all the Eapers out there. — Carmen
---
9-1-1 403: "Future Tense"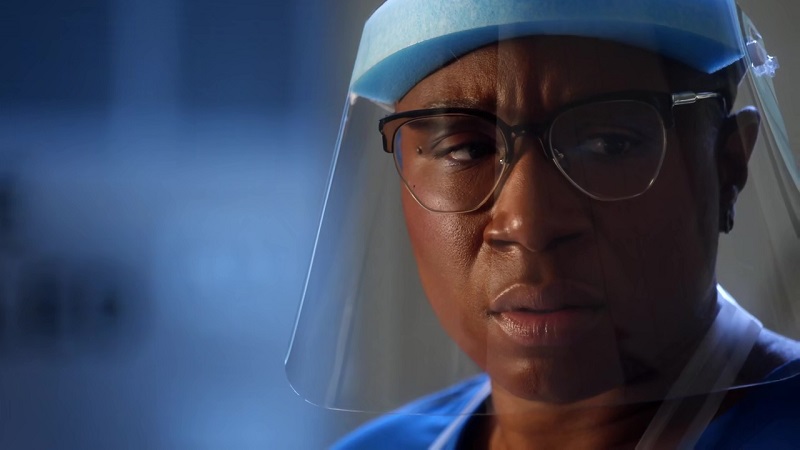 Henrietta Wilson is balancing a lot: she's married with two children, including a newly adopted precocious toddler, she's working full-time as a firefighter/parademic during the day and at night, she's attending medical school. She's been able to juggle all of it until she arrives in her Gross Anatomy and meets her lab partners, Luis and April Nardini.
Actually, the character's name is Sydney, but, in an exquisite bit of casting, she's played by the same actress that played April Nardini of Gilmore Girls infamy. On top of that, she behaves exactly like you'd expect a grown up April Nardini to act (which is, of course, awful). So, in short, I'm gonna call her April.
The sight of the trio's cadaver leaves Luis feeling a little squeamish and Hen tries to be soothing and supportive. When it looks like Luis is going to vomit before making his first incision, April takes the scalpel and does it on her own. But before she can finish her initial cuts, she faints and collapses on the floor. An ambulance is called but, of course, April refuses to go, dismissing the paramedics as "medical Uber drivers." When Luis reminds April that Hen's a paramedic, she offers no apology and instead turns to complete the dissection. She stays ambulatory this time and discovers that their cadaver likely died of cancer. Hen tries to be a supportive friend but April is clearly not here to make friends…she's just here to work.
Later, April shows up at Hen's front door. By the time she shows up, it's been a hectic day — Nia's chasing Denny around the house, hoping to add to the art she's drawn on his face, just as the social worker pops in for a surprise visit — so Hen's not really in the mood for whatever April's got to say. But, of course, because April has absolutely no home-training, she persists, asking for Hen to cover for her with their GA professor. Hen calls her out for only worrying about herself and then April lashes out, giving voice to all the doubts Hen's had about pursuing a medical career in the first place. Hen — as nicely as she possibly can with the social worker hovering nearby — shuts the door in April's face.
After getting a confidence boost from Athena, Hen walks into her next interaction with April with a steely resolve. When April insinuates that Hen doesn't have the fight to become a doctor, Hen reminds her that as a black lesbian, she has to prove herself in every space she's ever been in. Hen notices the HRT patch on April's arm and Hen explains that just prior to starting medical school she had surgery to reduce the likelihood that her BRCA1 mutation would lead to cancer and an early death, as it had for her mother and grandmother. Finally understanding why April's pushing so hard, Hen softens and invites April to work with her to accomplish their shared goal.
---
9-1-1: Lone Star 203: "Hold the Line"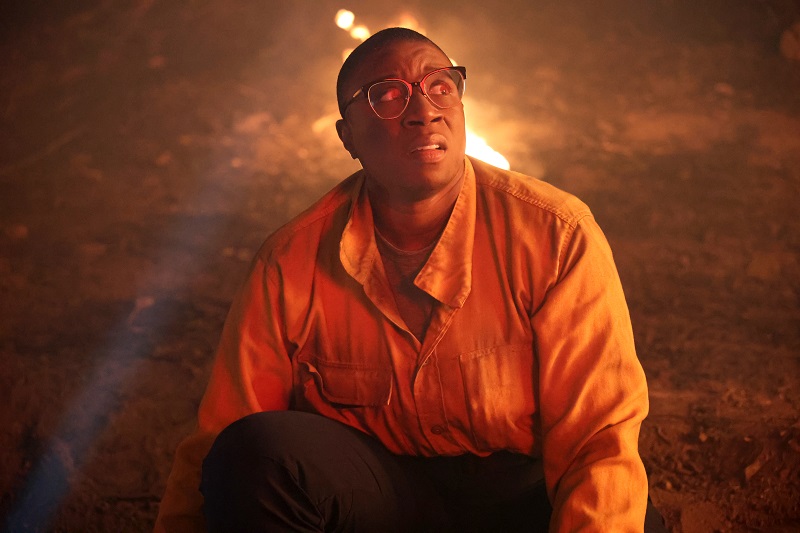 It was a double-dose of Henrietta Wilson this week as she and her Station 118 teammates, Buck and Eddie, head to Texas to battle a wildfire threatening to spread across the state. It's the first crossover event for the 9-1-1 franchise and, honestly, only the third episode of Lone Star that I've watched. I spent the entire first season avoiding it because of my disdain for Rob Lowe but then they added Gina Torres to the cast and, well, a girl can only resist so much.
When the team arrives at the staging site, they're all dispatched to their assignments: Buck to the fire line, Hen to the base camp medical unit and Eddie accompanying a strike team through the woods to search for some missing youth campers. Eddie's group navigates the woods on ATVs and is able to locate some of the missing kids. One kid, JJ, remains missing, though; still lost after having ventured out on his own for a solo expedition. The camp's counselor stumbles onto the scene, after having searched for JJ, with his burnt chest restricting his breathing. Eddie performs an emergency procedure to give the counselor's lungs room to expand and they send everyone down to the medical unit for additional treatment. With only two hours of daylight left and the wind shifting, Hen worries about the strike team and the missing boy.
In hopes of getting everyone back safely, Hen recommends that the Captain (the aforementioned Lowe) send an infrared-equipped helicopter up the mountain to expedite the search. Captain Strand is reluctant, given the wind speed and the encroaching fire line, but he volunteers to go himself…and, of course, Hen climbs in next to him. Once they're airborne, Hen's able to locate JJ using infrared technology and guides them through the process of stabilizing him enough for transport. The wind gusts make it impossible for Captain Stand to conduct the rescue so they leave it to the team on the ground and head back to base…only the wind whips the helicopter around and sends it crashing into the mountain.
Though the pilot sustained some injuries and Strand has a likely concussion, everyone survives. He finds abandoned mineshaft as a refuge from the firestorm. Strand and Hen make small talk about their respective families until the winds outside send a plume of smoke into the mineshaft and force them to take action. Hen plants their jackets outside to alert rescue teams to their position, while Strand sets up the mine's leftover dynamite to seal them in the shaft. They take intermittent breaths from their oxygen tanks to ensure that they can survive in the unventilated mine.
Worried that they'll die before someone can get to them, Strand and Hen trade stories of the guilt they carry. He talks about losing his team on 9/11 and even having lost a parademic on his team just recently. Hen can relate: she shares the story of the 16 year old girl she killed with her ambulance. The noxious gas overwhelms and Hen passes out. Thankfully, moments later Buck, Eddie and Strand's Station 126 crew arrive and rescue the fallen firefighters and the pilot.
---
All American 303: "High Expectations"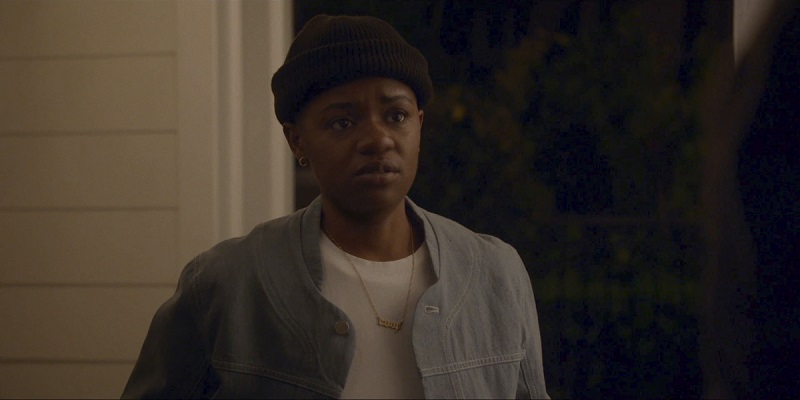 This week on All American, Coop opts not to heed Preach's warning about staying out of Mo's business and, instead, tries to investigate on her own. She spots Mo getting into it with a rival gang and when she asks about it, Coop's once again told to stay out of it. Later, she shares her suspicions with Spencer that something big's about to go down but he smartly points out that she's out of the game now so whatever Mo was doing with the rival gang isn't her business. But still, Coop persists, calling in a favor in exchange for information. Turns out, Coop's instincts were right, something big is going down: the cops have arrested the guy who shot Spencer James.
The revelation leaves Coop with more questions than answers so she goes to see someone who can give her answers: Mrs. Baker. The newly elected DA allays some of Coop's concerns — no one snitched on the shooter — but can't give Coop the information she wants. Baker explains that the shooter, perhaps driven by guilt, just came in and confessed to the shooting. Coop can't understand why someone would just confess to a case that had gone cold but the DA can't tell her anything definitive. Still convinced that Mo's up to something, Coop takes her paranoia to Spencer, just as he's suiting up for the first game of the season. Maybe Mo threatened the shooter or maybe she threatened his family, she speculates. Unsurprisingly, Spencer is less than thrilled about Coop's timing.
"Are you serious right now?" Spencer says, exasperated. "I don't need this right now. Look. I got enough problems of my own, all right? I ain't got time for your conspiracy theories."
Undeterred, Coop takes her quest directly to Mo, who is, surprisingly, candid about her involvement. She dismisses Coop's suggestions that threatened anyone and recommits to cleaning up the neighborhood, her way. Repeating the same thing Coop heard earlier, Mo says, "Tell Spence the neighborhood's looking out for him," and suddenly, I'm suspicious about Mo too. If someone was going to plan to get revenge on Coop, a good way to start would be isolating her from the community that cares about her.
---
Legacies 303: "Salvatore: The Musical!"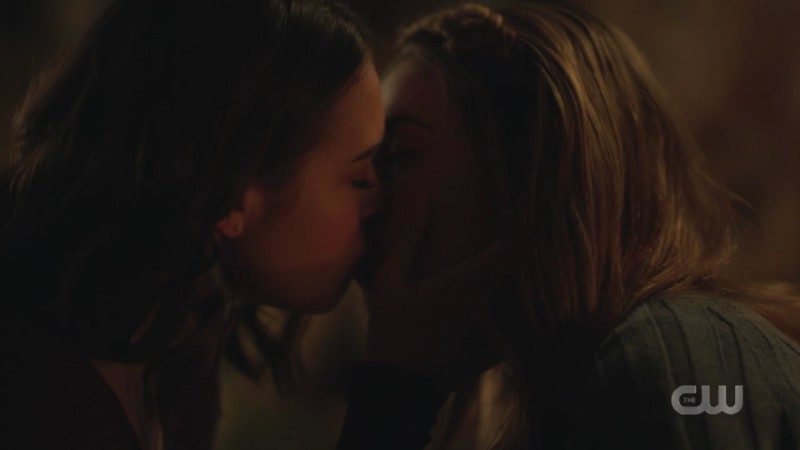 I know they're cheesy but I don't care, I will always love a musical episode of TV, and the CW shows always deliver. I especially loved this one because, having seen The Vampire Diaries and The Originals, Salvatore: The Musical! is a show I'd watch a full production of without question, especially if these sweet baby angels really starred in it. But, this episode of Legacies was everything that's great about this show while also being everything that's disappointing about it. The episode had some lovely twin moments, and had Josie, Lizzie, and Hope all taking a step back and examining their feelings. It had a VERY EMOTIONAL (for me, at least) voiceover from THE Caroline Forbes, telling Lizzie that her brain chemistry makes some things harder for her but that doesn't mean she's broken. The combination of the cameo and the words and just thinking about how far Caroline has come, and how far Lizzie has come, made me emotional. Plus, this episode featured more Kaleb which is always the correct choice. But then it also had Landon doing things explicitly against Hope's wishes and making everything about him and being rewarded for it. It also had Josie getting a glimpse of happiness then having it taken away.
At the end of the episode, Jade goes to see Josie to tell her what a great job she did playing Elena Gilbert in the show. Josie says that she really relates to Elena; everything around her stayed the same while she changed because of this traumatic thing that happened to her. Jade suggests maybe getting out of town, which I would argue is bad advice just because it would mean less Josie for me personally, but before she goes wants to make sure her and Josie shouldn't date. Technically Jade was her babysitter at one point, but also Jade was stuck in a prison world for a long time, so Josie basically caught up in age, and also Elena dated BOTH Salvatore brothers who were hundreds of years older than her, soooo I don't see the issue. Josie wants to at least have a real kiss that isn't dark magic induced though, so kiss they do. I wish I could believe this isn't the last we'll see of Jade, but knowing my and Josie's luck, she's gone the way of Penelope Park and won't be back.
---
Dickinson 207: "Forever — is composed of Nows"
I'm just going to say it: I hate that these Dickinson episodes are dropping weekly instead of all at once. Because for the first time ever I am frustrated with it, and part of me is hoping it'll work itself out but I've never had time to be frustrated with it before by nature of being able to see the whole package at once! But last episode when Emily hallucinated Sue telling her she was looking for love in all the wrong places, I thought Emily understood that all these strange emotions she was feeling about Sam weren't love but this episode she leaned into thinking she's in love with him even harder. Which she pulls Sue away at the spa to tell her.
Even though she looked at Sue directly in her face and said Sam makes her not able to write, she doesn't put together that love is what MAKES her write; think of all the poems she wrote to Sue! But just patiently tells her that Emily's anxiety about being published, about everything changing, it's all normal.
Eventually she tells her sister that "a man is ruining my life" and Lavinia tells her that doesn't sound much like her; she's an independent woman if she's ever met one. And ultimately it's her mother that tells her that she doesn't deserve to feel unwell, that that's not love.
Feeling better, and with Sue reminding her again she's in her corner, and emboldened by Sam telling her that her poem will be on the front page, Emily hands over every poem she's ever written to this man. Because forever is composed of nows… so why not now?