Take. A. Sewing. Class. This may be season 13 of RuPaul's Drag Race, but some things never change. Every year there are sewing challenges and every year a handful of queens approach these challenges with terrified shock. The only thing more certain than a queen breaking a sewing machine is that eventually there will be drama in Untucked. Thank God.
We begin this week with Kahmora's elimination. Denali is sad to send her Chicago friend home, but even sadder to have been in the bottom. She says she wants the other girls' respect as much as she wants to win, because Denali's whole thing is saying things that make me love her more. Kandy again starts digging into Elliott before naming Symone as her biggest competition, displeasing Tamisha. Now that we've sowed some seeds of drama let's sew some outfits!
But first there's a mini challenge. The queens dress up as babies and dance and I don't have much to say about this except that it was deeply unsettling!! While the other queens act like babies, LaLa wins by fully committing to dancing in baby drag. LaLa is a stellar performer — but, as we'll soon learn, a seamstress she is not.
The three looks for the Bag Ball main challenge are Mixed Bag (a look that uses the word bag as a pun), Moneybags, and a high fashion look they have to make out of bags. They scramble to collect materials for their last look, Gottmik comparing it to WWE. But the episode isn't all cat fights. Utica helps LaLa learn to sew — or tries to — and Gottmik shares some wisdom with Symone before gushing about her in a confessional. It's cute.
Meanwhile, Kandy is busy working on her semi-one-sided feud with Elliott who she calls Miss Double T. When that again fails to ignite, she walks us through her thot process on why grabbing a bunch of backpacks is going to lead to her aspired "howp_postslook. Short answer: First day of college!
We finally get some history on Tamisha and LaLa. Tamisha was the first person to put LaLa in drag, but LaLa didn't stick around long enough to be more than just an honorary Iman. Tamisha continues her mothering by throwing an impromptu ball after Utica says her hometown didn't have any. Several of the queens dance around the work room and it's a really nice moment. I want the queens to either be fighting, fucking, or family — this episode had two out of three.
Ru talks to the queens in pairs, being very much himself as he brings up Symone's inner saboteur and cracks up at his own jokes. We learn that Gottmik went to FIDM, Utica designs costumes for a living, and Joey describes herself as "edgy butch queen realness lipstick lesbianwp_postswhich sort of seems like a contradiction that screams I DON'T KNOW WHAT KIND BUT I KNOW I'M A LESBIAN. And that lesbian may have found her wife, because Kandy giggles as she admits to having a huge crush on Joey, even as she doubts Joey's fashion sense.
The workroom conversation turns serious as Symone brings up the murder of George Floyd and the ongoing uprising for Black lives. She says she's glad people are waking the fuck up and that it felt necessary for her to join in the protests. Kandy agrees. LaLa brings up the murder of Rayshard Brooks and gets emotional in the confessional. Tamisha points out that Black people have been fighting for years, it's everybody else who is now waking up. Tina then awkwardly brings up trans people and Olivia clarifies that Black trans people are, in fact, most at risk. LaLa says when they leave the competition they all have to agree to use their voices wisely.
I was reminded of a similar conversation that happened on the show five years ago. Season 8 winner Bob the Drag Queen brought up the importance of direct action for queer rights and racial justice and was framed as an outlier. The moment acted as an education for the other queens as Bob emphasized how important protest is to queer history and how much left there's still to fight for. Whether it's a reflection of change in our society or just a change on Drag Race, there's a clear distinction between that conversation and this one. It's not possible to be an apolitical queen, because drag is political, queerness is political, living in this country is political. Hopefully, the white queens internalize that. The conversation ends with Symone quoting John Lewis as she suggests they all commit to "good trouble."
We then go to the runway, where the ball is about to start. Ru is joined by Michelle, Carson, and, for the second time this season, comedian Nicole Byer. I hope she stays a part of the judge rotation, because as much as I've grown to love Ross and am horny for Michelle, Nicole is funnier than all of them and strikes a nice balance between critical and not too harsh. And this episode she's wearing purple sequins and has super cute high pigtails.
Anyway, the ball has 36 total looks and I am not going to describe each one, because I am not Raja Gemini and this is not Fashion Photo RuView. But I will talk about a few standout toots and boots.
In the Mixed Bag category, I loved Denali's airbag crash dummy, Symone's Diana Ross fun bags with deflating tits, Gottmik's body bag with her insides showing, Kandy's bag of tricks magician, and Rosé's bagpipe Scottish girl that once again shows Rosé's ability to be funny and sexy all at once. Joey's look is IV bag, something that's been done on the show before. It's gross when queens use illness and disability as a gimmick, and while the Poison Ivy thing she has going seems to be an attempt at subversion, she's unable to communicate this aspect of her outfit when the judges bring it up. So I don't know what to think!
And then Joey again uses disability in her Moneybag look with a tribute to Elle Driver from Kill Bill — it's almost like tributes to Tarantino will present several possible missteps! (Disabilities are not a costume!!) My favorite looks in this category were Denali's Cruella de Vil Wears Prada, Symone's pink reflective Fifth Element-inspired suit, Olivia's painfully hot powerhouse exec with orange hair, Utica's Carol Burnett meets Velma Kelly, and Gottmik's Gen Z CEO Swarovski pinstripe suit that was just… incredible
Finally, the sewing challenge! Or, in some cases, the hot glue gun challenge! Denali used floral bags to create a stunning Día de los Muertos-inspired look. Olivia used I don't even know what for a "gladiator Athena goddess.wp_postsGottmik is so hot in what she describes as Joan Jett meets The Matrix aka a tribute to trans lesbians everywhere. And Kandy does, in fact, pull off her naughty backpack schoolgirl. But my two favorite looks belonged to Rosé and Utica. Rosé is a fembot fatale alien goddess and while it's definitely one of the simpler looks, it's very well-constructed, and I love when the materials assigned in the design challenge are super visible in a clean way. Utica, on the other hand, is a total original in her outfit made out of sleeping bags that felt to me like a high-fashion take on Anna Margarita Albelo in Who's Afraid of Vagina Wolf? (Sorry, my references are obscure lesbian movies, not designers!)
Unfortunately, LaLa Ri is just in a body suit with some paper bags glued to it. It feels like she just sort of gave up and she finds herself in the bottom with Joey and Tamisha. Utica, Rosé, and Gottmik are the top. Nicole tells LaLa that she really needed to have a plan B when her initial idea wasn't coming together and Michelle tells Tamisha her first two looks were too simple and her last too complicated.
The queens return from a particularly fraught Untucked and Gottmik is declared the winner. The buzz on Twitter seems to be that Utica deserved it for her sleeping bag pussy, but when looking at all three outfits I have a hard time disagreeing with the judges.
LaLa and Joey lip sync to "Fancywp_postsby Iggy Azalea and I was certain LaLa was going to go home. But nope! LaLa is given a second chance and Joey sashays away. They both did a really nice job in the lip sync and I like both of them and if there weren't three episodes with zero eliminations I would've hoped for a double save. I guess they just felt that, despite her missteps this challenge, LaLa had more to show moving forward. I think that's fair. Sorry Joey — if you call yourself a filler queen, the people around you start to believe it.
And so to Kandy's dismay, and my own, we say goodbye to dykey faggot Joey Jay. She is, and will always be, super gay.
Teleport Us to Mars!! Here Are Some Random Thoughts:
+ Utica cites Carol Burnett as one of her influences and you can watch a tribute video she made to her (and Cher) with Kahmora Hall.
+ Speaking of Bob the Drag Queen, the product placement guy from Coach used a Bob quote this episode. I couldn't find the clip of Bob talking about protesting. but I can find this clip of her running for president. You should watch it and then follow her on all the things if you somehow don't already.
+ Summary of the Untucked drama! Kandy once again attacks Elliott who once again is too boring to make anything of it. But then Tamisha comes in and says there are queens she doesn't like and Kandy feels attacked and then gets upset when everyone agrees she's kind of arrogant. It's a bit silly to get upset over Tamisha when she just called out Elliott for being too sensitive. But I don't care! I like Kandy and it makes for good TV!
+ I projected sooo many middle school feelings onto Gottmik tagging along when Kandy and Tina went outside. It's like she wants to be in the cool crowd and stay with her little clique but she's also feeling a bit like yikes maybe I'm not on the right side of this thing. My group chat compared this to Mean Girls and not my middle school trauma — weird! — so please enjoy this meme made by Gaby Dunn: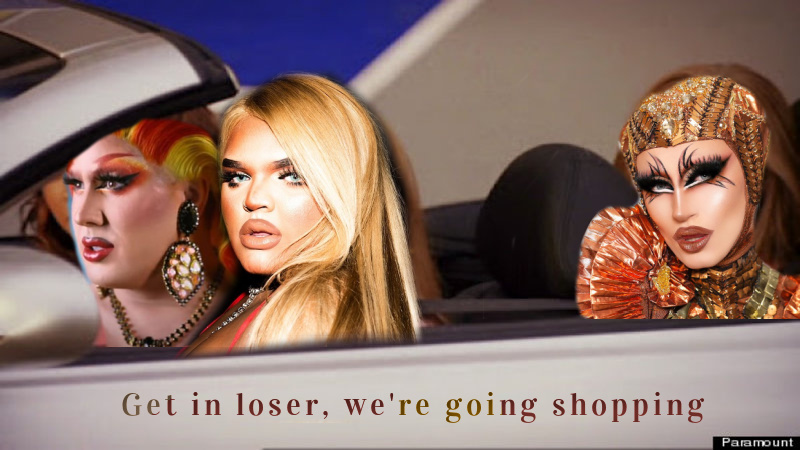 + Queen I'm rooting for: Symone and Denali
+ Queen I have the biggest crush on: Denali, Symone, Gottmik, Olivia, Nicole Byer
+ Queen I have weird sexual feelings for that I will no longer get to unpack: Joey Jay :(