A new survey of 2,300 people conducted by sex toy company Lovehoney has revealed that men and women want to have sex at very different times of day. As noted in a Jezebel article about the survey, "men are from Planet Six In The Morning and women are from Planet I Guess I'll Let You Stick It In Me Late at Night." It turns out men "are morning-wood style sex people, preferring to get it on at any moment from 6 to 9 a.m.," while "women are late-night munchies sex people, preferring sex from 11 p.m. to 2 a.m."
What about women who sleep with other women? Well, we just so happen to have the numbers on that! We asked you on Autostraddle's Ultimate Lesbian Sex Survey when you preferred to have sex, letting everybody pick multiple options. Late evening was the resounding choice, consistent with Lovehoney's findings. Here's that data: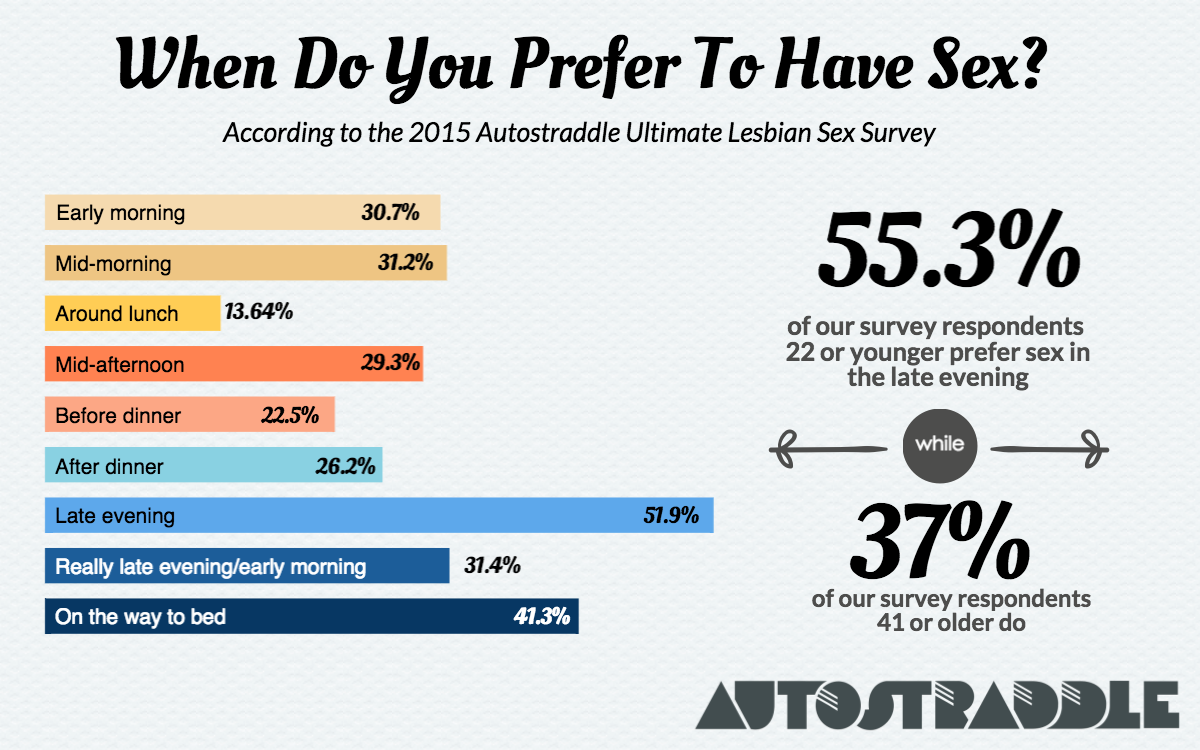 When looking at how times of day relate to employment status, it seems that students are the biggest fans of late evening sex, with 56.8% preferring it, compared to 50% of those employed full-time. And while between 35 and 38 percent of students, those employed part-time, homemakers and the unemployed liked sex in the late night / early morning, only 28% of those employed full-time do. Early morning sex was most popular amongst homemakers (38.4%) and people in the military (36.8%), followed by 32.9% of those employed full-time. The "unemployed and not looking for work" were least likely to prefer morning sex — only 21.5% do. Probably because they'd rather sleep in! Unemployed folks and those unable to work were most likely to state no preference at all, with around 40% of both groups saying so. Homemakers were the least likely to have no preference — only 28.8% are up for whenevs. We wish we'd asked about whether or not y'all have kids, as that undoubtedly factors in to when you're able to have sex.
Single women were also more likely to be flexible in their time-of-day preferences than those in non-monogamous or monogamous relationships. This is curious, but possibly suggests that people in relationships are factoring in their partners preferences when making their selections, or else that it's just difficult to conceive of a specific time you want sex when you're not regularly having sex with anybody at the moment.
People who have sex more often were also more likely to report a wide range of ideal times for having sex. Although "around lunch" captivates only 13.54% of the whole group, 28.5% of those who have sex once a day or more are up for a nooner. 41.5% could handle a mid-morning romp, compared to 31.2% of the whole group..
According to The Times of India, the reason men prefer morning sex is because testosterone levels are at their peak in the morning, whereas women's are at their lowest. Apparently mid-afternoon is the best time to have sex if you wanna get pregnant, but getting pregnant is rarely the goal of lesbian sex, so that's unlikely to be a major factor in your preferences.
Considering that lesbians have sex longer than heterosexuals do and mornings can be very busy times, you'd think that straight women would favor morning sex over lesbians, but that's not the case — the Lovehoney survey found just 11% of women ready to have sex upon awakening, compared to nearly three times that amount for the queer women who answered our survey. We also found no difference between time-of-day preferences by sexual orientation.
In conclusion, regardless of how you feel about Dan Savage in general, he's definitely correct that on Valentine's Day, you should have sex first and THEN dinner. Unless Ellen Page comes out, and then all bets are off.