Pick an arts scene, any arts scene, and you'll find your share of queer folks there, whether lurking in the corners or sparkling onstage. As a young Canadian writer coming to terms with my sexuality, the poetry community was especially inviting. The sheer number of queer Canadian poets is amazing — in some communities, especially among women, the ratio seems close to 50%. This was the first world I spent time in where a casual mention of a girlfriend, or a suggestively Sapphic poem, was not only acceptable but normal. It was a mirror for all my confused feelings and a breath of fresh air.
Queer Canadian poets tend to be experimental, to push against boundaries. They explore questions of identity from different angles, some by examining personal and collective history, others from a theoretical or epistemological standpoint (What do we know ourselves to be? How do we know it's true? Do we?). They tell it like it is, challenge our ways of thinking, and actively organize for change. Their words are hilarious, heartbreaking, and wise. Here are some queer Canadian poets — mostly female-identified — whose words have changed my world for the better.
---
1. Zoe Whittall
Zoe Whittall's novel Holding Still for as Long as Possible has a well-deserved shout-out on Autostraddle. But did you know that Whittall is also a wonderfully clever poet? Her collections The Best Ten Minutes of Your Life, The Emily Valentine Poems, and Precordial Thump hold a finger to the pulse of lesbian culture. I can't help thinking that Whittall would make a great Straddler. She's gritty, urban, socially conscious, and doesn't shy away from writing steamy/awkward moments that ring true. Her sassy blend of smarts and pop culture is a combination many of you will appreciate. Take this tidbit from her poem "Hall Building Prose Massacre":
"In a 1994 writing class I wrote a first-person story based on my life at the time. It was fast, flawed, inorganic and riddled with a cherubic innocence."
Who hasn't been there?
---
2. Nathanaël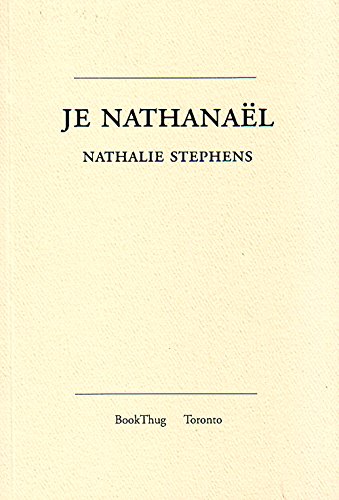 Mysterious poet-translator Nathanaël (formerly Nathalie Stephens) "writes l'entre-genre," a French term which means both between genres and between genders, in English and French. Her poems were my introduction to literary gender-bending, a revelation at the time. In Je Nathanaël she takes the persona of a literary character (André Gide's apprentice in his prose poem "Fruits of the Earth") as her own, crafting an alluring "queer boy" alter ego. "One body conceals another," the book's back matter promises, and this poet uses the idea of a there-but-not-there other to play, seduce, and question: "Who wants Nathanaël? I do I do. Only he doesn't exist. He is not kissing you." Nathanaël has about 20 books out now, some of which explore the different layers of city and text in much the same way she interacts with identity. It delights me that her gender-bending alter ego eventually became a permanent pen name. Some of her work is written in English, some in Frenc h, and some weaves between two languages, self-translating – making an art form out of bilingualism.
---
3. Leah Lakshmi Piepzna-Samarasinha
Leah Lakshmi Piepzna-Samarasinha's gutsy poetry reveals as much as Nathanaël's conceals. This Sri Lankan femme dynamo divides her time between Toronto and Oakland, where she's active in community organizing. Her books Consensual Genocide, Love Cake, and Bodymap dish up real talk about reclaiming Tamil identity, surviving childhood sexual assault, fighting for social justice, and navigating the imperfect loves and not-always-safe spaces of queer community. These poems are love letters, fierce and resilient. Read one and you won't be able to put the book down. As her voice grabs you, it imparts revelations:
"There are children who learn to fly young. Winging when Bad Things Happen, they have powers of escape, going out the top of their skull when life gets stupid."
Another gem is her take on young femmes performing beauty by glamming up and walking around town, "practising choosing who or no one to let touch them" — an act she dignifies as "doing hard work." Between co-founding a touring cabaret of queer and trans artists of color, Mangos with Chili, and Toronto's Asian Arts Freedom School, performing for Sins Invalid, and fundraising for Black Lives Matter through community healing spaces in 2014, her hard work is everywhere these days.
---
4. Sina Queyras
Poet-critic Sina Queyras is an all-around badass. Her debut collection Slip is a sonnet sequence that chronicles a lesbian romance. But Queyras really hits her stride in later books like Lemon Hound, Expressway, and MxT. Straddling the line between lyric and experimental, these daring poems draw from Virginia Woolf's novels, William Blake's Memorable Fancies, Google's traffic accident reports and Dorothy Wordsworth's diaries. Their verve is all Queyras' own:
"Yes I have hiked in the Laurentians. Yes, yes, yes I can find my way home. Yes with a zucchini. Yes with a water gun shaped like an eggplant."
Queyras liked her Lemon Hound persona so much that this "feminist flaneur" became the curator and title of her online magazine. Lemon Hound (the magazine) showcases new work while calling for mutual respect between poetry's disparate movements and increased involvement from women in literary criticism.
---
5. Dionne Brand
Dionne Brand is a novelist, essayist, former Toronto Poet Laureate, and one of Canada's most prominent poets. I love that a Black lesbian occupies that space. Her 18 books expose hard truths about the Caribbean diaspora's experience of exile, racism, gender inequality, and other forms of oppression lurking beneath Canada's peaceful facade. Her language sings through the pain as a way of calling it out. In Land to Light On, she portrays Canada's weather and politics are equally hostile; any peace she finds in exile there "is getting used to harm." Her essay "This Body for Itself" critiques literary representations of Black women that avoid their sexuality, and makes an argument relevant to your interests:
"The most radical strategy of the female body for itself is the lesbian body confessing all the desire and fascination for itself."
Her long poem thirsty will, sadly, strike a chord with modern readers. It deals with a police shooting of a Jamaican-Canadian man in 1980, who died whispering "thirsty," and the murder's ripple effect on his family and city. She asks, "would I have had a different life / failing this embrace with broken things, / iridescent veins, ecstatic bullets, small cracks / in the brain"?
---
6. Erin Moure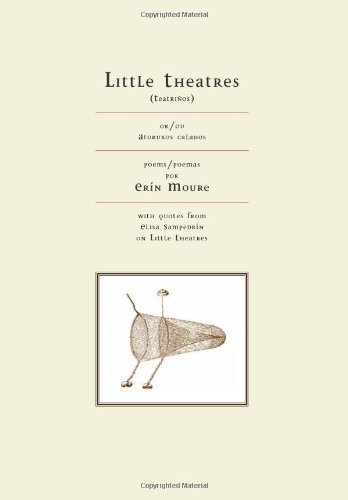 Erin Moure writes in an avant-garde vein. Like Nathanaël, she's a translator who crafts multiple identities. Elisa Sampedrin, a mysterious figure with a different biography than Moure's, makes her first appearance in Little Theatres as the author of a portion of the text. In O Resplandor, she translates Romanian poet Nichita Stănescu and leaves a trail of clues — a photo, jottings "fallen from a notebook… and caught on the heel of a shoe" — for the narrator, to follow. Prose poems narrating this treasure hunt interweave with poems and translations by both poets. Sampedrin has truly taken on a life of her own, popping up as the author, translator, and creator of other texts. "When I told people I'd invented her," says Moure in an interview, "someone in the audience disagreed vehemently and told me that she's making films now." Moure is interested in language as resistance, breaking up lines and inserting letters that don't signify anyt hing concrete, or inserting Galician words into English sentences. They may not mean something to the reader, she argues, but they're an act of resistance against the English language of rhetoric and war, one that gestures towards something beautiful.
---
7. Trish Salah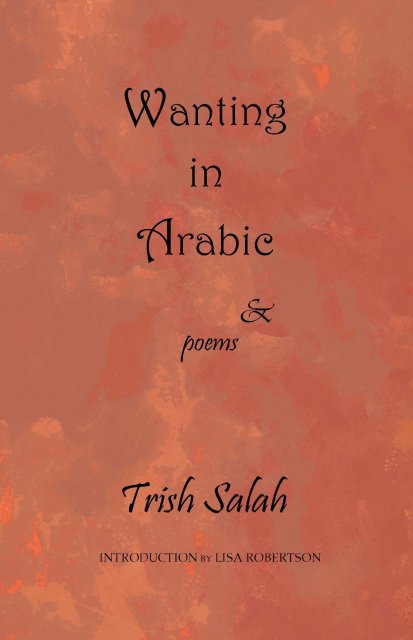 I've had the privilege of reading alongside Trish Salah, whose debut, Wanting in Arabic, seeks to piece together individual (trans femme) and collective (Arabic) identities from fragments.
A change of sex is not a suicide note.
What is a crypt?
She heard him with his word.
Veiled, crossed out, divide of his mouth still open.
She made her up–a language–we can only imagine
What does it mean to be Arabic when your ancestors' lands are at war, you've never been to Lebanon, and you don't speak your "father's tongue"? Salah's poems are lovely dialectics, sometimes weaving together two different voices on the right and left sides of the page. An early and instrumental trans scholar, Salah is equally at home with feminist theory and lush, kinky carnality. Her poetic voice is wise and ripe with beauty.
---
8. Rita Wong
Rita Wong is another writer intent on reclamation. Her first book monkeypuzzle is a lyrical examination of Chinese-Canadian identity. Like Piepzna-Samarasinha, she writes about the importance of claiming her native tongue while living in a country where it's marginalized:
this bittersweet taste:
words we no longer have
replaced by ones we no longer want
She enacts this beautifully by integrating Chinese words into some of monkeypuzzle's poems. In her second book, forage, her poetic concerns shift from the personal to the ecological, especially genetic modification, which she considers an experiment performed on us that we didn't consent to. Her current poetic project is focused on water, and is bound to be amazing.
---
9. Susan Holbrook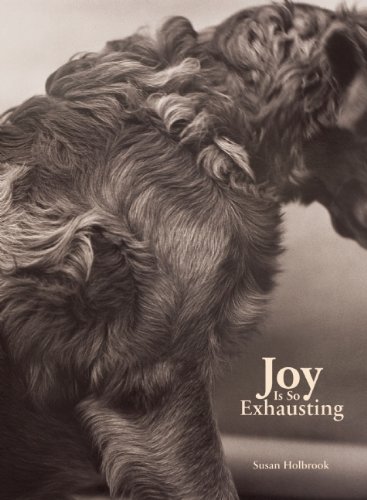 "Funny" isn't the first word I associate with poetry, but Susan Holbrook's Oulipo tampon poem had the audience in stitches at a Montreal reading. In "misled" she writes about the common childhood occurrence of misunderstanding words — "and 'laurels.' what else could they have been, and what else could they be, except buttocks, what else but butts. we were supposed to look down on people who 'rested on their laurels.'" Her second book, Joy Is So Exhausting, includes a unique take on motherhood — a long poem made up of lines written while nursing. It also features her howler of a tampon poem, which replaces certain words in a set of tampon instructions with nearby terms chosen from the dictionary:
"Your First Timpani? Take a deep Brecht and relapse. It's much easier to insult a tanager when you're religious."
Holbrook's gentle humor creates a climate where poet and reader can laugh at themselves together, even as emotionally weighted lines, like "the tomboy should now be comfortably inside you," are woven in. As she says in an interview, "I can get away with more feminist and queer critique if an audience is giggling."
---
There are many other queer Canadian poets worth reading, so I'll mention some of them briefly. Rachel Zolf has an affecting collection on Israel-Palestine warfare and a crowdsourced book called The Tolerance Project. It was created when Zolf registered for an MFA in order to follow her partner to the US, since their relationship wasn't legally recognized there, and it does a great job of exposing the absurdity of this situation. Larissa Lai, who's collaborated with Rita Wong, has some interesting takes on the relationship between technology and humanity. Sarah Dowling writes sensual fragments that make good use of spaces on the page. Dani Couture is a master of the edgy lyric. Margaret Christakos splices together bisexuality and motherhood in unsettling ways. Scottish-Canadian Sandra Alland does amazing work with sound poetry, and T.L. Cowan has great performance poetry out there. Then there are the classics: influential feminists Daphne Marlatt, Di Brandt, and French-Canadian Nicole Brossard, whose books are available in translation.
I hope you enjoy checking out some of these poets' incredible work. If you have any favorites you'd like to add to the list, I'd love to hear about them in the comments!