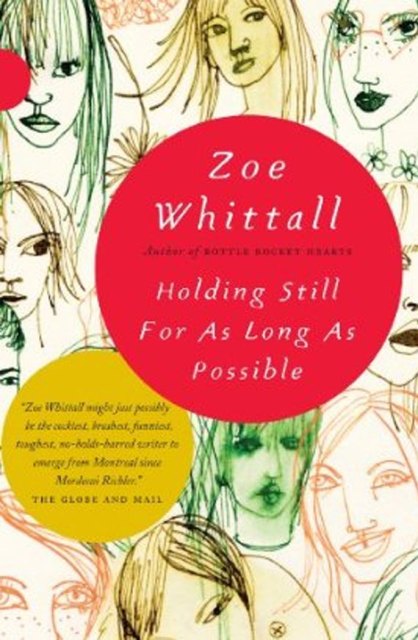 If you're anything like me, Holding Still For As Long As Possible by queer Canadian (and hot!) writer Zoe Whittall will keep you sitting still for as long as possible while you read on to find out what happens next. I spent most of last night sitting still for as long as possible in bed as I read the intertwined first-person narratives from Whittall's rotating 20-something-year-old cast of characters in modern-day Toronto. There's Josh, a paramedic in a flailing relationship with Amy. Amy doesn't understand how her once fireworks and magic and omg-you're-my-soulmate relationship with Josh, whom she met when he was crashing on a mutual friend's couch while recovering from top surgery, suddenly seems boring. But Amy also has a crush on Roxanne, an all-around cool queer lady with tattoos and lots of past lady-hookups she's turned into friends. Roxanne lives with Billy (or Hillary), a former Canadian pop-teen sensation who now works a boring, unsatisfactory job and has frequent panic attacks and all-around anxiety about everything. Billy just broke up with Maria and they still can't quite let go of each other, but Billy recently developed a crush on…Josh. Yup. We're now back to Josh. The crush-connection circle is complete. Still with me?
The characters' sexualities fluctuate as often as the novel's narrative voice. Each chapter is told from a different person's perspective. Holding Still For As Long As Possible seems to take place in a kind of post-identity politics utopia where everyone just goes about being attracted to whomever they're attracted to. The characters don't fit into boxes because there are no boxes. The book is post-box; post-gay. It's all very queer.
The main conflicts in Holding Still For As Long As Possible don't have to do with sexuality. Instead, they occur not only in the characters' complicated relationships with each other, but also in their relationships with themselves. Josh doesn't seem to think that much about being trans*. He has injured and dying people to attend to on an hour-by-hour basis, and his descriptions of his job give a glimpse into a career I hadn't ever really given much thought to besides, "If there's an emergency, you call 9-1-1 and the ambulance comes and you hope everything turns out okay." But what about the paramedics in the ambulance? How do they turn out okay when they see what they see day in and day out. Josh deals with dying patients, people who have shot themselves in the head or over-dosed in front of their small children, and then he goes and drinks some coffee, makes bad jokes with the other paramedics and comes home to his stale relationship. Yet, he's afraid of the raccoons who raid his garbage in the middle of the night. Fear, like relationships and sexuality, also can't be put into a box.
Zoe Whittall has a way of describing things in ways others don't. It's like you're in a whole new book-land where things are done so differently than you're used to and all you can do is sit back, take it in, be amazed and maybe learn something. When she has anxiety attacks, Billy is described as feeling on fire, like her skin and then her entire self is about to burst into flames, and like a fire, the anxiety keeps getting worse and worse, devouring everything in its path…everything, being Billy. Fame, even the Canadian version of fame, probably had a lot to do with it:
So I've been famous, the kind of famous where girls in grocery stores said to me, You made me believe in myslef/leave my abusive boyfriend/forgive myself for the abortion. Sick kids wrote me letters. There were Seventeen magazine articles. Minor endorsement deals. And what did I feel? More scared to die than ever. Before I'd been scared to die, but also, really excited to live and make my dreams come true. My dreams came true. Then I became scared that this was the height of feeling: watching from the stage while crowds sang songs about my silly little feelings. You were not anything they wanted to be, but they believed you were. They believed being you would make such a difference in their lives. Their belief anchored them. Pacified them…Fame makes the whole world seem ridiculous.
People like having other people on whom to anchor their hopes in times of fear and uncertainty. And in the book, like in real life, there is a lot of fear. Josh and Amy remember hearing about 9/11 and feeling like their illusion of safety had been shattered. Josh makes sure to wash his hands compulsively because of SARS. Amy washes with her ever-growing collection of soaps, hoping she'll be able to cross the widening rift between her and Josh with a bridge made from strawberry, cinnamon and vanilla scents. She has other idiosyncracies as well:
Like when I sit down to pee, I have to count down or I can't go. I don't know when I started doing this, but now, even if I've had seven beers or a quart of lemonade, I say 5-4-3-2-1! before I can relax enough to let it happen. I don't know why. I think it's kind of funny…The other thing is that when I'm having sex I have to think about something totally mundane to get off. Sometimes I'll repeat a word to myself, like yellow yellow yellow yellow or hand grenade hand grenade motorcycle pop-tart! Anything completely nonsensical and without sexual connotation.
Will Josh and Amy learn how to know one another again like when they first met? Will Billy be able to find calm? What's the deal with Roxy? And if she were real, would she judge me for not being as cool as she is and for sometimes listening to Britney Spears while eating McDonald's french fries? Will all these wonderfully complicated characters learn to unravel their complications and fears? Probably not. But will they braid them together and be a community and learn from each other and describe their weird pee-routintes as they do so? Don't you hope so?
If you like reading about Canadian queers who are afraid, hilarious and weird – just like you – and who get-off to pop-tarts – probably unlike you (or maybe like you? I don't know. You do you!) then you should probably get ready to sit still for as long as possible while being completely enthralled by Holding Still For As Long As Possible.