Learning to feed yourself can be one of the most terrifying things. Am I about to give myself food poisoning? If I eat this too often will I end up with scurvy? How can I get the most nutritional bang for my buck? Why does this still taste like ass?
With Ode to My Pantry, learn to navigate a grocery store without having a meltdown in aisle three. Give a man a fish and feed him for a day, teach a queer to cook and stave off malnutrition for another semester.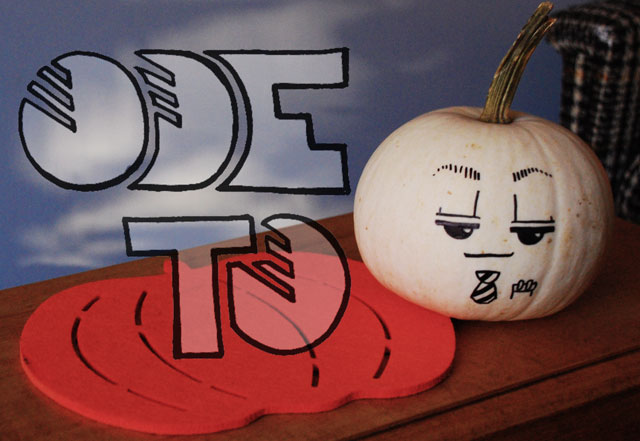 It's already November! Meaning you've almost run out of opportunities to wear and rewear your Halloween costume. Even moreso, this means that your poor ol' Jack O'Lantern is well on it way to decomposing. If you don't believe in speeding up that process with firecrackers or pumpkin tossing and actually want to eat it, you better act fast as they tend to last five to ten days. If you had unseasonably warm temperatures, you're probably out of luck, but if you had a cold snap (without dipping below freezing) this weekend, Gord can get a second shot at the big time.
It's kind of sad that pumpkins are used more for mere decoration than the true dinner table stars they ought to be. Low in saturated fat and rich in vitamin E, B6, iron and fiber, your plump little pumpkin also comes loaded with potassium, making it perfect for a post-workout pick me up. A member of the Cucurbitaceae family (just like cucumber and watermelon), pumpkin and the other Curcubita are a bit more robust than their cousins. They have a thick waxy skin which should reduce water loss and keep your pumpkins plump and happy for 2-3 months. Just be sure to pick a pumpkin with a firm, solid stem free to ensure a healthy specimen.
Bring in your Jack O'Lantern and check for any mold or squishy spots. If it gets a clean bill of health, crack it into halves or quarters and lightly brush with olive oil. If you're hoping for roasted cubes, peel your pumpkin pal and slice it up while it's still firm and a finger-friendly temperature. But if you just want pumpkin puree skip the peeler. (We can't all be heroes.) After 45-60 minutes in a 350 degree oven, the flesh should be browned, soft and forkable. Vacate your cubes or eviscerate your orange friends with a spoon before blending.
As an added tip, fill up a bunch of Ziploc bags and lie them flat in your freezer. When they're frozen stiff you can file them vertically and save a bit of freezer space in the process.
Now what should you do with your orange bounty? Earthy pumpkin is less assertive than other gourds, but its back-seat flavour profile and mild sweetness means its perfectly suited to be paired with earthier flavours or substituted for other squashes. Pumpkin and goat cheese risotto. Creamy pumpkin pasta accented with rosemary. Pumpkin and kale pizza. Or my personal favourite, curried pumpkin soup topped with roasted pumpkin seeds.
When it comes to sweet, pumpkin's moist creamy consistency subs in well for fats and that already ubiquitous pantry proxy. Why not turn your banana bread into pumpkin bread instead? Or pumpkin pancakes? Pumpkin _____? Just be sure to add a bit more sugar since bananas are sweeter than your veggie offering.
But even as we're rounding out our meals, we all know that pumpkin pie is top as fall comes around. The flavours transfer well to pumpkin bars, granola and veganized pie. If making a dessert each morning seems like too much work, just go the barista route and make a pumpkin spice latte instead. And no, not by buying their syrup (or spending $6 (When the fuck did it become so expensive?)), but by making it instead. Call me crazy, but I think pumpkin spice syrup should contain some pumpkin.
Simmer all of the ingredients together for at least 15 minutes until it's homogenous and fragrant. Strain into a glass bottle, trade with friends and throw your stash in the fridge. Most recipes say it should last around a month, but some friends have been drinking theirs well into the spring. Be sure to use a clear bottle so you can check for any fuzz, cloudiness or extreme discolouration that might make your pumpkin spice latte a little less merry.
If you're left with a few gourds and don't think you or your freezer can stomach anymore, you can just slap it on your face instead for a harrowing yet healthy face mask. Mix pureed pumpkin, yogurt, honey, ground almonds and olive oil into a slurry worthy of a pie. Instead of reaching for a pie shell, use a spoon to spread the pie filling over your damp face. After 5-10 minutes, wash it away for soft, moistened skin that'll have a better chance at surviving this November chill.