Sometimes, SOMETIMES you can't cover your face with smokin' hot lesbians. When this happens why not cover your walls with them instead!? That's where the 2014 Autostraddle calendar comes in!
---
Lynn is Miss November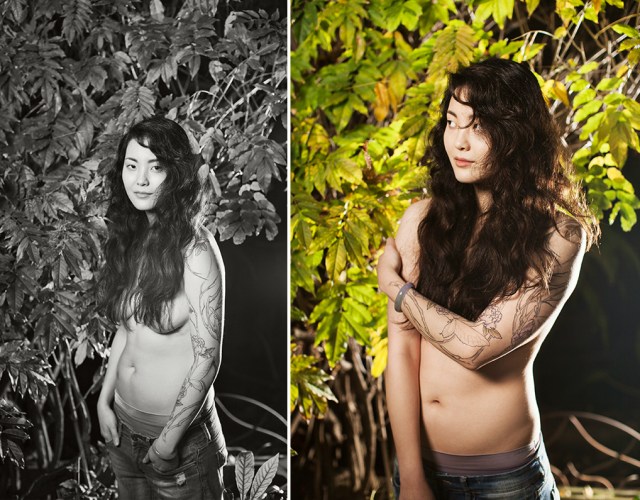 Where are you from?
I was raised in Shanghai, China, but I spent the last four years in the Bay Area and only just moved to New York.
Occupation/major/passion:
Money and pussy! No but seriously…
I have been very fortunate in my life to find something that I love so much it moves me to tears. Having just completed my BFA in Jewelry and Metal Arts, I can honestly say that the amount of work that went into it would move anyone to tears (and cause many painful injuries), but I loved every second of it. There is something so timelessly wonderful about metal, the way it outlasts everything else through history. There are few other materials that can withstand the tests of time; books can deteriorate, memories forgotten, but anything from a metal statue to the remains of a shipwreck, to even the smallest family heirloom jewelry can prevail while everything else degrades. I find it comforting to know that the work I make will endure however fragile my existence may sometimes feel.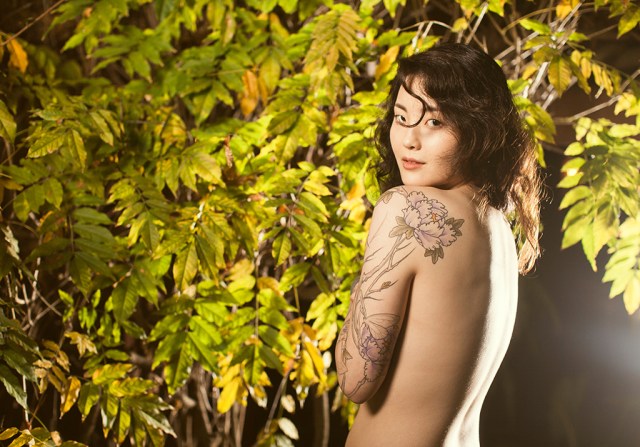 Why did you want to be a part of this project?
Autostraddle is awesome, what queer wouldn't want to be a part of it?
Years ago, I found Autostraddle while Googling the realities of my curiosities. Since then, the articles have guided me through my coming out, then in, then out again as I phased in and out of fear, denial and anger. For the most of my life, (keep in mind that I'm only 22) I was covered head-to-toe in issues as I struggled with my identity and self-loathing. Finding Autostraddle was like a breath of fresh air, you made me feel okay and allowed me to take a step back from vicious cycles of self-destruction. I never tried OkCupid until Autostraddle posted an article about Oh Gay Cupid. As for sex toys? I NEEDED advice on that! And all the beautifully written prose of other queers' experiences, the laughs and tears of their coming-outs. All of that made me feel sane in my own skin, made me realize I was still human after all — which was all that I really needed. So this is what I mean when I say Autostraddle is crazy, sexy beautiful, and everything I ever wanted in a website… so again, what queer wouldn't want to be a part of it?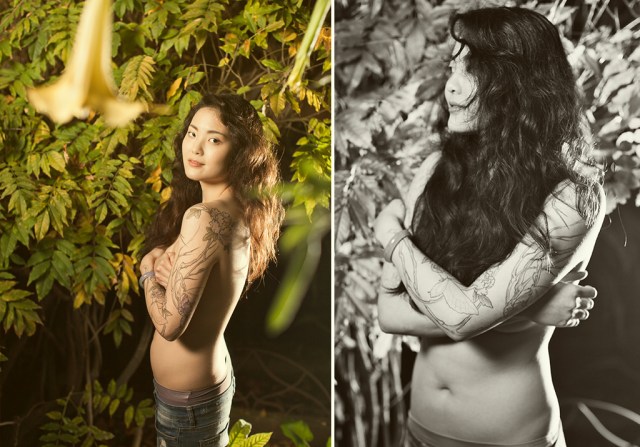 ---
Artist's Statement from Robin Roemer:
I want to start off by saying I wish I had a few weeks to photograph each of our 130 applicants, because they were all beautiful and inspiring! We are honored so many of you wanted to participate and we hope, at some point, we can work with each one of you. I mean that most sincerely.

This year we went through our applicants based on the survey first, the photos sent in to me had little to do with who our final picks were. We chose based on answers to a variety of questions. We wanted people who really had a sense of what the project was all about, were readers of Autostraddle, and were involved in their communities at home. We wanted women bursting with energy and love. Second, we wanted to represent our incredibly diverse our community: beauties of all different shapes and styles and backgrounds and gender expressions. Finally we found ourselves with 13 models — its 2013 now so twelve just wouldn't do — who we feel represent some of the most brilliant our readership has to offer. I hope each of you, especially those of you who applied and were not chosen this year, enjoy this year's calendar.
Crew:
Co-created by Robin Roemer and Sara Medd
Photographed by Robin Roemer
Wardrobe styling by Sara Medd
Hair by Taylor Stevenson
Make-up by Marla Verdugo
Line Production, Location Scouting and Catering: Sarah Croce
Design, Location Scouting, Production assistant: Alex Vega
Lighting Assistant: Kamila Baker
Production Assistant: Christina Bly
Puppy Wrangler: Mollie Thomas
Special Note: As of December 2010, we request that the comments on Calendar Girls posts, unlike every other post on this site, be exclusively positive and remain on-topic. These posts exist to celebrate women, so any  criticisms of the model, her appearance or the appearance of the Calendar Girls as a whole will be deleted. Furthermore, any direct questions/concerns about the project in general can be directed to robin at autostraddle dot com!