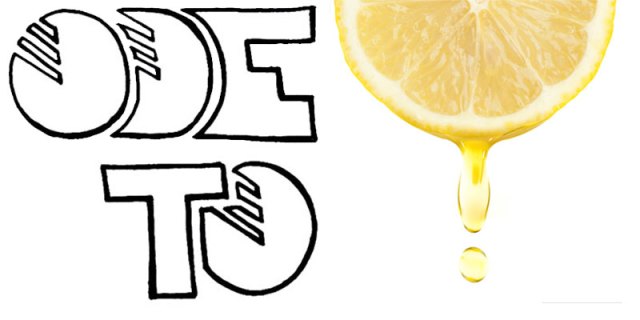 If I were to list the most universal flavour enhancers in my kitchen, right after salt, pepper and garlic, you'd find a familiar yellow orb. It might be small and unassuming, but it's definitely a culinary chameleon. Wanna whip up a vinaigrette but don't have any vinegar? Need to prevent an avocado from browning? Do you have to save a sauce that tastes kinda dull? Why, I've got my little friend right here!
If you're anything like that five-year-old I met last weekend, you could just chow right down on your lemons – skin, seeds, pith and all. But if you have a particular culinary use in mind besides shoving-it-in-your-face-until-you-cry, let's figure out the perfect tools and techniques for the job.
Let's Get Juiced
That little pep of citric acid is great to perk up sauces, salads, fruit and cocktails. It'll add a bit of freshness to otherwise stale or bland flavours, but if you're relying on lemon's tangy taste, you gotta figure out how to get inside!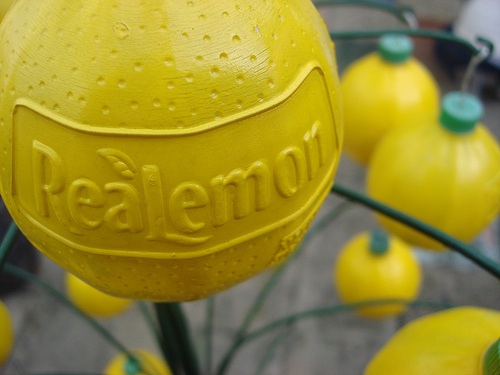 ReaLemon was my family's calling growing up, but if you've had a squirt of a plastic lemon bottle and the fresh stuff, you'll know that their name's a bit of a lie. It's re-constituted lemon juice concentrate and a bunch of preservatives that gives each squeeze a slight bitter-metallic tinge. Sure, they taste lemon-y, but in the same way that Coors Light is beer-y. Luckily juicing is a breeze! I'm sure you already know how to cut a lemon in half and squish the juice out, but you can definitely make the task more efficient.
Can't find your juicer? Just reach for a fork instead. I find sharp tines are better for pulverizing pulp than any reamer, press or sculpture I've met.
Wanna make your lemon juicier? Roll 'em across your counter until they're soft. If you happen to have a microwave, lob it in there for 30 seconds too! It'll loosen up the pulp by popping a good number of juice sacs. You can also make the juicing process more productive by cutting from stem to blossom instead of cross-wise.
Trying to get rid of your pips? Hold your lemon cut side up and jam your reamer into it to pulverize the pulp. If you do it carefully, you can pour off the juice while the empty rind "cup" holds onto all of the seeds. If that seems too complicated, juice it over a tea strainer. As an added bonus, it'll catch the pulp so you have another opportunity to pop it for a bit more juice!
Can't use up your lemons before they fuzz? If keeping a stash of fresh lemons just isn't an option for you, throw your extras deep in your freezer. They'll defrost lickety-split and all of the pokey ice crystals that normally spell doom for your freezables will tenderize the pulp so it's super juicy! Keep in mind they won't come out pretty, but if you just need the juice, do you really care?
Need something even more convenient? You could try one of these lemon juice only brands, or you could make your own lemon ice cubes. If you're up to the challenge, go to town juicing when lemons are on sale. Fill up an empty ice cube tray and transfer your bounty to a freezer bag once they're solid. Then you can just sub a thawed cube for a lemon whenever your recipe calls for a fruit since they're both approximately two tablespoons.
Make It More A-Peeling
Tasty lemon flavour isn't limited to the juice! For the longest time I despised rind as those nasty bitter chunks that kept popping up in my hot cross buns. But after a while, I realized that lemon oil can add another dimension to drinks, dinners and desserts! The trick to lemon happiness is just getting the oil-rich skin while avoiding the bitter pith. 

Need to get some zest into your recipe? Zesters are pretty but they're also pretty damn useless since it prevents you from harvesting all of the rind and gives you long strips that require a second chop! Unless of course you're into flossing your teeth with lemons? (You chew you!) Make zesting a one-step ordeal by running it over a fine or microplane grater instead. Give it a few rubs and switch to a new spot as soon as you see white poking through. You'll be left with the lemoniest lemon flavour that ever lemoned!
Want a giant piece of rind? Instead of taking the time to try and shave off an impossibly thin layer, just hack off a giant swath with a paring knife or potato peeler. If you manage to do it pith-free, congratulations but if not, there's an easy fix! Just turn the skin onto a cutting board with the pith facing up and use a spoon to scrape off the white until you see all of the dimples! Bam. Lemony perfection.
Need a pretty spiral? Take one of your pithless peels and use a paring knife to cut it into ribbons. Curl it around a chopstick and throw it in the freezer for a minute to help set the shape. The pithless peel should curl up pretty tightly without all of that pith in the way!

Need a stronger flavour? If you're making a cocktail or a dessert that's craving a bit more lemony oomph, make some fireworks! Cut off a chunk of skin and twist over a flame onto your cocktail to ignite some of the oils. The added heat will intensify the flavour, while the tiny pyrotechnics will impress your friends! Just be sure to aim it away from hair, clothing and other less-than-delicious flammables. 
Is your brown sugar too hard? Yeah, you heard me! If you have a leftover chunk of skin (sans pith and pulp), bury it your brown sugar to keep everything moist. Just like those terracotta discs, it'll keep everything humid enough to stay scoopable.
When it comes to lemons, you can also turn it into candy or turn vodka into limoncello! Or preserve whole lemons in salt to use as a citrusy pickle in your recipes. Or just use the leftovers to clean up the mess we just made!
---
With Ode to My Pantry, learn to navigate a grocery store without having a meltdown in aisle three. Give a man a fish and feed him for a day, teach a queer to cook and stave off malnutrition for another semester.Learning to feed yourself can be one of the most terrifying things. Am I about to give myself food poisoning? If I eat this too often will I end up with scurvy? How can I get the most nutritional bang for my buck? Why does this still taste like ass?