Learning to feed yourself can be one of the most terrifying things. Am I about to give myself food poisoning? If I eat this too often will I end up with scurvy? How can I get the most nutritional bang for my buck? Why does this still taste like ass?
With Ode to My Pantry, learn to navigate a grocery store without having a meltdown in aisle three. Give a man a fish and feed him for a day, teach a queer to cook and stave off malnutrition for another semester.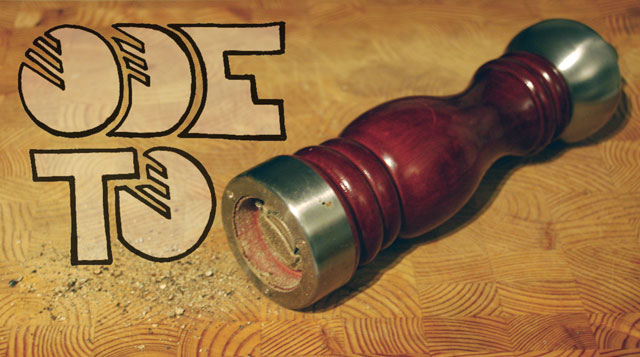 Back in the day I wrote an ode to salt and it would only be fair to give its pantry pal some screen time. Even though they're commonly paired at your dinner table, pepper is so much more than the ying to salt's yang. Pepper can do tricks! Piper nigrum can transform into a rainbow of flavours and pungencies with a few processing tricks along the way. The King of Spices, once valued as a trade good worthy of Roman dowries and taxes, has been delegated to little more than a tabletop seasoning, but the king can reign again with your help!
Black
Stay away from packaged, pre-ground stuff
It's called pepper but that's just a bluff
The flavour should be prized
But dust's oxidized
Lacking the flavour prized
So it never tastes peppery enough
Use a grinder to give 'corns a whack
Piperines spew when their armours' crack
Store 'em whole without air
To keep for months in there
They'll stay pungent instead of just black
Peppercorns are stripped of their skin
Rubbed to reveal the seeds hidden within
Not quite as strong
But still invited along
In dishes where black flecks'd be a sin
Green
Piper nigrum's berries used afresh
They're picked when they still bear green flesh
Their shelf life is fickle
So freeze-dry or pickle
Preserving flavours both mild and fresh
Pink*
An example of a misnamed spice
But this Peruvian pepper's still nice
Provides a soft crunch
Without packing a punch
Even playing well with creams made of ice (thanks Cara!)