This soup is the easiest and it is the best. It's even better than carrot ginger soup, which is saying something. Excuse me while I wax harmonic about the wonders of hand blenders.

Leek and Parsnip Soup
Ingredients:
2 tbsp olive oil
3-4 large leeks
1 pound parsnips
1/4 cup dry sherry
4 cups low-sodium vegetable broth + 2 cups of water
3 sprigs fresh thyme
2 bay leaves, broken in half
1/2 to 1 tsp freshly ground white pepper, to taste
2 tbsp fresh thyme, chopped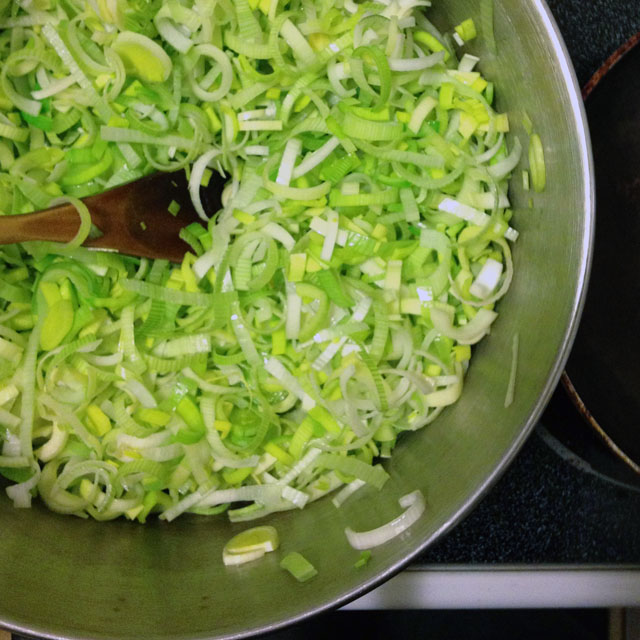 Directions:
1. Wash and drain the leeks. Chop the white and light green parts roughly and toss the dark ends. Peel the parsnips and cut them into smallish pieces. You're going to blend everything later so it doesn't really matter how you cut everything up, but aim for 1-inch chunks.
2. Heat the olive oil in a large pot over medium heat. Add the leeks and cook until they start to soften, which will take about ten minutes. Add the parsnips and cook for another two minutes. Add the sherry, turn up the heat and cook, stirring often, until most of the liquid evaporates.
3. Add four cups of broth and two cups of water. (I use four cups because that's how much is in a tetra pack plus two cups of water because it needs it, but if you have six cups of broth, or prefer chicken to vegetable, you can use that instead.) Add the white pepper, bay leaves and sprigs of thyme. Cover the pot and bring everything to a boil, and then turn down the heat and simmer until the parsnips are tender.
4. Remove from heat and let stand for about 10 minutes before you fish out the thyme and bay leaves.
5. If you have a hand blender, use it and avoid splattering the ceiling. If you have a food processor or blender, blend in smallish batches for a consistent texture (and don't forget to hold the lid down).
6. Garnish with freshly chopped thyme and additional pepper to taste and serve.
Adapted from Fine Cooking.