You may think that packing your bags to go to Palm Springs for Dinah Shore Weekend would be just like packing for any other vacation, and you would be so incredibly wrong! When you're getting your stuff together for the biggest lezzer bikini dance party crazyfest in the USA, you have to make sure you consider every possible situation that could arise, including but not limited to every single person getting her period at the exact same time. Also, needing a ponytail holder.
Lucky for you, Team Autostraddle has braved the wilds of Dinah Shore Weekend before. So we're exceptionally qualified to give you all sorts of advice on what to bring and how to be prepared for the debauchery — I MEAN GOOD CLEAN WHOLESOME FUN.
+
Taylor
1. A corkscrew. You'd be surprised how frustrating it is when you don't have one. Last year Julie Goldman saved my life, and you could make so many friends if you had a corkscrew on you. Believe me. Or circumvent this issue altogether and see #3.
2. Inflatable anything. Kelsey and I picked up an inflatable shark and turtle and the rest is HISTORY. By that I mean, Kelsey posed for lots of super cute photo-ops with those guys.
3. Franzia. Just kidding, you should totally pick this up there. You know, the TSA and all. You're going to need Franzia in the morning just to make it to the brunch place where a bloody mary will cure what ails you. Or I mean, not drinking is probably an all-around smarter idea.
4. A cute dress and some cargo shorts. Depending on the crowd, you can tinker with your gender presentation accordingly to feel like a special snowflake.
5. A camera. Palm Springs is beautiful… you should really get your drunk ass out of that hotel courtyard.
+
Sarah
1. A bottle opener. Actually, just bring a lighter because it can double as a bottle opener and that fire is also going to come in handy.
2. Large sunglasses to help you avoid being recognized in the background of The Real L Word Dinah episode.
3. Hair-dryer/straightener/whatever that can handle being covered in mojito/being used by five lesbians at all hours of the day. My straightener hardly survived last year.
4. Board shorts. Several pairs.
5. TAMPONS and some aspirin. You will start your period if you go to Dinah Shore, there is no other option.
+
Laneia
1. First-aid kit. Last year mine included Advil, four tampons, two sporks, some band-aids, electrical tape, a small bottle of hydrogen peroxide, Neosporin, matches, hand sanitizer and a Sharpie. This year I'm adding ACE BANDAGE + LIGHTER. Learn from experience.
2. Several bottles/spray cans of sunscreen. No one else will bring any, or they won't bring enough, so they'll steal yours.
3. Bandana. They're cute and useful. The key is to cut them in half. You have to cut them in half.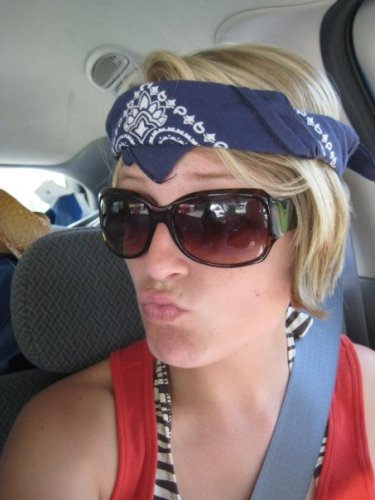 4. Wisps!
Just can't stress this enough. When your breath is fresh and minty and your teeth are clean, you're 89% more confident when you ask to borrow Julie Goldman's bottle opener. Or whatever, I mean, you know.
5. Cash. And not just twenties. One of you will be the one who gets the coffee, but probably it won't be you. You'll need to pay that person. That person may or may not run into Miley Cyrus while accomplishing this task.
+
Kelsey
1. Reusable water bottle. Some have trees on them so you can be like, "Hey Look! I love nature!" Chicks dig that.
2. Reusable tumbler with straw and lid
to maximize your drinkage to spillage ratio. Also it's easily identifiable and you don't have to worry (as much) about being poisoned by girls who just want to get in your pants.
3. Sunglasses
so you never have to make eye contact with anyone and can check out anyone you like without them knowing. May I suggest the kind you get from Chinatown/street vendors/H&M for $5 so that it's not a big deal when they inevitably break or you give them to some girl who would look cute in them or they are inevitably stolen. May I also suggest buying them in a bright color, like red, so you are easily identifiable and immediately cool.
+
Riese
1. Tonic to go with the vodka to make my signature drink, the VODKA VODKA tonic.
2. Either Ambien or an iPod, which you should pre-load with Baby White Noise and then stick in your ears and put on repeat and block out everybody's noise to sleep soundly. Because everyone is going to be snoring, making out, or kicking you in the throat.
3. Something black for the white party: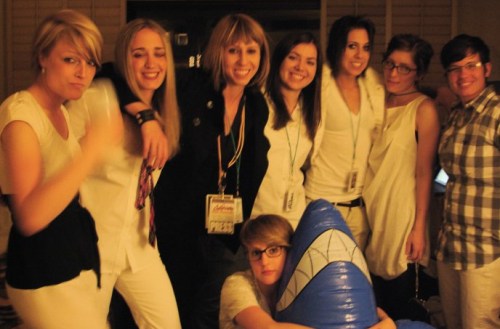 4. Six white Hanes a-shirts, aka "beaters." Goes with everything and it's not too sad when you spill mojito on it because it only cost like $4.
5. Your laptop so you can read our liveblog.
+
Jess R.
1. Snacks Good, healthy, cheap food is hard to come by at these all-day pool party situations so make sure to stick a few protein/fiber bars in your bag for those afternoon low blood sugar lulls. Otherwise, you may have to spend $10 on a bag of chips and half cooked veggie burger.
2. A hoodie. I froze my ass off last year because I thought Palm Springs would be 80 degrees. Turns out it's the desert and the desert gets cold at night. Consider yourself warned. And if you bring an American Apparel hoodie, you could rock the Justin Bieber lesbian look.
3. An outfit for the White Party. There's a party Saturday night where everyone has to wear white. I believe it's called The White Party. A lot of us have issues with wearing all white, and we're Autostraddle and therefore rebel against authority, so we sometimes wear black to such events. Use your discretion.
4. Five Hour Energy/Red Bull. Not only does this keep you awake for the non-stop partying, it also goes great with vodka.
Rachel
1. Xanax.
+
Julie and Brandy
1. Beer opener/wine opener/pill cutter.
2. Beer/wine/prescription pills.
3. Loose tank top to put over your bikini top while at the pool. This will cover your stomach, but show side boob!
4. Feather earrings. These are a must if you want to RULE at lesbian nighttime functions.
5. Scarf and/or fingerless gloves for fashion and function. It's actually quite chilly in Palm Springs at night.
I feel like the moral of the story is: bottle opener. Hey! Are you going to Palm Springs with us? Have you been to a similar event which enables you to pontificate on this topic? Are we forgetting anything?