Hello and welcome to a very special exciting time of year known as
The Month Before Dinah Shore
It's time for a lesbian vaycay, y'all. Team Auto went to Dinah Shore Weekend last year for the first time as a group and boy were our arms tired. (That's what she said.) Dinah Shore is the biggest lesbian event of the year and is a celebration of the lesbian lifestyle and you should remember it because we live-blogged the whole thing. I mean, it was serious. We all met each other for the first time in 3-D real life and we had a verbal "reply-all" and were basically the nerds and geeks that we are, except we did it in Palm Springs with a shitload of other lesbians. Here's a trip down memory lane via photographs:
#desertstraddle2010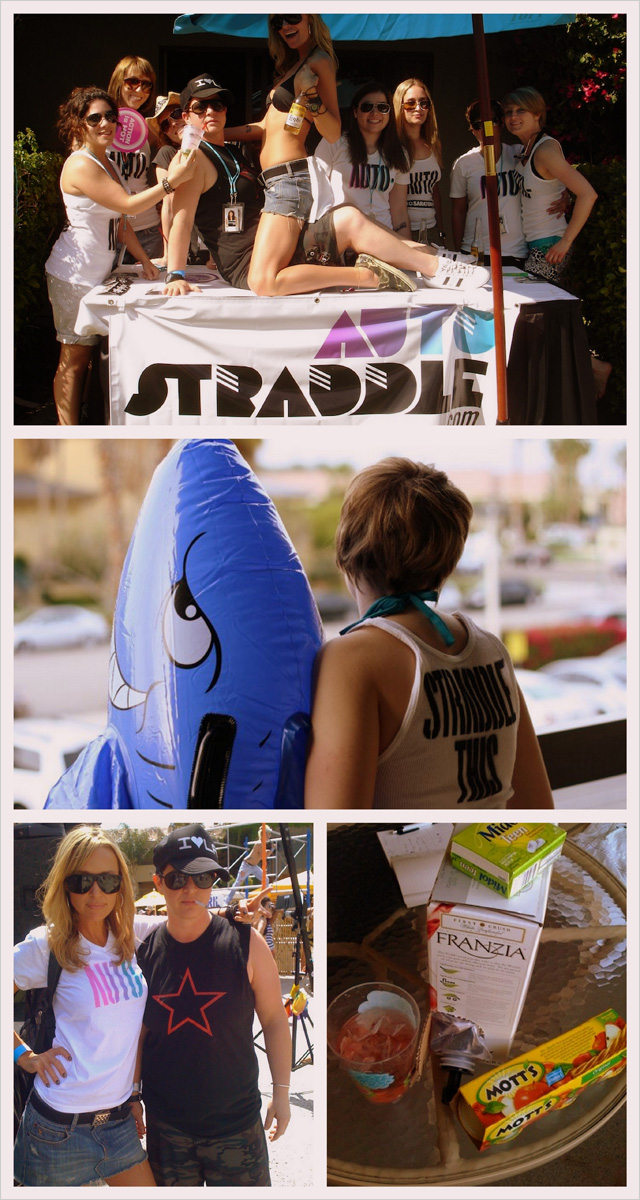 So obvs we're going back. And this year we're happily hitting up GirlBar's Dinah Shore festivities for the weekend of March 30th to April 3rd, 2011. Are you coming too? Would you like to come? Come! We're staying at the Hyatt, and we can all have a hypothetical sleepover! Julie & Brandy will be there, Liz Feldman will be there, Erin Foley will be there… well a lot of people will be there, but we'll get to that later this week.
Riese and I have made this handy checklist / quiz thing so you can determine whether or not you should go to Dinah Shore 2011!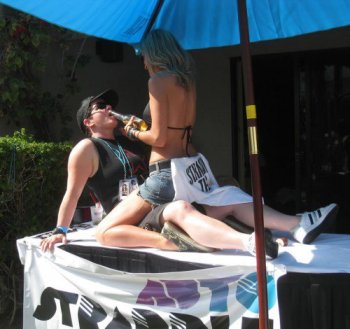 I enjoy: (check all that apply)
+ hotel rooms / hotel hallways
+ drinking before noon
+ the anticipation that comes with trying to get 10+ lesbians / bisexuals dressed and ready to go to dinner at the same time
+ women
+ hearing the same 9-12 songs played on a loop for 4 days straight
+ women in sunglasses
+ saying 'drink tickets'
+ public displays of affection
+ women in wet t-shirts
+ constantly wondering "will this turn into an orgy?"
+ women in bikinis
+ being told when to wear white
+ looking into a crowd of people and thinking 'how the hell did i get here'
+ playing alternative lifestyle haircut bingo
+ Brandy Howard in a bikini and denim mini-skirt
+ Julie Goldman in cargo shorts and a t-shirt with the sleeves cut off
+ dodging real l word cameras / cameras in general
+ constantly wondering "is she touching me in like a 'playful-friends' way or in an 'I'm genuinely interested in fucking' way or in a 'I'm tripping balls' way"
+ syncing menstrual cycles with 10+ of your closest friends
+ spirit journeys, both planned and unplanned
+ 'drama'
+ going home with mojito on your hair straightener
We're going. Julie & Brandy are going. We're doing things. So should you.
Visit GirlBar's Dinah Shore 2011 website for all information and tickets.