Welcome to We're All About It, where we talk about investment-worthy things that are going to make your adult lives 100% more amazing.
---
No matter our differences, what unites us all is our intractable dependency upon caffeine, no matter its form. It's what defines most of our mornings, many of our afternoons, and sometimes our evenings (or early AM hours). Give yourself the gift of perfectly steeped and/or brewed caffeinated beverages today, and thank yourself for it forevermore.
by Fikri
When I moved in with former Hot Intern/Editor Laura Wooley — otherwise known as Queen of All Things Craft and Cooking — last year, I was amazed at how well stocked her kitchen was for a grad student: full spice rack, pizza stone, and some pumpkin-inside-scooping gadget. (I was openly skeptical of the last one so she went out of her way to demonstrate its usefulness. I'll concede it facilitated a delicious quinoa-stuffed butternut squash situation.)
Y'know what she didn't have though? An electric kettle.
I soon learnt that this was a common phenomenon among USAmericans, which was as curious to me as ads for lawyers on the subway and the lack of on/off switches on wall sockets. The student halls I lived in in London had a morbid fear of fires — the city's only burnt down a couple of times, after all — so we had regular fire drills, pain-in-the-ass fire doors along every corridor, and an enforced ban on smoking and most electrical appliances, but not kettles. Never kettles. When you move in you're given an ethernet cable and a cheap plastic kettle, because surely that's all a student could ever need.
Anyway, here I was, newly arrived in New York City with 20-odd varieties of tea (amassed over three years' worth of winters), and the thought of boiling water on the stove and taking manual temperature measurements each time I wanted a cup of tea (which is often) didn't quite appeal to me. So I got the wifi password, set up my bank account, and used my unexpected kettle-less existence as an excuse to order the variable temperature kettle of my dreams.
There are a lot of variable temperature kettles on the market, but I settled on the Cuisinart CPK-17 PerfecTemp 1.7-liter Kettle for two main reasons: first, it's stainless steel, which is hardier than plastic and easier to clean than glass, and second, it works. It actually reaches the temperatures it says it does by slowing down the boil when it approaches the target temperature. (Other kettles might go to a straightforward boil then allow the water to cool, which can be similarly accurate but slower.)
The CPK-17 is marked with six temperatures: 160º (Delicate), 175º (Green), 185º (White), 190º (Oolong), 200º (French Press), and Boil (Black). There are other kettles that allow you full manual control over the temperature, but this wasn't important to me as a tea-drinker because these options encompass the full range of temperatures that I require. More importantly, I'm Fahrenheit-illiterate, and tea requires more precise measurements than the rough Celsius-to-Fahrenheit conversion I do in my head for the weather.
Could I really justify shelling out for something that essentially just boils water though? G-d, yes. This kettle is the first fancy-ass kitchen appliance I've dared to treat myself to and it was worth every cent, you guys. I've started drinking a lot more white and green tea, which is good for both my sleep cycle and taste buds, as well as more tea, period, which was probably the main reason I didn't just curl up in a corner and cry through all of my first (and thankfully, only) NYC winter. Leaving some lemony gunpowder to brew while I got ready to leave the house became part of my daily schedule, making morning classes on sociological theory that much more tolerable.
If you're looking for other tea-related paraphernalia to complement this kettle, I like to brew loose leaf in bottom-dispensing teapots, which allow me to watch the leaves unfurl and are less messy than in-mug tea infusers. (Well mainly I like mine because my girlfriend bought it for me, but y'know.) And while I know there are cooler-looking dedicated tea tumblers, I'll forever swear by insulated Klean Kanteens for their versatility and durability.
Price: $89.99
Good for: People who drink (non-black) tea regularly
Buy: At Amazon
---
by Natalie
I love me some good home coffee equipment. There are a handful of factors that stack up to reasonably consistent manual drip coffees at home: good beans, a good grinder, a gram scale, a thermometer, a reasonable filter method… okay, it's a big handful, I have big hands. To up my manual coffee game I was looking for a kettle with a gooseneck spout to get closer to optimal deliciousness extraction, but was loath to spend much money on a pouring vessel when it would just add another step to the finicky coffee process.
So I thought I would spend even more money on a great electric kettle that could prevent laziness from getting the better of me by combining some of the abovementioned factors. I've had my eye on the BonaVita Variable Temperature Gooseneck Kettle since Clive Coffee had it up for preorder. At first I thought that it was not meant to be in my life because I could only find them in US stores and was convinced the voltage differences wouldn't work out, making me lose money and a great kettle to lousy voltage converters. Fortunately, around the same time that I was visiting Fikri in London, I figured out that BonaVita of course sells kettles for the UK market which would work perfectly with Singapore's power points! Alas, it was out of stock everywhere I looked in London, but I found one last unit in the warehouse storage of Dublin's Coffeeangel. Because Fikri loves me (even though she is allergic to coffee), we bought cheap plane tickets to get me to the sexiest kettle ever.
This kettle heats water quite precisely up to your specified temperature, and holds it there until you're ready to use it. The water reaches temperature quickly (four minutes or less*, enough time to grind two cups worth of coffee with a hand mill). The spout then enables you to pour like a badass; especially for pourover novices like me, this kettle is super forgiving. This is because it agitates the grounds with a thin stream for a more even extraction, so you can concentrate on where you pour more than how fast/slow you're pouring**. The thinner stream also makes the pour more visually legible — the grounds give up coffee oils as you go, and you can compensate for an uneven pour if you notice less oils. It's especially helpful on the bloom step where you need just enough water to saturate the grounds for a more even brew.
* Electric kettles work slower in the US because of the lower voltage, so you might get slower times.
**  One of the key ways to get an even extraction in manually brewed coffee is to agitate the grounds thoroughly, and in pourovers this is most conveniently done with the force of the water hitting the coffee. You could always stir it in the filter, but that affects brewing temp.
I haven't personally done a controlled pour/taste test, but my grounds beds in V-shaped drippers used to be concave and now they are a bit domed, which I take to mean that the extraction is gentler and more even throughout the bed of grounds. The slower pour rate also means that when I'm too lazy to time the brew, I approximate optimal brew time better than when I'm dumping lots of water into the filter at once. I can't speak for how the spout or handle compare with other gooseneck kettles, but I can say that I haven't found a more theoretically ideal kettle for pourovers.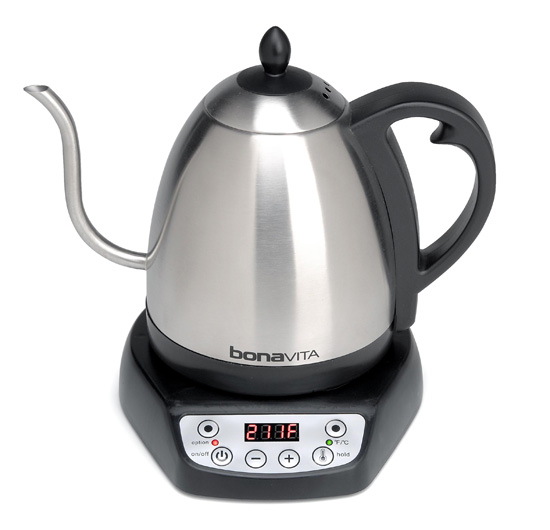 And have you seen it? It's so beautiful, and so easy to fall in love with. The brushed stainless steel, 360º rotating base, swooping gooseneck spout… The digital temperature control is straightforward, easy-to-read, and remembers the last specified temperature along with six preset/user-set temperatures (for you tea snobs). If this kettle were a human being, it would be a high-powered, ass-kicking executive who is also a prima ballerina. I wouldn't normally justify spending that much on a kettle that can do most things a regular kettle/thermometer set up can do, but it really did help me get from sub-par to good with little effort. Pair it with a Kalita Wave dripper, which seems to make everything magically sweeter.
Price: $79.70
Good for: People who want to master pourover drip coffee at home (and tea)
Buy: At Amazon