We've all had a lot of feelings about these Olympic games in particular. But now it's time for the Team Gay Medal Count. If we were a homo-tastic nation, how would we have stacked up?
---
Ireen Wüst
2 Gold, 3 Silver
This Dutch speed skater isn't interested in being an activist. But what she lacks in willingness to be a role model, she makes up for in crazy skill. And though it's not making the appropriate amount of headlines in my opinion, Ireen Wüst is the competitor that won the most medals out of any other athlete in Sochi. That's right — in the face of anti-gay laws and policies in Russia, this bisexual competitor kinda schooled everyone. Bam.
---
Daniela Iraschko-Stolz
1 Silver
This one seems extra delicious — until this very winter games, Olympic women's ski jumping wasn't a thing. This is the very first time in Winter Olympics history that it has been, and one of the kick-ass athletes on the podium is One Of Us — Austrian ski jumper Daniela Iraschko-Stolz took the silver in an event officially called Ladies' Normal Hill Individual. Think of how cool that is! Team Gay has permanently left its mark on this sport's history. And that brings our medal count up to:
---
Six Medals!
Two gold, four silver. So that means if we were the Great Gay Federation of Homogays, we would have come just after Slovenia and technically just before Japan (because the total of gold medals outranks the total of total medals as far as I can tell?).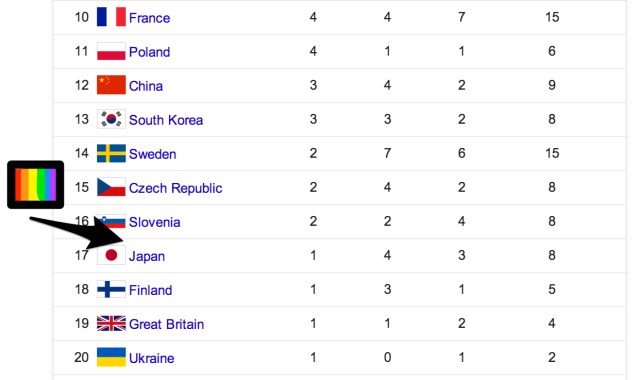 We also would have out-medaled Great Britain, the host of the last summer games and a grand total of ten actual countries. Not bad for a fictional gaynation that only had seven athletes.
---
Here's What Happened With the Rest of Us:
Sanne van Kerkhof was on the Netherlands's 300m Relay Team — they didn't qualify for the finals and Korea ultimately took the gold, Canada the silver and Italy the Bronze.
Cheryl Maas (also from the Netherlands, what are y'all putting in the water over there to sprout up so many attractive LGBT athletes?) qualified for the slopestyle semifinals, but then ranked 12th—only the top four qualified for the final rounds. In ladies' slopestyle, the gold went to the U.S., the silver went to Finland and the bronze went to Great Britain.
Barbara Jezeršek did what seems to me like a crap-ton of events and I cannot fathom how she even moved around afterwards — she skied in the Ladies' Skiathlon 7.5 km Classic + 7.5 km Free (ranked 19), Ladies' 10km Classic (ranked 41), Ladies' Relay 4×5 km (ranked 11) and Ladies' 30 km Mass Start Free (ranked 31). Let's all pause to remember how long a single kilometer is, never mind ten kilometers. Are your legs sympathy-sore yet?
Belle Brockhoff was interviewed right here on Autostraddle and you should watch it! Oh, and also she got all the way to the Ladies' Snowboard Cross Finals and then ranked 8th overall (but second in her heat!). The gold for this event went to the Czech Republic, the silver went to Canada and the bronze to France.
Anastasia Bucsis competed in the Ladies' 500 m speed skate, and she ranked 27th in the first race and 28th in second. The gold went to Korea, the silver to Russia and the bronze to the Netherlands.
In conclusion, we may be small and we may not be allowed back in Russia without harassment or arrest for handholding/rainbow-clothes-wearing. But dammit, Team Gay is plucky! And though I had a really hard time enjoying the Olympics this time around (usually a time of unadulterated joy for me, almost completely marred by all the Issues), I'm always proud to cheer for Team Gay wherever they're competing.
---
All statistics and facts were taken from the official Sochi Olympics website unless otherwise cited. Feature image via Washington Post.