Anyone who's had any recent experience with the American education system knows that most of the time, it's not an inherently queer-friendly place. From the locker room at gym to the video about where babies come from in health class, it's a straight straight world out there. Despite our best efforts to make the educational sphere a more inclusive place for young queers — from anti-bullying initiatives to the FAIR Act in California — it remains an aggressively heteronormative space for kids who are very sensitive to the idea that there might be something bad, wrong, or unnatural about them. As major a victory as the FAIR Act was, with its assurance that kids would soon be able to learn about queer role models and historical figures in their public schools, even that may not be the slam dunk that activists had hoped for — California budget cuts mean that the next curriculum revision and textbook purchase have been pushed back to 2015, and individual school districts are being told to interpret the law as best they can without any new funding, and in spite of the fact that their funding overall has decreased by roughly 20% in the last few years.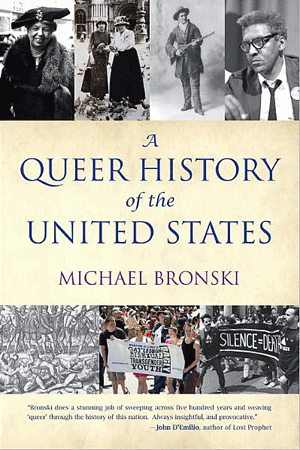 As long as the majority of students in any academic setting are straight, are heteronormativity and cisnormativity in the classroom inevitable? Not everyone thinks so; Susan Stryker, the director of the LGBT Studies Institute at the University of Arizona, has some thoughts on how queer theory can make academia better when she spoke with the Toronto publication Xtra. 
Xtra: Can, or should, queer/trans studies occupy space in the academy the same way that traditional humanities and social science disciplines do?
Susan Stryker: Because there's homophobia in the world, sometimes it can be difficult to negotiate the academic environment when you're out and queer, the same way it can be hard to negotiate any workplace, or public space in general. It's not always a cakewalk. But there is a real recognition that understanding sexuality and sexual diversity is an important part of how you train students to be engaged, thoughtful, participatory members of society. There is not a lot of intellectual debate about whether or not it's valuable to study LGBT and queer issues in the academy. Even among people who don't quite get it, it's recognized as being a legitimate set of questions that has some important things to say to everybody.
Stryker talks about how she comes out in every one of the classes she teaches, because the experience of living as a trans person informs how she approaches her discipline as well as the rest of her life. Or as she says, "You learn, through how you live your body in the world, how power operates and how institutions reproduce oppressive forms of normativity." And while that may not seem necessarily radical for a professor of trans studies, there's also teachers like David Weston of the UK, who talks about how he decided to come out despite teaching a classroom of young boys just like the ones he associates with anti-gay slurs when he was growing up:
I quietly replied "it's a he actually, I'm getting married to a man". A wave a silence swept the classroom, followed by a barrage of curious questions. "How come you're gay sir, you don't sound camp?" and "But you don't sound at all like [an openly gay student in the year]" or "Is it legal to marry a man then?" We spent a few minutes calmly discussing it and then carried on with the lesson without any problems – I even managed a proper plenary! I was truly relieved, and somewhat surprised that there had been not even the slightest hint of a critical or negative reaction. In fact one student, a very imposing Asian boy, said to me at the end of the lesson "seriously sir, that was big – pretty sick… respect for being honest."
Of course, for many teachers, the reaction to their sexual orientation or gender identity isn't nearly as positive — maybe more often than not, school isn't a place teachers feel it's even possible to be out, because of their coworkers just as much as their students. But for those that can, the difference it makes seems to be huge — Weston says that not only has he never gotten any negative feedback, but he's gotten letters from students thanking them for making them feel more comfortable. When academic spaces aren't interested in becoming more queer-friendly on their own, his story is testament to the fact that teachers can make a difference with their own lives.
And not just to gay students — while it's clear that Weston's queer students value him as a role model, Stryker's points hold true for all students, regardless of sexual orientation or gender identity: understanding sexuality and caring about sexual diversity is part of how you train students to be engaged members of society, and everyone learns through how you live in your body in the world how power and oppression operate. Systems of power and oppression operate through normative bodies and identities as well — but unless you're aware of how normative they are, it's very easy to ignore that. When teachers and educators teach from their own experience, they give their students the opportunity to learn more about themselves, and the positions of privilege or marginalization they occupy in the world. Which, when we're talking about education, is a pretty valuable thing. Maybe someday the people who control our educational system will even learn the same things.