As a small precocious child in the Midwest with a spiffy bowl cut, big dreams and a pair of tights, I often imagined that one day I'd become an Olympic Figure Skater. Unfortunately, as it went with most of the Things I dreamed of dominating in the future, I actually sucked at The Thing. After triumphant/so-easy-my-stuffed-dog-could-do-them performances as a "Bat Boy" in Melody on Ice 1988 and a "Clown" in Melody On Ice 1989, I retired my skates and redirected my ice-related focus to watching figure skating on television and reading about it in magazines. Stars of the era like Debi Thomas and Kristi Yamaguchi brought large buckets of joy into my life via their supreme ice skating skills, and thus every four years I am pulled by a force beyond myself to passionately immerse myself in women's singles figure skating for about two weeks. Unfortunately, nobody wrote a comprehensive guide to every ladies figure skating lady you might see competing this year, so I had to. Let's take a look at this years contest and its top competitors.
---

When To See The Ladies Figure Skate on NBC Streaming:
February 8th, 11:10 AM – Team Ladies Short Program
February 9th, 11:05 AM – Team Ladies Free Skating
February 19th, 10:oo AM – Ladies Short Program
February 20th, 10:00 AM – Ladies Free Skating
What is this Team Competition Thing?
The Team Figure Skating Competition is new this year, and ten countries will be battling to the death in the ring of fire to earn the grand crown of the universe: Canada, Russia, U.S., Japan, Italy, France, China, Germany, Ukraine and Great Britain. Each country will pick a man, a woman, a pairs team and an ice dancing couple to compete in the short program/dance. Each team is awarded points based on placement: the winning lady figure skater will get 10 points, the second will get nine and so forth. After all the short programs/dances have been completed and points tallied, the five countries with the highest tally will proceed to the next round for the free skate/long program/dance. The team competition is already underway, with men's and pairs having performed on Thursday and Russia already in the lead. It's predicted that Canada, Russia and the United States will be top contenders for the gold. It's pretty much confirmed that the U.S.'s Ashley Wagner will do the short program and Gracie Gold will do the long for the U.S.
Although I'm not gonna talk about them here, there are also women wearing sparkly costumes and blades on their feet atop frozen water in the Ice Dancing competition (which involves couples of ladies and gentlemen doing a sort of ballroom dancing/ figure skating hybrid) and in the figure skating Pairs Competition.
The Individual Competition will proceed as it always has, with Vancouver Gold medalist and worldwide superstar Yuna Kim already heavily favored to take home the gold again. Also, according to The New York Times, the judging system remains sketchy. But let's look at who else has a shot at glory and stardom and a large heavy metal necklace situation this year.
---
2014 Women's Figure Skaters Everyone Thinks Could Win A Thing
Yuna Kim, 23 (South Korea)
2010 Winter Olympics – Gold Medalist
Yuna Kim snagged the gold in the Vancouver Olympics and the Associated Press expects a similar result this time around. That's because Yuna Kim has won everything ever in the history of everything.
Gold: 2009 & 2013 World Championships
Gold: 2009 Four Continents
Gold: 2006-2007, 2007-2008 & 2009-2010 Grand Prix Final
Gold: 2006 World Juniors
Gold: 2005 Grand Prix Finals
Gold: 2003, 2004, 2005, 2006, 2013 & 2014 South Korean National Champion
First South Korean figure skater to medal at an ISU Junior, Senior Grand Prix or Olympic Games
First Female to win the Olympic Games, the World Championships, the Four Continents Championships and the Grand Prix Final
Record-holder for short program ladies and short program
Has broken world record scores 11 times since 2007
Yup, so… Kim is a pretty big deal, perhaps you've heard of her. Her triple-triple combination jumps are enormously admired and her "signature move" is the triple lutz-triple toe loop, which sounds like a fancy way to tie your shoes. Her "bent-leg layover camel spin," which she's been rocking since '04, is often called the "Yuna spin." She's a huge star internationally but especially in South Korea, where she has multiple sponsorship deals, appears in commercials, debuted her own cell phone line, started her own sports agency which organized its own ice show and was named by Forbes Magazine as one of the highest-paid female athletes in the world. Kim's also a UNICEF Goodwill Ambassador, a singer who has recorded with various K-Pop stars, one of TIME's Most Influential People of 2010, an author of a memoir entitled Kim Yu-na's Seven-Minute Drama and the host of TV program Kim Yu-Na's Kiss and Cry. She's also a hugely generous philanthropist who has donated millions of dollars to causes including UNICEF, Typhoon Haiyan relief, school uniforms for low-income families, scholarships for young skaters, Japan's quake-tsunami relief efforts, the Yeon-Su Social Welfare Center and the Korean-American Leadership Foundation.
Kim's winning 2010 Olympics program:
Kim doing Adele's "Someone Like You" at 2012 All That Skate:
---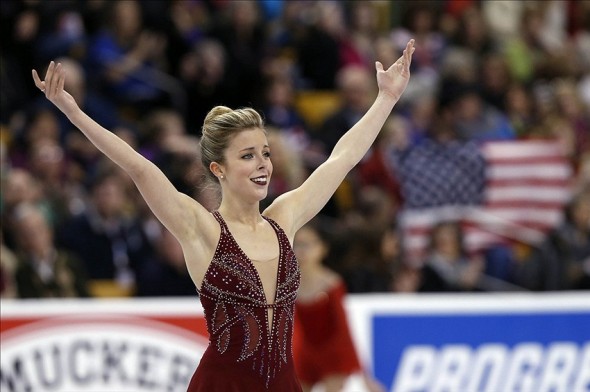 Ashley Wagner, 22 (United States)
Relevant to your interests: Ashley has been very vocal in her opposition to Russia's anti-gay laws and she is a big fan of Sochi's Rainbow Decor. Wagner won back-to-back U.S. Championships in 2012 and 2013, but only came in fourth at the 2014 contest. Wagner was heavily favored to grab the gold this year but then she wasn't 100% perfect for about six minutes last month, so now ANYTHING COULD HAPPEN.
Fun Fact: Wagner is the most popular U.S. Olympic figure skater on twitter, but she's given it up for The Olympics.
Ashley Wagner's winning long program at the 2012 US National Championships:
Ashley Wagner doing "Sweet Dreams" at the 2013 All That Skate:
https://www.youtube.com/watch?v=0oOfIojvYXQ
---
Gracie Gold, 18 (United States)
Gracie Gold is gonna be "the next Ice Princess" according to the newspapers because she is an excellent skater and also her last name is "Gold" and also she was on the cover of Sports Illustrated Magazine this month and also she's pretty and wears red lipstick. Gold, who started skating at age seven after attending her best friend's birthday party at a skating rink, has been declared "America's sweetheart" by NBC. After some career setbacks like not qualifying for the 2011 Nationals, Gold took a step back and then returned to the scene by scoring a gold medal at her first-ever Junior Grand Prix competition in 2012. She cinched her spot in the hearts and homes of Americans everywhere this year by earning the Gold Medal at the 2014 U.S. Championships.
Fun facts: Her favorite book series is The Hunger Games, she has a very popular Instagram feed, her favorite show is Modern Family, her favorite movie is Mean Girls and her favorite actress is Jennifer Lawrence. Also, she juggles.
Gracie Gold's winning 2014 Nationals Short Program:
Gracie Gold doing "All that Jazz" at an Exhibition Skate:
---
Mao Asada, 23 (Japan)
2010 Vancouver Olympics – Silver Medalist
Asada, who won her first World Championships in 2008 without a skating coach, is the only skater this year who's gonna try to pull off a triple axel in both the short program and the free skate. The triple axel is super hard and is a thing you already know about if you watch a lot of Tonya Harding documentaries. Asada earned the Silver Medal in Vancouver and the Gold at the 2010 World Championships, but didn't make the top five for two subsequent World Championships, eventually coming in third at the 2013 contest. The press is really invested in an Asada vs. Kim rivalry because of their similarity in age and tendency to place first and second at various international competitions including the 2010 Olympics.
Fun Fact: Kamei Royal, a Japanese restaurant in Vancouver, debuted a "Mao Dynamite" sushi roll during the 2010 Olympics, co-created with Mao's input. The roll contains  egg, shrimp, asparagus, Shiitake, eel, roe, and Atlantic salmon, rolled into a heart shape.
Mao Asada's winning performance at the 2010 World Championship:
Mao Asada skating to "Smile/What A Wonderful World" at a 2013 Japanese Nationals Exhibition:
https://www.youtube.com/watch?v=4nHIAXpuQBI
---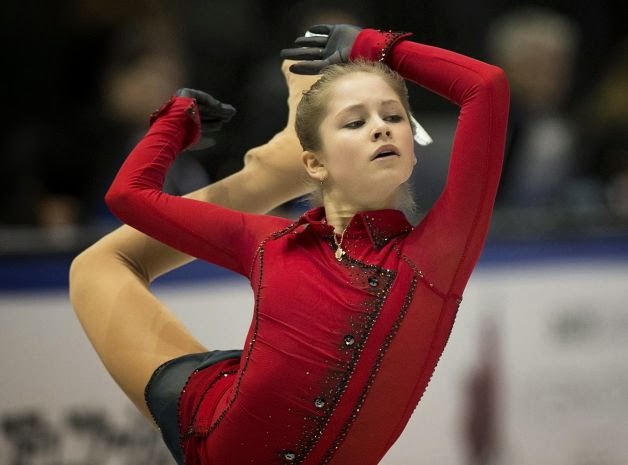 Yulia Lipnitskaya, 15 (Russia)
This year, Lipnitskaya became the youngest skater ever to win a European championship. She's also won Silvers and Golds at World Junior Competitions, and these Olympics will likely be the first of many for the Moscow resident, who designs her own costumes with her Mom and has been skating since she was only four years old.
Yulia's winning free skate at the 2014 European Championships:
https://www.youtube.com/watch?v=mx96OcUKpT0
Yulia dancing to "Shot You Down" at a 2013 Canadian Expo:
https://www.youtube.com/watch?v=eS3PW9KZjWE
---
Akiko Suzuki, 28 (Japan)
Suzuki is a skater to watch because she managed to win gold ahead of Kanako Murakami and Mao Asada a the 2014 Japan Championships, earning the event's highest Total Score ever. She's won various shiny medals of Silver, Gold and Bronze at a variety of competitions all over the world, including Bronze at the 2012 Worlds and Gold at the 2007 Winter Universiade. She began her junior career in 2001 with a bronze at the 2001-2002 Junior Grand Prix Final, but her struggles with anorexia nervosa, which started when she left for college at 18, sidelined her for the 2003-2004 season. But by 2007 she was winning events left and right and sideways and so forth. Suzuki's hobbies include reading and yoga.
Suzuki's winning long performance at the 2013-2014 Japan National Championships:
https://www.youtube.com/watch?v=HjsDhCQhy_0&
---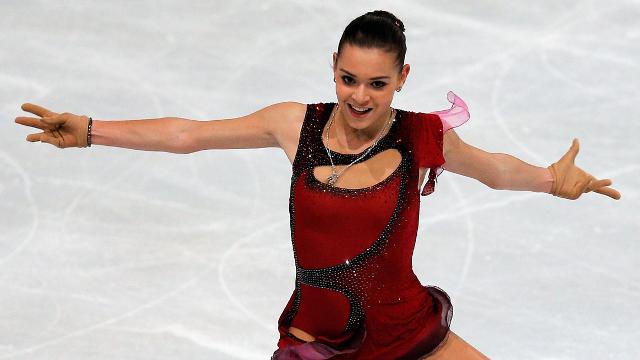 Adelina Sotnikova, 17 (Russia)
Sotnikova is an up-and-comer, having won her first Russian National Championship gold at the age of 12, in 2009. She won subsequent Russian National golds in 2009, 2011, 2013 and 2014 (ahead of Yulia Lipnitskaya). She scored fifth at the 2013 Grand Prix Final and Gold at the 2011 World Junior Championships. Apparently Sotnikova is the "face of figure skating for the new generation" in Russia.
Adelina's winning short program at the 2014 Russian Nationals:
Adelina skating to "Welcome to Burlesque" at the Closing Gala of the 2013 European Figure Skating Championships:
---
Polina Edmunds, 15 (United States)
This girl has been skating since she was TWENTY MONTHS OLD, and she just barely made the age minimum to compete in this year's Olympics after surprising everybody by snagging a silver at the 2014 U.S. Championships. Previously she'd scored the U.S. National Junior Title in 2013, sixth in 2012 and seventh in 2011. She got her first Junior Grand Prix assignment last year, winning gold in Mexico City. She's coached by her Mom, Nina Edmunds, and her two brothers both play hockey.
Polina's Silver-Medal winning skate at the 2014 U.S. Championships:
https://www.youtube.com/watch?v=6Vxn6YNqcPE
---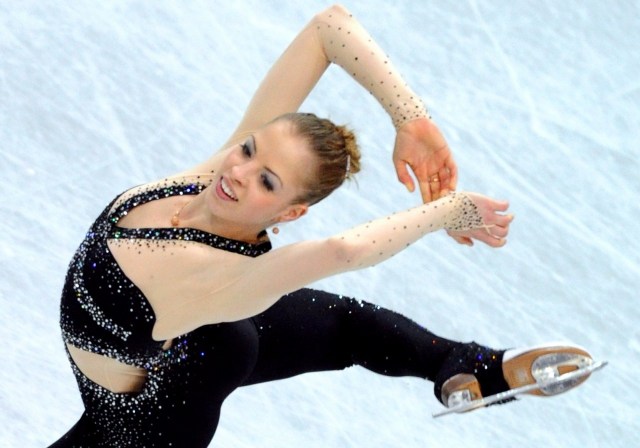 Carolina Kostner, 26 (Italy)
2010 Vancouver Olympics – 16th Place
Kostner, who's been skating since the wee age of four, comes from a family of winter sports high-achievers. She's the offspring of two former skaters — her Dad played Olympic ice hockey and her Mom was an internationally ranked figure skater in the 1970s — and her brothers play competitive ice hockey AND her cousin medaled in alpine skiing in the 2002 Winter Olympics. (She's also dating Olympic race-walker Alex Schwazer.) Kostner has medaled at five World Championships, including getting the Gold in 2012, has earned five Gold Medals in European championships since 2005 and was the 2011 Grand Prix Final Champion. She's best known for her speed and her triple-triple combinations.
Kostner's winning program a the 2012 World Championships:
Kostner skating to "Imagine":
---
All The Skaters!

Li Zijun, 17 (China)
Zijun won bronze medals at the 2014 Four Continents, The 2010 JGP Final and the 2012 Winter Olympics. She secured the Chinese national championship in 2011, 2012 and 2013 and scored a Silver in the 2014 Chinese National Championships, just behind fellow Olympian Zhang Kexin.
---

Kanako Murakami, 19 (Japan)
Murakami has won many things, including the 2014 Four Continents Champion, the 2010 World Junior competition and the 2009 JGP Finals. She's medaled at the Japanese National contest for the past four years. She's got a strong fanbase and multiple corporate sponsors in Japan.
---

Maé-Bérénice Meite, 19 (France)
Meite has been skating on the ice since the age of five. She made her international debut at the 2007 Cup of Nice, winning second place. (Seriously though doesn't "Cup of Nice" sound like the best award ever? I wanna win a Cup of Nice.) She has won two silver medals at the French Nationals and was the 2014 French National Champion.
---

Kaetlyn Osmond, 18 (Canada)
Osmond, who lives in Edmonton, won the Canadian championships in 2013 and 2014 and is known for being one of the few skaters who spins and jumps clockwise. Osmond began skating at the age of two, moving to Montreal at the age of seven due to a lack of ice in her native Marystown, Newfoundland.
---

Brooklee Han, 18 (Australia)
Brooklee was born in Connecticut, but her Australian father qualifies her to compete on the Australian team. She made it to Sochi narrowly by winning fifth at the final qualifying event for The Olympic Games, The 2013 Nebelhorn Trophy.
---
Kim Hae-Jin, 16  (South Korea)
Another strong competitor, Kim Hae-Jan won three Gold Medals at South Korean Championships in 2010, 2011 and 2012. She's performed with Yuna Kim in All That Skate, has landed five types of triple jumps in national competition and began competing in 2007.
Elene Gedevanishvili, 24 (Georgia)
Elene is another experienced Olympian who was born in Georgia but has trained in Russia and in Hackensack, New Jersey. She placed third at the 2010 and 2012 European National Championships, 14th overall at the 2010 Winter Olympics.
Jelena Glebova, 24 (Estonia)
Glebova has been performing consistently well — never the best, but always damn good — since her first International competition in 2004. She placed 28th at the 2006 Olympics and 21st at the 2010 Olympics and currently trains in Hackensack, New Jersey.
Kerstin Frank, 25 (Austria)
Kerstin Frank is a two-time Austrian national champion.
Isadora Williams, 17 (Brazil)
Williams was born in Marietta, Georgia, a suburb of Atlanta and lives in the Washington DC suburbs. Her mother was born in Brazil, thus qualifying Williams to compete for Brazil as the country's first ever Olympian figure skater.
Gabrielle Daleman, 16 (Canada)
Daleman won the silver medal at the Canadian National championships in 2013 and 2014 and came in sixth place at the 2013 World Junior Championships.
Zhang Kexin, 18 (China)
Zhang is the Chinese National Champion figure skater. She also finished seventh at the 2012 World Championships and won silver at the 2013-2014 Asian Open Figure Skating Trophy.
Elizaveta Ukolova, 15 (Czech Republic)
This newcomer was born in Russia and has a competitive ice dancer for a sister. She's been competing since 2011, when she won the 2012 Czech National Junior Title.
Park So-Youn, 16 (South Korea)
Park was the youngest ever Korean national team member when she joined in 2009, at the age of 13. She has won four Silver medals at South Korean Championships, including the 2014 contest on Goyang.
Nathalie Weinzierl, 19 (Germany)
Nathalie is the 2014 German National Championship and won her first senior international medal in 2012, winning gold at the Bavarian Open.
Jenna McCorkell, 27 (Great Britian)
This is Jenna's second Olympics, she also competed in Vancouver and got her best-ever European Championship results when she placed 8th in 2008. She married a fellow skater in 2008.
Valentina Marchei, 27 (Italy)
Marchei has won the Italian National Championship four times — in 2004, 2008, 2010 and 2012. She also came in fourth at the 2013 European Championships.
Anne Line Gjersem, 20 (Norway)
Gjersem is the 2014 Norwegian National Champion.
Nicole Rajičová, 18 (Slovakia)
Rajičová was actually born in New York and trains in New Jersey, but her parents are Slovakian. She has competed in many International competitions, placing highest at the 2012-2013 Merano Cup, when she won 2nd. She was the Slovakian National Champion in 2013.
Viktoria Helgesson, 25 (Sweden)
Helgesson is a six-time Swedish national champion, a four-time Nordic champion and her result at the 2013 European Championships was the BEST EVER for a Swedish figure skater since 1932. The daughter of a competitive skater, she's been skating since she was three.
Natalia Popova, 20 (Ukraine)
Popova's a four-time Ukranian National Champion, winning in 2010, 2012, 2013 and 2014, and trains in Hackensack, New Jersey, like many other Olympians. Although she was born in Ukraine, her family presently lives in Ontario, Canada.