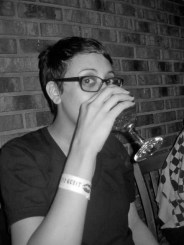 Hoo boy. What… a whirlwind. Pride has come and gone, I have caught up on some sleep, and am almost entirely caught up on my shows. This won't be the most comprehensive Tuesday Televisionary but I'll do what I can. I have a belly full of pizza, life is good. Special shoutout to the Intern Army, as they are all Truly Awesome. I wish they were on a tv show so I could give them awards, but they aren't (yet) so we will have to wait for awards like Autostraddle's Next Top Intern Award, or Most Likely To Beatbox At A Pride Parade or whatever.

News! Here's an updated list of Comic Con TV show panels, and once again, if any Autostraddle readers are planning on attending and want to write about it for us, let me know! Also, CBS announced its list of fall premieres. How I Met Your Mother comes back on September 21st, yay! And finally, I've been watching a lot of old episodes of The Office lately, and in honor of that, here are some classic Jim-Dwight pranks. What are your favorites?
And now…

The Carlytron TV Awards for the Week Ending on 6/28/09
The Week Where Everyone Died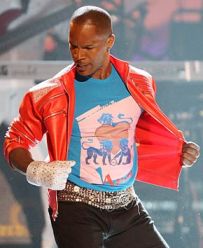 This isn't an award because that would be hideously morbid. Um, everyone died last week. Ed McMahon, Farrah Fawcett, Billy Mays, and the King of Pop himself. All of these people affected the television world in huge ways: McMahon with Star Search, Fawcett with Charlie's Angels, Mays with many infomercials (OxyClean!), and Jackson with his groundbreaking music videos and his transcendent ability to bring the world together with music & dance.
Last week was bizarrely tragic, so let's keep the deaths to a minimum for a while, universe, 'k? Thanks!
Also, um, not to be a jerk but uhh, right place right time for the BET Awards, eh? They seemed to already have a lot of big names lined up as performers and presenters, but the whole thing turned into an MJ tribute and I'm sure their ratings went through the roof.
The Funniest Thing I Saw All Week
Better Off Ted came back! Yay! ABC has some special summer episodes saved up and if the first one is any indication, they're hilarious! It was all about bosses and employees, and why they shouldn't be friends. Linda got stuck being Veronica's sounding board, and Phil and Lem introduced Ted to Medieval Fight Club. Hilarity ensued.
The Weeds Award for Weeds
Su-Su-Sucio is gone! I'm sad. More Jennifer Jason Leigh awesomeness & sisterly bonding, Doug and Silas are going to sell medical marijuana (it's practically recession-proof!), and Nancy has taken her family on the run! The DEA dude is totally gonna kill them! And Celia is back in the US! It's so on!
The Hot Girl(s) of the Week
This goes to all of the girls on So You Think You Can Dance. They are all very pretty and bendy and talented. Here's the top 16 dancers doing a HIGHLY SEXUALIZED (aren't these kids all like, 19?) group dance number:
Also last week Mia Michaels choreographed an entire routine based on Randi's ass. So there's that too.
The Child Anxiety Disorder Award
So Nurse Jackie is really getting interesting. Not only do I suffer heightened anxiety watching week to week (eventually someone is going to find out about Jackie's cheatin' ways, and it's not gonna be pretty when they do), but Jackie's older daughter is showing signs of developing an anxiety disorder and maybe a little OCD. This hit a bit close to home for me, when I was a kid I had many restless nights running through lots of worse-cases disaster scenarios in my head. This is just another reason that I'm totally hooked on this show, I can't wait to see where they go! Also last week Dr. O'Hara hilariously tortured Zoe and Miranda's housekeeper Magda guest-starred and fed her husband chicken soup until he died. This show is so good, you guys. Emmys all around!
The Total Let-Down Award
Um, was anyone else kinda let down by the Real Housewives of New Jersey reunion specials? Everyone cried and screamed but nothing really amazing happened. Also the set was hideous. The best part was that it spawned this Chelsea Lately sketch:
The best part was the end of the 2nd hour where they hinted at a TOTALLY DASTARDLY PLOT that never came to fruition and which no one wanted to expound upon. DAMMIT!
The JEALOUS! Award
I am really jealous of Kathy Griffin this season on My Life on the D-List. She's hung out with Bette Midler, Lily Tomlin, and now Paula Deen! Kathy and co. got to go stay at Paula's house and cook and eat together. They they got to be servers at her restaurant, which: fail. Another fail? Kathy hitting Paula in the face with a stick. They showed the slow-mo replay like a thousand times, and it only got funnier each time.
Tron out!