Hello squirrel friends. This week is one of those weird weeks between the spring and summer TV seasons, where there isn't really that much to watch. So this week's column will be on the shorter side, but it is still chocked full of AWESOMENESS and is VERY INFORMATIVE. In fact, I feel I significantly enhanced my television viewing experience this week by seeking out new territories and programming, like docudramas about Obsessive-Compulsive Disorder and Party Down.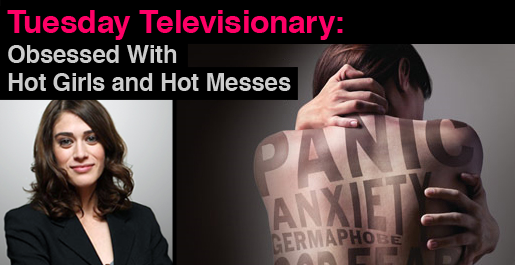 Quick announcement: Logo has full episodes of Can't Get a Date streaming online here. Am I the only one who is really excited about that?
As I said previously, I'm not watching So You Think You Can Dance until top 20. Butttt then I changed my mind and decided to actually start this week, because it's Vegas week, and I ought to get acquainted with this season's dancers. E! Online has been recapping all of the audition episodes here, so you can get caught up before the competition really gets underway.
They also have a giant list of premiere dates for Summer TV shows here, so you don't miss anything. And now, without further ado…
The Carlytron TV Awards for the Week Ending on 5/30/09
Serious Moment of the Week Award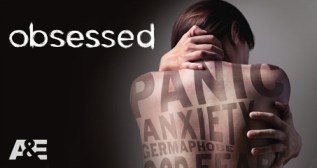 Obsessed is a new show on A&E that documents people living with debilitating forms of Obsessive-Compulsive Disorder and follows them while they attempt to rid themselves of their obsessions and compulsions. This is obvs my new favorite show. Confession time: I have OCD. There have been times in the past when it was interfering in my life, but now it's manageable. This show focuses on the most common form of treatment, cognitive behavioral therapy. I've never sought out therapy of this nature because I haven't really needed it, but basically it just involves exposing someone to the things that they fear and forcing them to feel their anxiety and deal with it.
In the premiere episode we meet two people who decide to undergo treatment, Helen and Scott. Helen is terrified of driving on highways because her father was killed in a car accident. She has two kids and tries to hide her OCD from them. She keeps a box containing her deceased father's bloody clothes and routinely puts them on, and once her son sees her do it she seeks treatment. Scott, on the other hand, is a germaphobe whose house is mostly sterile. He wants to be able to have his boyfriend move in with him (cute cute cute), so he seeks treatment for his obsessive cleaning. We follow their progress over several months and both Helen and Scott eventually learn to overcome their OCD. It's really fascinating and compelling television, I'll definitely keep watching this.
Hot Girl of the Week Award

This was tough this week, since there aren't many hot girls on anything that I'm watching currently, but then I decided to take Haviland's advice and finally watch some Party Down on Starz, and to my delight it turns out that it is AWESOME.
Unfortunately, only like 2 episodes are available to watch online, but you can watch them on Starz On Demand or on Netflix on demand if you have that. Party Down is about a ragtag bunch of aspiring actors and writers living in LA who work for a catering company. The cast is awesome (Ken Marino! Jane "The Lynch Can Do Wrong" Lynch!) but the best part is Lizzy Caplan. You might remember Ms. Caplan from films like Mean Girls or Cloverfield, or the short-lived CBS series The Class (I am the only person who watched that) where she was smokin' hot (like, Shane-hot, lesbos). But not only that, she's really funny and always plays snarky characters, which I am definitely a fan of. Her character on Party Down is going through a divorce and, to cope, starts dating a coworker, drinking on the job, taking ecstasy, and being all-around awesome. You should check out Party Down if you get a chance, 'cause it's a really great show (watch tons of YouTube clips here!). This scene is particularly amazing, but it's really hard to choose just one (it's like Sophie's Choice or something):
Hot Crazy Mess of the Week Award

Obvs this goes to Real Housewives of New Jersey. As long as Bravo has programming, I will have the Hot Crazy Mess of the Week Award. After last week's snooze-fest we were treated to a real doozy of an episode when the housewives of NJ got all Mean Girls on us. We learned that New Jersey roads are hard to navigate (this is true; I still get lost in Jersey and I grew up there, but I also got lost in Central Park this weekend so obvs this is indicative of a larger problem), spa parties have potential for HIGH DRAMA, and that Danielle used to be a crack whore.
No, srsly, that's what next week's episode is about.
We also got to watch people get botox which is gross. Danielle's idea of a good birthday is drinking Cristal and driving around in a limousine. That's like, Trump-level classy, isn't it? How exciting. If anyone every plans that kinda shit for my birthday I will stab them.
Danielle is SO the Kelly Bensimon of this show, gross. I'm still liking Caroline and Dina the best, Danielle is obvs insane (and invites herself over, which is just like, the worst thing a person can do in my book), and Teresa is clearly the Michael Scott of the bunch (she doesn't understand what people are saying to her and instead just chooses to hear what she wants).
Also in this episode: the second time I heard someone on a Bravo reality show say "pussy" in reference to lady parts (the first was last season's My Life on the D-List). Is that allowed now? Are other networks doing it too? They also mentioned blow jobs, so I don't even know what to do with Bravo anymore. My roommate Cesar and I spent a good 10 minutes pretending to talk like Caroline, and another 10 talking like our next award-winner…
The SHUTUPSHUTUPSHUTUP Award
Hoookay. This one goes to Reco on Bravo's The Fashion Show. He's the perfect reality competition show villain: cocky, annoying, and wicked talented. He's the obvious frontrunner, which means he's OBVIOUSLY NOT GOING TO WIN. He's your "I'm not here to make friends" sorta contestant who likes to tell everyone else how talented he is and how much they suck, under the guise of trying to make the competition "more intense." He's annoying as shit but week after week he's been the first one done and has had a flawless design. And it's not like he doesn't know how obnoxious he is, his casting tape certainly tells us all we need to know.
The Fabulous British Import Award
This week Logo premiered the first episode of BBC's Beautiful People, a cute little sitcom based on the memoirs of Simon Doonan (creative director for Barneys). It's like what would happen if Justin on Ugly Betty got his own show but it was created by the AbFab producers. It's really funny and charming and it's set in the 90s, so the soundtrack is really fantastic. EW has a cute interview with Simon here (he's really sweet in real life, trust). All of the episodes will be streaming online, so you can check them out this summer while you're counting down the days until Glee comes back to us.
Tron out!