Texas Trans Inmates Allowed Hormone Therapy
+ Transgender prisoners in Texas who didn't start hormone therapy before they were incarcerated now have the opportunity to do so. Before the new policy took effect, prisoners who were already taking hormones when they were incarcerated were given access to medication.
The policy was updated in August after theAmerican Psychiatric Association updated its own manual to include gender dysphoria. Since the policy changed, more trans inmates have started hormone therapy. When the policy was updated, 212 Texas prisoners identified as trans and only 21 were receiving hormone therapy. Texas Department of Criminal Justice spokesman Jason Clark says trans inmates will only receive medication after they've gone through a rigorous process "that includes being reviewed by a gender dysphoria specialist, an endocrinologist, and having an affirmative diagnosis."
Advocates say they're worried the process will be too long and strenuous for inmates to get the hormone therapy they desperately need. Some inmates say they've waited weeks, months, and even years for their prescriptions.
"We're hearing from people that, for example, if they're not close to the point where they're going to try to perform surgery on themselves, or commit suicide or something like that, that their needs for treatment are not being taken seriously,wp_postssaid Demoya Gordon, an attorney at Lambda Legal, a national law firm that specializes in lesbian, bisexual, gay and transgender issues.
"Texas seems to have, I don't know, some sort of vested interest in not being seen as respecting the constitutional rights of transgender people,wp_postsGordon said.
Debate Team
Republican Debate
I'm going to turn it over to Rachel, briefly, for her thoughts on the Republican Debate. You can watch the highlights here or read the full transcript here.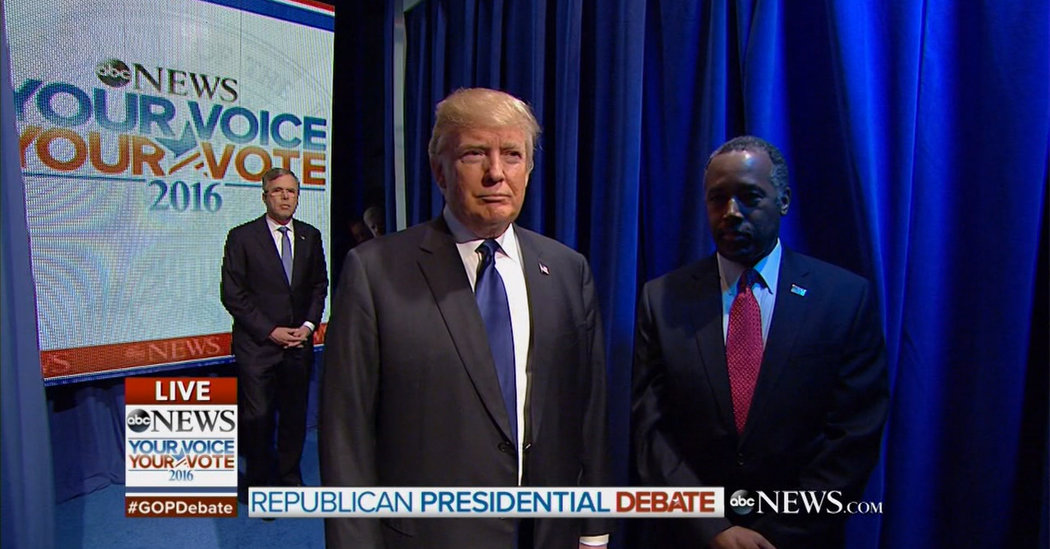 + If you didn't spend your Saturday night watching the Republican debate, congrats! You did the right thing. And to be honest, you didn't miss all that much! Highlights included Donald Trump getting booed by the crowd over his defense of eminent domain; he countered by saying that the only reason he was being booed was that the crowd was full of establishment conservatives and RNC bigwigs, which is unfortunately probably kind of true; there's no real indication that the average Trump supporter is changing their mind. Jeb! basically said he'd be into a pre-emptive military strike on North Korea, and Ben Carson, an actual doctor, still managed to somehow bomb a question about the Zika virus. It was roundly reported that this was Rubio's worst debate, and that he especially dropped the ball on defending why his position on immigration reform has changed so radically (it's because he wants to be elected President). The candidates were asked a direct question about police brutality against Black Americans, but unfortunately Trump's answer was essentially "I'm sure that sort of happens sometimes, but the families of people who are murdered can always just sue! Also, being a cop is very hard." Rubio sounded similarly Orwellian when he said that while he didn't support violence against Muslims, it doesn't really ever happen and the people who really have it tough are American Christians. The debate in a word: yikes.
Democratic Debate
+ With Martin O'Malley out of the race, Bernie Sanders and Hillary Clinton faced each other Thursday night in New Hampshire. The debate began with Sanders and Clinton sparring over what it meant to be a "progressive" candidate. Sanders has campaigned against Clinton, arguing she's not progressive enough to represent the Democratic Party, citing her ties to Wall Street, how she voted for the Iraq War and how she's in favor of the death penalty. Clinton took on the critique and said again that she's a "progressive who gets things done" and basically said she's the more pragmatic candidate vs. the "political revolution" that Sanders is calling for. Clinton also called out Sanders for running an "artful smear" campaign that paints Clinton as corrupt for accepting corporate money. Clinton was asked about criticism for accepting $675,000 in speaking fees from Goldman Sachs and said something about going to Wall Street before the crash. This was an opportunity for Sanders to blast corporations like Goldman Sachs and by association, Clinton. "Goldman Sachs was one of those companies whose illegal activity helped destroy our economy and ruin the lives of millions of Americans," Sanders said. "But this is what a rigged economy and a corrupt campaign finance system and a broken criminal justice is about. These guys are so powerful that not one of the executives on Wall Street has been charged with anything after paying, in this case of Goldman Sachs, a $5 billion fine." The two debated on foreign policy with Sanders saying he doesn't have the experience Clinton does on foreign affairs but points out he does have better judgement based on past decisions, re: voting against the Iraq War. They also talked about the death penalty and the Trans-Pacific Partnership.
Here's a transcript of the whole debate and here are some highlights. 
2016 Presidential Elections
+ Rick Santorum is out of the running for prez, and endorsed Marco Rubio on his way out. There's still a whopping nine Republican candidates left in the race.
+ A gay man challenged Marco Rubio when the candidate was visiting a diner in New Hampshire.
+ Bernie Sanders told Bernie Bros to stop spewing sexist vitriol online. "We don't want that crap," he told CNN.
+ Bernie won the millennial vote in Iowa with a whopping 70 percent in his favor. His popularity with young people may be due to his views on corporate greed and student debt. Many millennials came of age during the worst economic times in US history and even now are still struggling financially.
+ Here are five things to watch in today's New Hampshire primary.
Bills, Bills, Bills
+ A Michigan bill intended to punish people who abuse animals is bringing the state's (unconstitutional) sodomy ban to the forefront. Sodomy bans, which outlaw anal and oral sex, among other sex acts between consenting adults, were found unconstitutional in the 2003 Supreme Court case Lawrence vs. Texas. Most other states removed sodomy bans from the law, but Michigan is one of 12 states that kept the language intact. Senate Bill 291, which is part of Logan's Law, named after a Siberian Husky who was killed by acid, would amend Michigan's bestiality law to stop anyone convicted of having sex with an animal from owning a pet for five years. However, the state's bestiality law also includes the state's ban on sodomy, which could've been prevented if legislators removed some words from the statement "a person who commits the abominable and detestable crime against nature either with mankind or with any animal is guilty of a felony." Basically the author of the bill, Sen. Rick Jones (R) said that no one wants to remove the words because it would derail the intent of the bill, which is to protect animals. This morning Equality Michigan, who have been pressuring lawmakers to change the wording, announced that SB291 will move forward without the sodomy ban language. 
+ Florida is considering an anti-discrimination bill for LGBT people and get this, it was backed by Republicans!
While the bill prohibits any discrimination against the LGBT community, supporters are focused on its economic impact. The bill is being called the "Competitive Workforce Actwp_postsand a group running a campaign to promote it is backed by AT&T, Wells Fargo, Marriott and Carnival Corporation. The argument is that Florida will be able to attract corporations that provide high-paying, high-skilled jobs and the workforce to fill them if it has clear anti-discrimination laws.
+ The District of Columbia, the governing body of Washington D.C., unanimously passed a bill — the LGBTQ Cultural Competency Continuing Education Amendment Act — that would require LGBTQ cultural competency training for health care providers. Once it's signed into law, the bill will be the first of its kind in the nation.
+ A Washington state bill, a so-called "genital check" bill, advanced in the Senate last week. It's another piece of legislation aimed at attacking trans people, especially trans women, for using the correct restrooms. Seattle PI reports:
SB 6548 is pretty explicit, and imposes a genitalia requirement on use of restrooms. It amends the state's anti-discrimination statute to say: "Nothing in this chapter grants any right to a person to access a private facility segregated by gender, such as a bathroom, restroom, toilet, shower, locker room or sauna, of a public or private entity if the person is preoperative, nonoperative, or otherwise has genitalia of a different gender from that for which the facility is segregated."
+ The Indiana Senate is considering passing hate crime bills that would require harsher punishments for those who commit crimes motivated by gender, race, disability, religion, sexual orientation, or gender identity. IndyStar reports that Indiana has tried to pass a similar law for the past 15 years without success.
So what changed?
The spotlight on discrimination against lesbian, gay, bisexual and transgender people vaulted hate crime legislation to be a priority for some lawmakers, including Republicans who say implementing a hate crime law could prove Hoosiers are fair-minded and inclusive of a diverse population.
But the contention around LGBT rights, and the way that becomes entangled with hate crime discussions, also could hobble the legislation.
After all, it has before.
Principals' Principles
+ A Georgia high school principal is back at his job after being suspended for a few weeks for posting hateful comments on Facebook about "welfare recipients, Planned Parenthood, Caitlyn Jenner, the LGBT community and Islamophobic slams on refugees."
+ In Australia, Senator Janet Rice is praising a principal of a school for backing their anti-bullying program to support LGBT students, after a mother pulled her children out of the school in protest of the new program.
Grab Bag
+ A study now proves that voter ID laws are keeping people of color away from the polls. It's a fact now.
+ Kayden Clarke, a 24-year-old trans man with Aspergers syndrome, was killed by Mesa, Arizona police after they went to his home to respond to a call that he was in danger of harming himself. Even though police had stun guns on hand, they chose to shoot him dead instead. This isn't the first time police have killed people, especially people of color, who were neuroatypical or dealing with mental health issues. You might have seen Clarke and his service dog Samson in a viral video posted by Huffington Post last year.