So last night on Pretty Little Liars, we return to the series where we left off in August of 2010. As you probably don't recall, because I certainly didn't, Hannah got hit by a car after a makeup party in the woods that I think she wasn't invited to or something. There were boys in trees.
Most importantly, at the end of the first half of Pretty Little Liars' season — two girls kissed and neither got hit by a car!

At last Pretty Little Liars is totally back. What happened this week with our default lesbian twosome of interest?
Just so you know, everyone in the cast is still very fresh-skinned and pretty looking, it's like a Noxzema Commercial directed by Wes Craven or something. In Episode 111, "Moments Later," the four girls gave each other a lot of very serious but also mildly stunned looks of apathetic horror while ominous music thumped in the distance. "A" was said at least 56 times. At least three of the male actors look almost identical to me. Allison shows up in a cute outfit to Hannah's hospital bed but just when you think they're going to play dead, she returns to heaven, which is like the movie Heart & Souls, if you've ever seen it. Great film.
Also, Emily came out to her family! We don't get much more lesbian action or even SEE Maya this episode. Past midway through, Emily's on the phone with Maya making excuses for why they can't have premaritial sex on ABC Family I MEAN HANG OUT when Dad strolls in and asks why Emily is acting like such a weirdo. He volunteers to go punch any dude in the face who is threatening her.
When Dad presses Emily to tell him what she's afraid of, she says she's afraid of him because she's gay. DUM DUMMM. This is her Dad's emotional reaction to the news: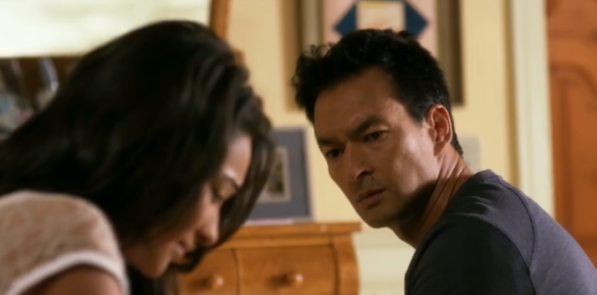 Then it follows that standard plotline for coming out stories on TV where one parent (usually the unexpected ally) sides with the child and the other yells a lot.
Later on Mom and Dad fight about the situation loudly while Emily listens in from the stairwell, that sneaky girl. Of course Mom shows Dad the photos of Maya & Emily kissing.
Mom: How are we gonna fix this?
Dad: Fix it? This is not like buying her braces. It's who she is.
Mom: That's not who she is. This is what somebody else is making her into.
Dad: Maybe she's just experimenting–
Mom: This is wrong, this is completely wrong and you know it!
Dad: Do you think I like this? I don't. But when I went in there I didn't know what she was going to tell me. I thought god what is this ? drugs? This toby kid get her pregnant? Let's just keep this in perspective here.
Dad says that since he was just in the army and saw a ton of people get bombed and mutilated and died, is it really SUCH a big deal if Emily wants to join the coolest agenda on the whole entire planet? Mom says Emily is ruining her life and they can't stand idly by while she pursues her own emotional truths, love and the pursuit of multiple orgasms.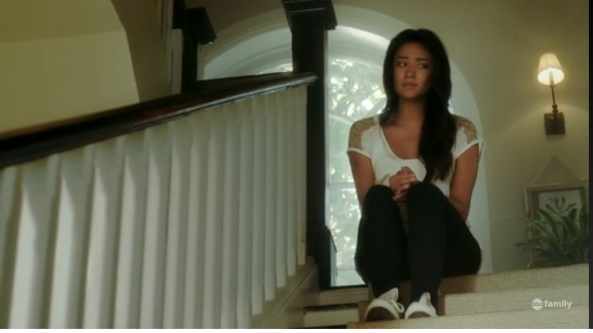 Later on Emily is playing with a stuffed bear and telling Aria that she came out and that things are going to be "different" now but it went as expected.
Over the years, a number of children have come out on the teeve. So in today's Los Angeles Times today, Whitney Friedlander asks:
As it becomes more common for teenagers to realize — and then tell others — that they are gay or lesbian, there is also a growing number of teen characters on TV programs geared toward teens going through the same thing. The CW's "90210,""Greek" and the new MTV series "Skins" in showcasing young, gay roles.
It's a compelling article that goes into a lot of the history of coming out on teevee. You should read it. Also, there's this:
"I'm often delightfully surprised at how unshocked young people are," said Oliver Goldstick, an executive producer on "Pretty Little Liars." "They just move on. It's like: OK."
Goldstick has experience in this area, having previously worked on "Ugly Betty." One of the main characters on that show was Betty's often-speculated-about, eventually confirmed young gay nephew, Justin. "Justin was a pre-pubescent [when that show started]," Goldstick said. "We weren't playing him as a sexualized character. He was accepted in his home for who he was, and it was a joy."
On the other hand, Emily on "Pretty Little Liars" is older and so, said Goldstick, "It's more a high school experience. It's more forging an identity."
It was also important to the "Pretty Little Liars" staff that Emily didn't have "any stereotypical look or vibe for a gay woman," creator Marlene King said. "She's a pretty little liar just like any other pretty little liar on the show."
Next week on Pretty Little Liars, Maya goes to Emily's to meet the family and is warned not to wear jeans but to wear a skirt and if she does wear jeans to iron them.
What did you think of this week's episode?