feature image via Shutterstock
Trans people are more racially and ethnically diverse than the U.S. general population, finds a new study by The Williams Institute at the UCLA School of Law.
In "Race and Ethnicity of Adults who Identify as Transgender in the United States," the researchers used data from the CDC's Behavioral Risk Factor Surveillance System (BRFSS), a state-level, population-based survey to compile their study. They found trans people are less likely to be white and more likely to be Latinx or Black than the general U.S. population. Among the survey-takers who identified as transgender, 55 percent identify as white, 16 percent identify as African-American or black, 21 percent identify as Latino or Hispanic, and 8 percent identify as another race or ethnicity. Here's how that looks like compared to the U.S. general population: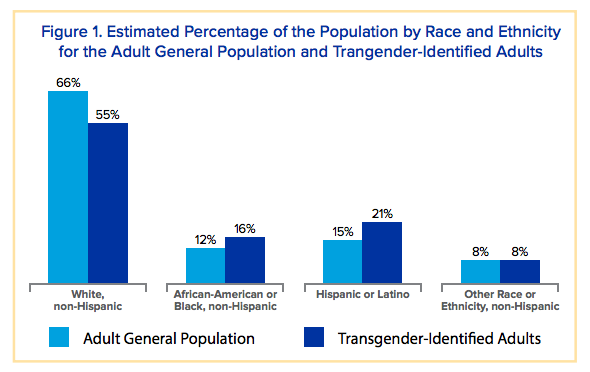 At least one prior study, with smaller sample sizes, has had similar results, showing trans individuals as more racially and ethnically diverse than the US as a whole — it "found that in Massachusetts adults who identify as transgender are significantly less likely to identify as White and more likely to identify as Latino or Hispanic than the non-transgender adult population." But the Williams Institute study is the first to give an estimate of the racial makeup of trans adults in all 50 states and the District of Columbia. (In contrast, the racial makeup of the sample size for Injustice At Every Turn, the report on the national transgender discrimination survey, was 83% white.)
The study also finds that the racial demographic patterns of where trans adults live are similar to the broader racial demographic patterns found throughout the United States. For example, the highest percentage of trans Latinx people are found in the Southwest, just like there's a larger percentage of Latinxs who live there in general.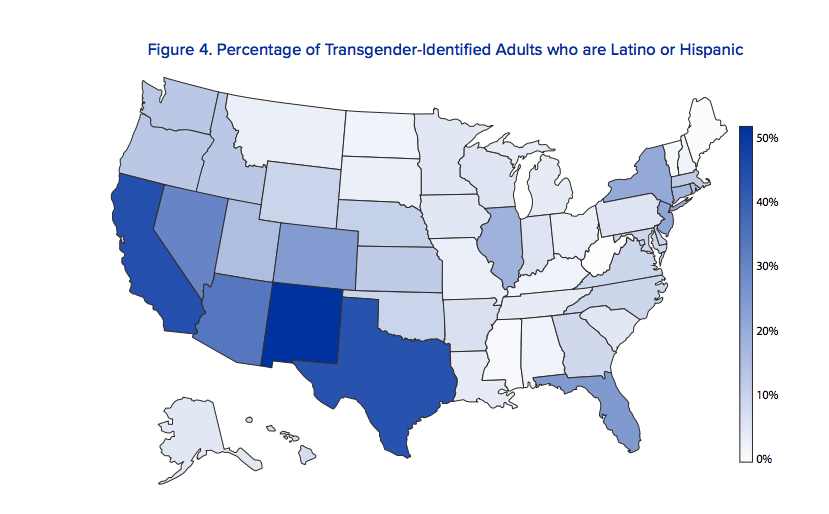 "While our study confirms that people who identify as transgender are racially and ethnically diverse, the question remains as to why transgender people are more diverse than others,wp_postsTaylor N.T. Brown, a Public Policy Analyst at the Williams Institute, said in a press release. "We need more research before we can answer that question."