by Rachel and Yvonne
Law & Order
+ A transgender male asylee from Mexico is filing a civil rights lawsuit regarding an Indiana law that prevents noncitizens from legally changing their names, leaving the plaintiff stuck using the traditionally feminine name he was given at birth. John Doe's suit is being headed by the Transgender Law Center and the Mexican American Legal Defense and Educational Fund, and names Vice Presidential candidate Mike Pence among other officials.
+ Diane James will replace Nigel Farage as the new leader of the UKIP party in Britain. James was previously the party's spokesperson on justice and home affairs; Farage says he will remain involved in UKIP in Brussels.
+ A Canadian judge, Robin Camp, is facing potential removal after publicly making some truly horrific comments during the trial for a woman who was raped while homeless, asking her why she couldn't have "skewed her pelvis" or "kept her knees together" to prevent the assault, and musing out loud that "Young women want to have sex, particularly if they're drunk… Some sex and pain sometimes go together…[T]hat's not necessarily a bad thing.wp_postsAnd: "Sex is very often a challenge.wp_postsThe rape survivor in the trial testified that his comments made her suicidal, and that though she had been clean at the time of the trial, she got high repeatedly after his comments because of how they made her feel. Camp's lawyer says that he merely needs counseling and education, and "will not make statements like this again."
+ Congresswoman Barbara Lee opposed the Authorization for Use of Military Force that the US put in place after 9/11, saying that "As we act, let us not become the evil that we deplore.wp_postsNow, 15 years later, she says that what she feared has come to pass, and wants the act repealed.
"Fifteen years ago, Congress gave up its Constitutionally-mandated responsibility to give the American people a voice in matters of war and peace,wp_postsLee told Salon. "The American people deserve better; it's past time to restore this constitutional power,wp_postsshe added.
+ An FBI agent who (poorly) impersonated an AP reporter to try to ensnare someone who had made bomb threats against a school did not violate any federal policies, according to the Justice Department.
+ Rep. Katherine Clark has introduced a new bill aimed at online harassment that would "require the FBI to include cyber crimes against individuals in their Uniform Crime Reports and the National Incidents Reporting System, as tracking experiences of online harassment has proved difficult for most authorities."
+Anthony Bowden, a 21-year-old soldier, was arrested for the murder of Erykah Tijerina, a trans woman from El Paso. The FBI is investigating to see if the murder was a hate crime.
+ Marquesa Jackson-Locklear is suing William Paterson University on the grounds that, in her view, her daughter killed herself as a result of the university failing to investigate her rape.
The lawsuit states that Bivaletz, whom Locklear had directed to report the rape to the university police department, did not do so until the following month, at which point the campus police also allegedly failed to adequately address her claims; the alleged perpetrator, according to the suit, was not "confronted nor charged.wp_postsThe plaintiff claims the school violated Title IX in creating "a climate in which such misconduct against women was tolerated"; according to the lawsuit, the school has failed to properly address other instances of sexual assault, as well.
+ Last Friday, the Army, the Department of Justice, and the Department of the Interior said they won't authorize construction of the Dakota Access Pipeline on federal land near Lake Oahe, until agencies can determine if there's a need to reconsider any of the previous permit decisions regarding the area. The announcement came moments after a federal court denied Native Americans' request for construction of the pipeline to halt. Energy Transfer Partners, the oil company responsible for building the pipeline, filed a brief saying billions of dollars are at stake if the construction continues to stall. "Energy Transfer Partners chose to begin construction before acquiring all necessary permits. That decision has consequences, and may have placed their investors in a risky position,wp_poststhe Standing Rock Sioux Tribe said in statement to ThinkProgress.
---
Election 2016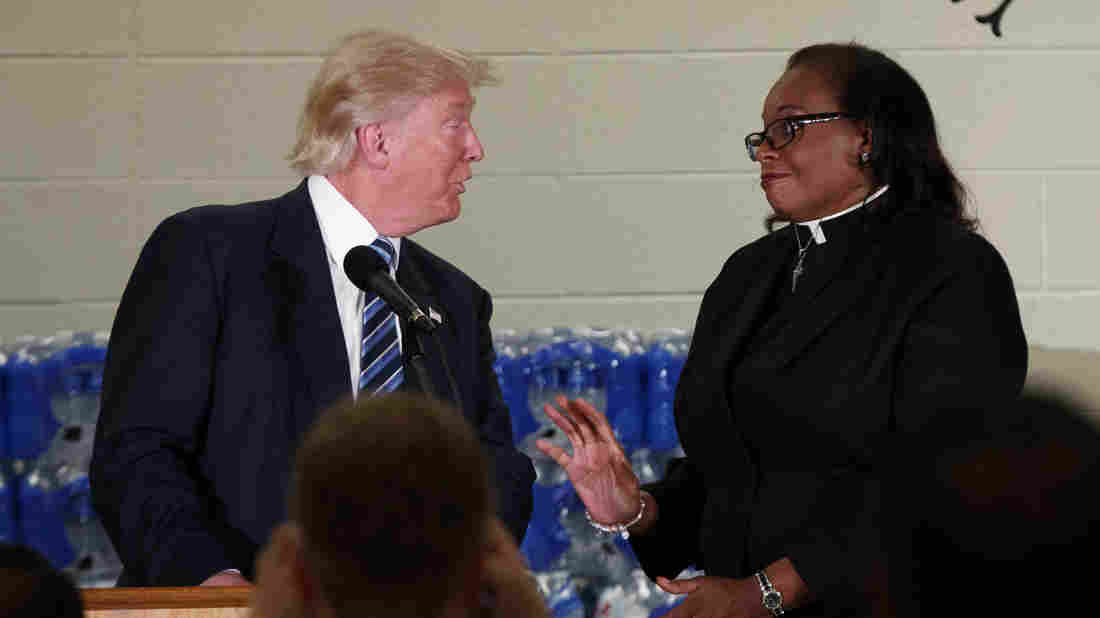 + In a "hastily arranged" visit to Flint, MI, that was ostensibly meant to address the ongoing water crisis there, Donald Trump began to turn the event into a series of attacks on Hillary Clinton. Rev. Faith Green Timmons had to walk onto the stage to remind him "Mr. Trump, I invited you here to thank us for what we've done for Flint, not give a political speech.wp_postsAt the time, Trump responded "Oh, oh, OK, OK, OK. That's good. Then I'm going to go back onto Flint, OK." Later, presumably embarrassed, Trump tried to spin the encounter, saying that the Reverend was visibly nervous and suggesting she had planned the intervention before the event even began, and claiming that supporters in the crowd had chanted to let him speak. A reporter who was present shares what actually happened.
Trump began his brief speech with a joke. "It used to be cars were made in Flint, and you couldn't drink the water in Mexico. Now the cars are made in Mexico, and you can't drink the water in Flint." After that, Trump shifted into a version of his now-standard stump speech, blasting free-trade deals like NAFTA and pointing out that then-President Clinton completed the international trade deal. As Trump began to criticize his opponent, Hillary Clinton, Timmons slowly walked back onto the stage. "Mr. Trump, I invited you here to thank us for what we've done for Flint, not to give a political speech," she said. "Oh, oh, OK, OK, OK. That's good," Trump said. "Then I'm going to go back onto Flint, OK." "The audience was saying, 'Let him speak, let him speak,' " Trump told Fox and Friends.
That isn't true. In fact, several audience members began to heckle Trump, asking pointed questions about whether he racially discriminated against black tenants as a landlord. And that's when Timmons — who Trump said Thursday had planned to ambush him — stepped in to defend Trump, saying the Republican nominee was "a guest of my church, and you will respect him." "Thank you. Thank you, Pastor," Trump responded. The pointed questions for Trump continued as he wrapped up his remarks, though — and that's the moment when the press traveling with Trump were hastily escorted out of the room.
+ Shirley Teter, a 69-year-old protester at a Donald Trump rally, was suckerpunched by Richard Campbell, a Trump supporter, causing her to fall on her oxygen tank. Campbell was one of five people arrested and two more warrants issued for violence in or outside of the rally.
+ If Hillary Clinton wins the election in November, the Clinton Health Access Initiative will become an independent organization, in an effort to "alleviate concerns about potential conflicts of interest."
+ Trump signed a $25,000 check sent from his personal foundation to a political committee supporting Florida Attorney General Pam Bondi in 2013. House Democrats are calling for a federal investigation into the donation.
---
Police/Violence
+ Sandra Bland's mother, Geneva Reed-Veal, has won a wrongful death lawsuit in civil court with a settlement of $1.9 million dollars regarding the death of her daughter, who was found deceased in Waller County Jail after being wrongfully arrested. More significant than the money, Reed-Veal says, are the other concessions they won: the Waller County judge has pledged to "seek state legislation to grant increased funding for police training," and any laws that result from it are to be named after Bland.
+ 13-year-old Tyre King was shot and killed by police in Columbus, Ohio after police claim he matched descriptions of a robbery suspect and that he was carrying a BB gun they believed to be real. King's family and attorney say they want an independent investigation into the shooting, instead of having the Columbus police department investigate itself. Bryan Mason, the officer who fired the shots, is on paid administrative leave.
---
Grab Bag
+ A typhoon in North Korea has caused flooding that's killed at least 138 and displaced at least 100,000.
+ A Texas textbook on Mexican-American studies is being heavily criticized for being "riddled with factual errors, is missing content and promotes racism and culturally offensive stereotypes, such as Mexicans being lazy, not valuing hard work and bringing crime and drugs into the United States." As one example, the textbook lists English as the official language of the US (the US has no official language), and contains the following passage:
"Industrialists were very driven, competitive men who were always on the clock and continually concerned about efficiency. They were used to their workers putting in a full day's work, quiet­ly and obediently, and respecting rules, authority, and property. In contrast, Mexican laborers were not reared to put in a full day's work so vigorously. There was a cultural attitude of "mañana," or "tomorrow," when it came to high-gear production. It was also traditional to skip work on Mondays, and drinking on the job could be a problem."
The book's publisher says "The reality is there is nothing racist in the book." The Texas Board of Education will make a decision on whether the book should be used in classrooms later this fall.
+ Protestors took to the street in Mexico City to demand the resignation of President Enrique Peña Nieto as Mexico's Independence Day celebrations began.