You made it to Friday. We made it to Friday. Let's kick off Friday Open Thread with a story…
You know when you're worried about something but convince yourself you're not really that worried, because actual worry gives weight to it in a way that you're not prepared for, and so to reinforce the idea that you're definitely not worried you talk about it all the time? Then when you're talking about it one time someone's like, "Oh, that's bad" completely unprompted and now you can't ignore it? That was me last week after a month long battle with a spider who took over our front porch.
I'll start by saying I'm not a huge fan of spiders. Oh, so original, I'm sure! Look, I don't trust them, they don't ever seem to be doing the "hard work" everyone boasts about in terms of controlling the bug population, they're too fast, some of them jump for some truly nightmarish reason, and they're a little too bold for my liking. But I live in a pretty woodsy area, so I understand that this is life. To give into whatever fear I have about spiders would be debilitating.
Which is why when I saw a spider the size of a GMO'd lemon with neon yellow stripes on its back end set up between the railings on our front porch one afternoon, I remained calm. I was casual. "Oh, hello, is the weather to your liking?" I did not then imagine the clicking of a thousand lizard king tongues as its response.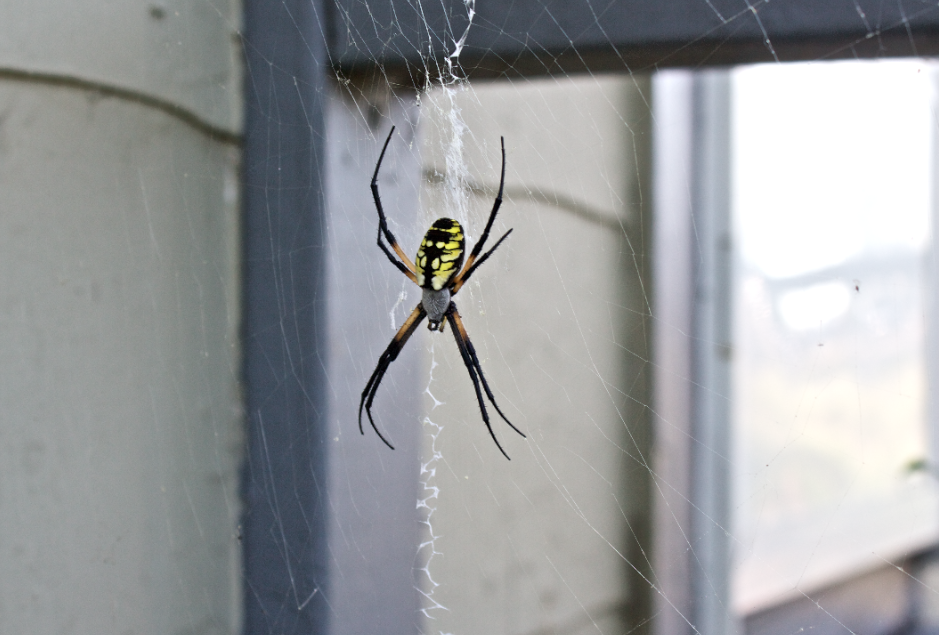 Again, casually, I took a picture and Google matched it. She was a nonpoisonous garden spider, which we knew because of her coloring, markings, and zig-zagged web pattern. Great! No harm here, and no real reason to rip at its web with the fury of a Olympic breast stroke swimmer while simultaneously spraying at it an entire bottle of Raid!
As the days went on, I became genuinely curious about her. I'd check on her throughout the day and watch the progress she'd made on her web. I named her Harriett. One night it started raining on a walk home and I sprinted the rest of the way back to make sure Harriett hadn't been taken down.
Those were the golden days. Then something happened.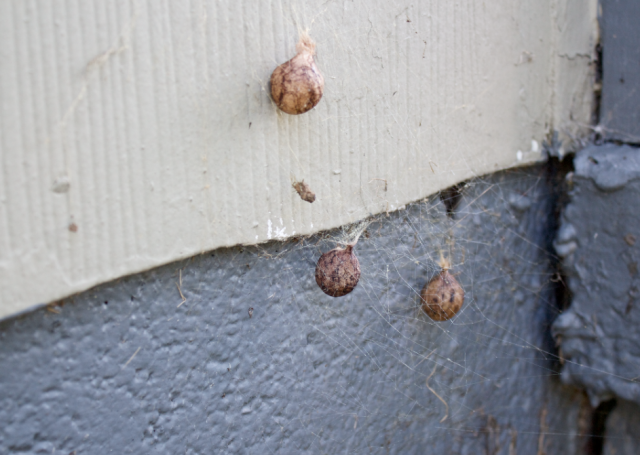 In a span of a week, Harriett had given birth three times and placed her egg sacs on the front wall of the house strategically below the bedroom window. I felt disrespected. How could you, we were all rooting for you, etc. My initial thought was: burn the house down. Torch it. Everything. We're driving to California today to start new lives as fabric store owners, where nothing bad will happen.
Once that fantasy played out I refocused. Like I said, I knew this was bad, but not prepared for how bad it could be. I knew they needed to go, but like, how pressing was it? I took to the internet. Surprisingly, not as many horror stories as I'd thought I'd find. On one forum a woman found herself in my position and ended her query with "AND NO PICTURES." She knew people were going to act up in her time of need. My searches started to get desperate, just adding all sorts of unnecessary adjectives into the search bar. "Delicate egg sac removal." "Noninvasive spider egg extraction." Sad!
Nothing made me feel better or worse enough to immediately do anything about the millions of spiders who would grow to become as big as Harriett hanging below the room where I sleep, so in the meantime I was very busy putting a wig on my dog and imagining him as a woman named Carol who was late for work.
Then I Instagram'd a picture of Harriett and her pods, and people were saying things like "RUN" and "goodbye" and "panic" and, "You should be scared." Fears confirmed. It had to be done that day. THAT HOUR. I gathered items for a spider egg removal kit which included: latex gloves, kitchen tongs (?), Tupperware, garbage bags, scissors, and Raid. Raid was a last resort, an emergency measure should the unspeakable happen. I also filmed it so if something happened there would be record of why I disappeared.
Do I miss Harriett? No. Do I expect to find her one morning posted up in the same spot in the very near further? Yes.
Have you lived to tell a tale of home infestation? Did you have cats in your walls? Do birds stalk your house? Has a spider ever disrespected you?
Also it's (supposed to be) fall!!! I can't wait to be released from this humidity and also for apple cider. What are you excited for? What's your go-to music or movie to get you in that fall mood? Let's get crackin' in the comments!
How To Post A Photo In The Comments:
Find a photo on the web, right click (on a Mac, control+click), hit "Copy Image URL" and then…
code it in to your comment like so:
If you need to upload the photo you love from your computer, try using imgur. To learn more about posting photos, check out Ali's step-by-step guide.
How To Post A Video In The Comments, Too:
Find a video on YouTube or Vimeo or WHATEVER and click "embed." Copy that code, paste it, you're good to go!