I'm a big fan of making things at home that you can easily buy in a grocery store. It's cool in a kind of "fuck the Man" way, it's usually cheaper, and you get to control what goes into it. Oh, and you don't have to leave your house. Pretty much a win-win situation!
I think that most people grow up in a household that is allied to a single brand of mayonnaise. Kraft, Hellmann's, Miracle Whip, etc. My family was seriously devoted to Hellmann's (known as Best Foods on the west coast), spooning it into canned tuna and spreading it on turkey sandwiches. I think we trusted the German name, since some of our favorite things to eat in the Philadelphia suburbs came from the Pennsylvania Dutch. Even though it contains calcium disodium EDTA, I'll always have a special place in my heart for Hellmann's mayo. The homemade stuff, though…it's a on a whole 'nother level.
Mayonnaise is one of those things that has a reputation for being difficult to make. I'm not going to say that it isn't deserved. It's definitely a little fussy, and takes some serious whisking if you don't have a food processor or immersion blender. However, I have faith in all you Straddlers out there. I think you probably have exactly the right muscles for making mayo. It's all in the wrist.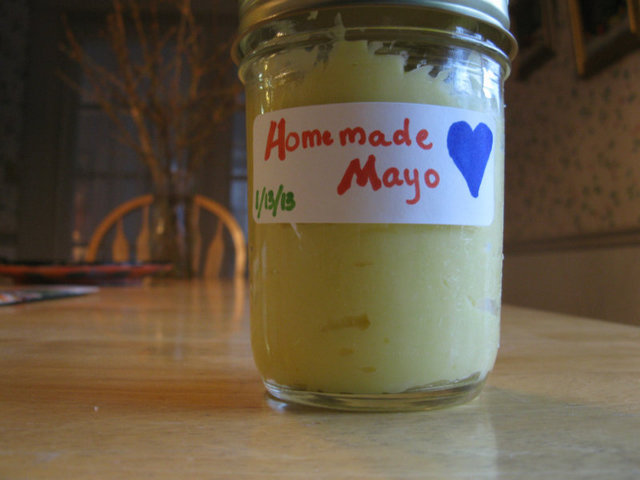 Homemade Mayonnaise Recipe

The beauty of mayo is that it's really just 3 simple ingredients – egg yolks, acid, and oil. You probably have those on hand already. Congratulations! You don't even have to put on pants to make this recipe! You can make mayo with a whisk and your very strong, nimble, lesbian hands, or with a blender/food processor/immersion blender.
Tricks to make this recipe work:
+ Use room-temperature ingredients
+ If you are whisking by hand, put a damp towel under the bowl to keep it from sliding. That way the bowl won't fly everywhere when you try to whisk and pour oil at the same time. Or grab a friend to be your third arm. OR!!! Hold the bowl with your feet. Yes, this is what I do.
+ Use a measuring cup with a spout or pouring lip
+ If your kitchen is cold, warm up your bowl with warm water and dry thoroughly
+ The recipe calls for lemon juice AND white wine vinegar, but as long as you end up with 2.5 teaspoons of some type of acid, you're probably good to go. You can also omit the mustard if you don't have it.
Ingredients:
1 large egg yolk*
1 ½ teaspoons of fresh lemon juice
1 teaspoon white wine vinegar
¼ teaspoon of Dijon mustard
½ teaspoon of salt (plus more to taste)
¾ cup canola oil
Combine the egg yolk, lemon juice, vinegar, and ½ teaspoon salt in a medium bowl. Whisk or pulse in food processor until blended and bright yellow, about 30 seconds.
Add ¼ cup of the oil to the yolk mixture, verrrrrryyyyyyy slowwwwllyyyyyyy. Literally ¼ teaspoon at a time over 4 minutes. Whisk constantly. This will take less time in a food processor or blender. Gradually add remaining ½ cup oil in a slow, thin stream. Whisk constantly until mayo is thick, about 8 minutes. Success! Taste and add salt if necessary. Cover and chill.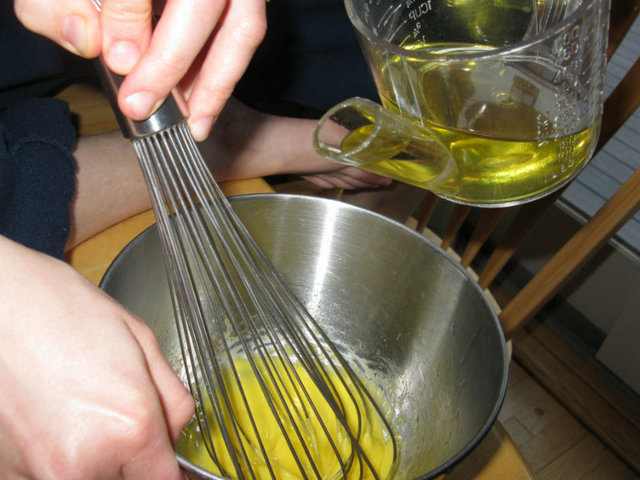 What to do if you fuck it up:
Sometimes, due to a number of variables that are mostly out of your control, your mayo comes out looking like oily pancake batter. This is called  "broken" mayonnaise. No really, that's actually what it's called.
You have 2 options. 1.) You can try, try again with a new egg yolk. Whisk a room temperature egg yolk and SLOWLY add the broken mayo back in. Or 2.) You can add some herbs or more mustard and some honey and call it salad dressing.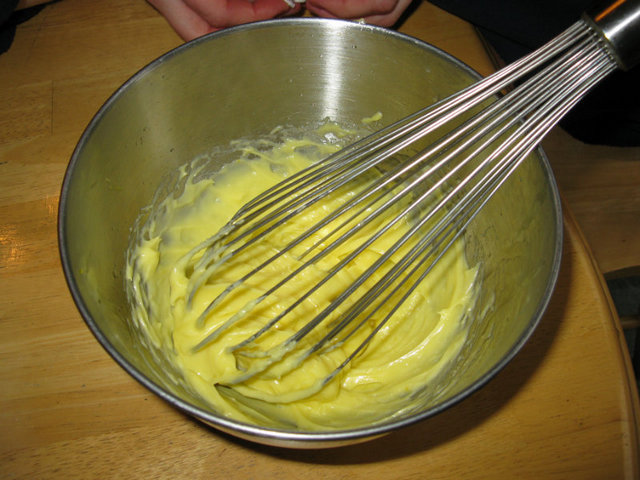 Uses
You can use homemade mayo the same way you use the store-bought stuff, but I'd like to offer a couple of suggestions to expand your mayonnaise palate.
+ Go European and dip fries into it. This is even better if you make…
+ Srirachannaise! Add sriracha or other hot sauce to your mayo to make delicious spicy mayo. Great dipping sauce for fries or veggies.
+ Make aioli instead. Aioli is just mayo made with finely chopped garlic and olive oil instead of canola.
+ Add pesto for pesto mayo. This is super awesome on top of deviled eggs.
+ Aioli or mayonnaise is a perfect dip for steamed artichokes.
My only issue with making mayonnaise is that you are left with a poor, lonely egg white. I have trouble using up a single egg white, but I recently heard that you can freeze raw egg whites without damaging them at all. So stock up, and when you have 12 whites you can make Alton Brown's Angel Food Cake. Or you can mix a single slightly beaten egg white into homemade granola just before baking. It makes delicious oaty clusters!
* Make sure to use good eggs for this recipe, since the yolk remains raw. Mayonnaise is a high acid food, so bacterial growth is not a huge concern, but raw eggs aren't recommended for infants, the elderly, pregnant women, or people with compromised immune systems. Just a note!
Adapted From Bon Appetite 2008, Molly Wizenberg